Posted on
Fri, Nov 5, 2010 : 6:04 p.m.
The mega guide to Week 9: Illinois at Michigan
By Rich Rezler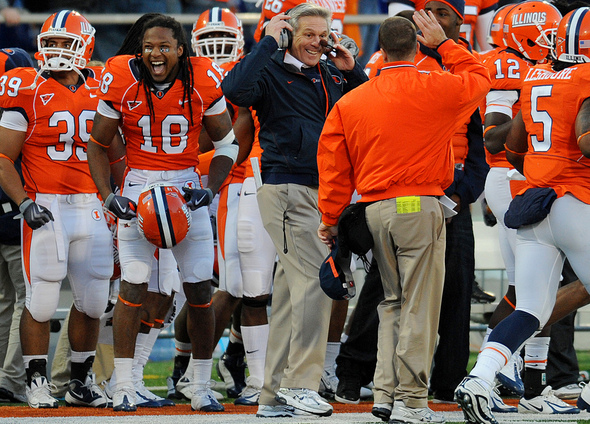 Melanie Maxwell | AnnArbor.com
WHO: Illinois (5-3, 3-2) at Michigan (5-3, 1-3)
WHERE: Michigan Stadium.
WHEN: Noon Saturday.
ODDS: Michigan is favored by 3 points according to sportsbook.com.
SERIES RECORD: Michigan leads, 66-23-2.
LAST MEETING: Illinois won 38-13 on Oct. 31, 2009. (AnnArbor.com coverage)
BROADCAST INFORMATION: TV: ESPN; Radio: Michigan Sports Network (local affiliates), Sirius Ch. 125, XM Ch. 102.
MICHIGAN: Team Stats | Team Rankings | Roster
ILLINOIS: Team Stats | Team Rankings | Roster
RUNDOWN: Michigan attempts to snap a three-game losing streak and Illinois looks to win three straight for the first time since the end of the 2007 season, which ended in a Rose Bowl trip for the Illini.
Both teams would become bowl eligible with a win. That would be a nice accomplishment for an Illinois team that was expected to be in a rebuilding year after a nine-loss season.
"There's no use talking about it until we're eligible and right now we're not eligible," coach Ron Zook said. "I think the most important thing is we can talk about this next game, and nothing else matters."
OK, Ron. Let's talk about the next game.
AnnArbor.com reporters have been previewing it all week. Listed below is a compilation of stories that can currently be found on our site (and that doesn't include the little detour we made on Thursday to cover the NCAA report. Our coverage of that announcement is summarized here):
INTERACT WITH ANNARBOR.COM
Interact with us leading up, during and after Saturday's Michigan vs. Illinois game:
FRIDAY • Pete Bigelow writes our main preview story: Michigan football team readies for key Big Ten test against Illinois.
• And Bigelow and Mike Rothstein further break down the matchup in this video report.
• Rothstein hosted a live chat Friday afternoon that covered both Michigan football and basketball topics.
THURSDAY • Is the 3-3-5 scheme the source of Michigan's defensive woes? Brandon Graham tells Bigelow that he thinks so.
As mentioned, Thursday also included lots of NCAA coverage.
WEDNESDAY • An already-depleted Michigan secondary took another hit when J.T. Floyd was lost for the season with an ankle injury.
• Juice who? Nathan Scheelhaase makes a name for himself as Illinois' new play-making quarterback.
TUESDAY • In his Big Ten Notebook, Bigelow looks at the wide open conference race and more.
• Rothstein examines Michigan's defensive woes, with third-down plays keeping the Wolverines down and unable to get out.
• David Molk doesn't care much for the media. So we sent Jeff Arnold into the lion's den, and he came out with a story about the Michigan center's passion to turn things around.
MONDAY • Rich Rodriguez's reality check: No wave of magic wand will fix Michigan defense.
• Our Monday notebook covers Michigan keeping its scissor lift low because of wind concerns, the latest injury report, Jeremy Gallon's emergence and more.
• Kaleb Roedel provides these video highlights from Michigan's Monday press conference.
• And Jeff Arnold kept these running notes during the press conference.
AROUND THE BIG TEN A four-way tie for first place has created plenty of important matchups across the Big Ten schedule today. Michigan State is the only team from that group to play at home this weekend, while Iowa and Wisconsin hit the road. Ohio State, the fourth one-loss team, is off.
Be sure to check out complete MSU coverage from our friends at MLive.com. All games are previewed at BigTen.org.
• Minnesota (1-8, 0-5) at Michigan State (8-1, 4-1), noon. • Iowa (6-2, 3-1) at Indiana (4-4, 0-4), noon. • Wisconsin (7-1, 3-1) at Purdue (4-4, 2-2), noon. • Northwestern (6-2, 2-2) at Penn State (5-3, 2-2), 3:30 p.m.
AROUND THE COUNTRY • Check out previews of all games involving top 25 teams.
The Associated Press contributed to this report.