Posted on
Mon, Mar 8, 2010 : 3:37 p.m.
Young offensive linemen a focus as Michigan football team readies for spring practice
By Dave Birkett
Michigan offensive line coach Greg Frey can't say for sure how much bigger Taylor Lewan is than last year. But whatever the difference, it's noticeable.
"He's growing, and you can see his dedication in the weight room taking hold," Frey said last month at the Victors' Rally. "I don't know an exact weight, but if you saw him walking around he's starting to fill out a little bit, you're starting to see some good things."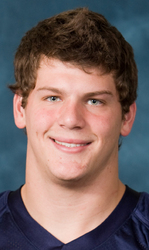 Lewan is one of a handful of second- and third-year linemen who'll take center stage next Tuesday when Michigan opens spring practice.
With center David Molk still recovering from a torn ACL and two starters to replace off last year's 5-7 team (Mark Ortmann and David Moosman), Frey expects plenty of competition this spring.
Lewan, who was listed at 6-foot-7 and 268 pounds last year, could push veterans Perry Dorrestein and Mark Huyge for playing time at tackle. Fellow redshirt freshmen Quinton Washington and Michael Schofield also will see extensive work after joining Lewan on the scout team last year.
"They're in the process of learning and contributing and doing those things, so we're going to see as we get in there and see them live against d-linemen," Frey said. "But I'm excited about them. They're a good group of young men and I believe that they want what everybody wants, and that's to play good football and represent Michigan."
Molk and guard Steve Schilling are the only returning linemen guaranteed starting spots, and third-year sophomore Patrick Omameh is a favorite to win a third job. Omameh played well when he cracked the lineup late in the year, starting at right guard against Purdue, Wisconsin and Ohio State.
"He did some really nice things, he did some freshman things, but he plays hard and it means something to him," Frey said. "But with that foundation I'm excited to see where he goes."
Michigan started six different offensive-line combinations last year, and struggled adjusting to two separate Molk injuries (he missed four games with a broken foot, and four more with the torn ACL).
Frey said the Wolverines' youth up front could be an asset this year.
"You hope that they're absorbing everything and helping create depth, but you really don't know until you get to the game," Frey said. "From my position, it's so much about practice, about live work to see where they're at."
Dave Birkett covers University of Michigan football for AnnArbor.com. He can be reached by phone at 734-623-2552 or by e-mail at davidbirkett@annarbor.com. Follow him on Twitter @davebirkett.