Posted on
Sat, Nov 10, 2012 : 5:25 a.m.
Your mega guide to Michigan vs. Northwestern
By Pete Cunningham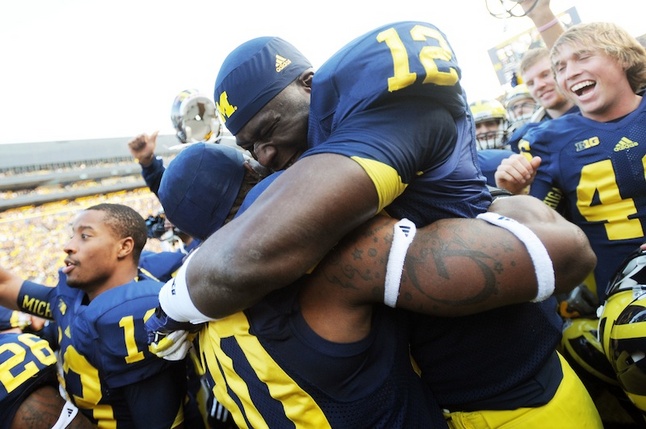 Melanie Maxwell | AnnArbor.com
GAME STORY:
Survival: Devin Gardner leads Michigan to a shocking 38-31 comeback overtime win over Northwestern
WITH POLLS: Pick Michigan's MVP and grade the Wolverines
INSTANT ANALYSIS: Devin Gardner clutch down the stretch to engineer Michigan comeback
PHOTO GALLERY: Check out photographers Melanie Maxwell and Daniel Brenner's best shots from the game
LIVE COVERAGE: Follow the game action as it happens from Nick Baumgardner's live blog which will begin shortly before kickoff on the AnnArbor.com Michigan football homepage. Also, be sure to follow Kyle Meinke (@kmeinke) and Nick Baumgardner (@nickbaumgardner) on Twitter.
WHO: Michigan (6-3, 4-1 Big Ten) at Northwestern (7-2, 3-2).
WHERE: Ann Arbor.
WHEN: 12:00 p.m.
ODDS: Michigan is favored by 9.5 points, according to sportsbook.com.
SERIES RECORD: Michigan leads (53-15-2).
LAST MEETING: Saturday, Oct. 8, 2011. Michigan beat Northwestern, 42-24.
WEATHER: Mostly cloudy with a 40-percent chance of rain. Winds blowing from the South at 10-15 m.p.h. Game-time temperature: Around 55.
BROADCAST INFORMATION: TV: ESPN; Radio: Michigan Sports Network (local affiliates).
NORTHWESTERN: Roster | Schedule
AnnArbor.com coverage: Two weeks in a row with a noon kickoff for the Michigan football team will make many a traditionalist fan happy, and many a tired/hungover fan sad. Michigan coach Brady Hoke will be happy because it means he'll be able to eat sooner as he never eats before games on game day. Whether you're enjoying your morning coffee, running late to a party or superstitiously starving yourself, enjoy the build up to the Northwestern game in our in our easy to read, mega guide package: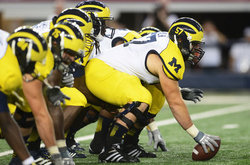 5 keys to victory: Michigan's offensive line just not playing well enough (with prediction)
Michigan's running backs haven't been productive, and most the blame for that usually is put on Fitz Toussaint. A fair share of that blame should goto the offensive line, though. Better play out of the big uglies is one of Kyle Meinke's keys to victory.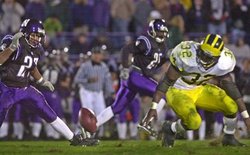 Northwestern's ranked, and that hasn't always been great for Michigan
It's not often that Northwestern is ranked in any polls by the time the Wolverines and Wildcats play. This year the Wildcats are ranked No. 21 in the USA Today Coaches Poll, marking just the sixth time since 1970 they will be ranked when the two teams played. In the other five match ups, things haven't gone so well for Michigan.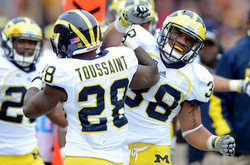 Michigan to split carries between Fitz Toussaint and Thomas Rawls, and Tousaint's OK with it
Michigan running back Fitz Toussaint has been stuck in the mud all season, while Thomas Rawls, in limited action has been impressive. Offensive coordinator Al Borges prefers having one workhorse back, but this week said a two back system might be what's best for the Wolverines right now.
Brady Hoke unsure who will start at quarterback, but hopeful it's Denard Robinson
Brady Hoke is not a doctor. But if he were, Hoke would be great at complying with HIPAA regulations because he never talks about players' injuries. Hoke did reveal on Monday that he hopes Denard Robinson is healthy because he wants the senior quarterback to play.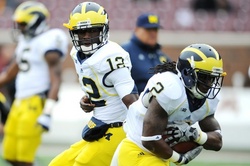 Wolverines issue of the week: What should Michigan do with Devin Gardner?
Do you want one of the best receivers on Michigan's team not on the field so he can be sufficiently prepared to step in at quarterback? Or do you want said quarterback/receiver to pick one or the other. This is the conundrum that Devin Gardner presents. Nick Baumgardner and Kyle Meinke discuss.
Northwestern writer: Wildcats' linebackers will create problems for Michigan quartbacks
Who will start at quarterback for Michigan, Devin Gardner or Denard Robinson? According to Chris Emma, who covers Northwestern for Scout, it won't matter. Either way, according to Emma, Northwestern's strength at linebacker will be a matchup that favors the Wildcats.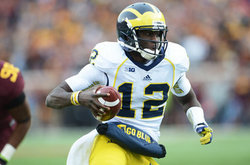 Michigan 'Ask Kyle' questions answered: What are the odds Devin Gardner QBs even when Denard Robinson's healthy?
What's the topic de jour? It's the topic of the day...and it sounds good. The subject of much debate of late is who should start at quarterback, Denard Robinson or Devin Gardner? Kyle Meinke finds it hard to imagine a healthy Denard Robinson not being under center for the Wolverines.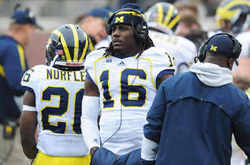 Brady Hoke refuses to address availability of Denard Robinson, Russell Bellomy
Want to know more about the status of Denard Robinson's arm injury? What about Russell Bellomy's situation? Too bad. Michigan coach Brady Hoke always plays things pretty close to the vest, and when it come to QBs, his silence grows even quieter...and he says he's going to keep it that way.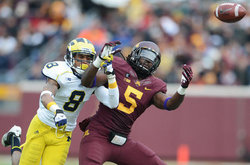 Michigan's Greg Mattison frustrated by how pass intereference is called
Greg Mattison doesn't like what he's seeing in the evolution of the game of football as far as how pass interference is called. The Wolverines have been whistled eight times for pass interference this year and often times Mattison has been left scratching his head. Could this be a problem for the Wolverines?

WHO WILL START AT QUARTERBACK FOR MICHIGAN?
Mum has been the word among the Michigan coaching staff about the status of Denard Robinson's arm injury. Who do you think will start at quarterback against Northwestern?

This and That

MICHIGAN BREAKDOWN
Quarterback Denard Robinson missed last week's game with an elbow injury and is questionable to return this weekend. Fortunately for the Maize and Blue, junior backup Devin Gardner stepped in against Minnesota and threw for two touchdowns while running for another. Gardner completed 12-of-18 passes for 234 yards. Fitzgerald Toussaint added 70 rushing yards and a touchdown on 13 carries.
For the sixth time this season, Michigan held an opponent to 13 points or less against Minnesota. Senior linebacker Kenny Demens headlined that effort with 10 tackles, while Jake Ryan added nine stops, including three for loss. On the season, Michigan leads the nation in pass defense (145.4 ypg) and ranks seventh in total defense (288.7 ypg). The Wolverines have not allowed 200 passing yards in a single game this season. The team has allowed just 12.1 points per game over its last seven contests, while allowing only six TDs over that span. Only Nebraska managed to score more than 13 points during the stretch, as Big Ten opponents are scoring just 11.8 ppg against the Wolverines.
NORTHWESTERN BREAKDOWN
The Wildcats don't pass the ball a whole lot (109th-ranked passing offense), but they rank third in the conference and 13th nationally in rushing offense, averaging 237.6 yards per game on the ground. Venrik Mark is the Big Ten's second-leading rusher with an average of 119.7 rushing yards. He has run for at least 77 yards in ever game this season, including six 100-yard games. What makes Northwestern even tougher to defend is the athletic ability of quarterback Kain Colter, who is averaging a healthy 69.1 rushing yards to go along with 11 touchdowns on the ground. Northwestern ranks 10th in the Big Ten in total defense (393.8 ypg allowed), although two of its last three opponents have failed to eclipse 20 points.
FAST FACT
With his next passing touchdown, Denard Robinson will become the first player in Big Ten history to post 50 passing TDs and 40 rushing TDs.

Around the Big Ten...and Ypsilanti
Pete Cunningham covers sports for AnnArbor.com he can be reached at petercunningham@annarbor.com. Follow him on Twitter @petcunningham.