Posted on
Sat, Oct 6, 2012 : 5:32 a.m.
Your mega guide to Michigan vs. Purdue
By Pete Cunningham
GAME STORY:
Denard Robinson bounces back, and Michigan thrashes Purdue in Big Ten opener, 44-13
WITH POLLS: Your chance to grade Michigan's performance against Purdue
KYLE MEINKE'S GRADES: Michigan football reporter Kyle Meinke grades the Wolverines
WHO: Michigan (2-2, 0-0 Big Ten) at Purdue (3-1, 0-0 Big Ten) .
WHERE: West Lafayette, Ind.
WHEN: 4 p.m.
ODDS: Michigan is favored by three points according to sportsbook.com.
LIVE COVERAGE: Be sure to check out Nick Baumgardner's live updating game story on the AnnArbor.com Michigan football home page, starting at 3:30 p.m. Also for live updates from the Ross Ade Stadium follow Michigan football beat writer Kyle Meinke (@kmeinke) and Baumgardner (@nickbaumgardner) on Twitter.
SERIES RECORD: Michigan leads 43-14.
LAST MEETING: Saturday, Oct. 29, 2011. Michigan won 36-14.
WEATHER: Mostly sunny. Winds blowing from the Northwest at 10-15 m.p.h. Game-time temperature: Around 50.
BROADCAST INFORMATION: TV: Big Ten Network; Radio: Michigan Sports Network (local affiliates).
AnnArbor.com coverage: The last time Michigan took a trip to Indiana, the results were less than optimal in a 13-7 loss to Notre Dame in South Bend. After a bye week, the Wolverines headed back down to the Hoosier state to face the Boilermakers in West Lafayette. It's been two weeks, so it's understandable if a story line or two slipped past your radar. Don't worry, we've put everything you need to know in one easy to read package:
5 keys to victory: Michigan needs Fitz Toussiant to take pressure off Denard Robinson (with prediction)
Offensive coordinator Al Borges has made it very clear: He thinks the Michigan offense is at its finest when Fitz Toussaint is producing. Kyle Meinke believes Toussaint needs to get going in a hurry for Michigan to win in West Lafayette. But does he believe that will happen?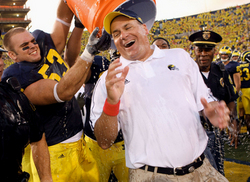 Hello, B1G: A look at 5 memorable Michigan Big Ten openers
Worry not ever-worried Michigan fan, your Wolverines have unbelievable historical success when it comes to winning Big Ten openers. Even oft-maligned ex-coach Rich Rodriguez won his first Big Ten game in a comeback for the ages against Wisconsin in 2008. Nick Baumgardner rehashes that win and more Big Ten openers.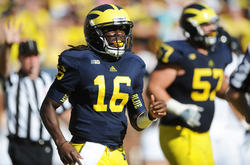 Michigan 'Ask Kyle' questions answered: Should the Wolverines be salivating over Purdue defense?
Purdue's defense gave up yards on top of yards on top of yards against a very average Marshall team last week. Should that excite the Michigan offense? Michigan football writer Kyle Meinke answers that question and more.
Michigan's Brady Hoke cranks up practice competition after gaggle of early missed assignments
Most of the blame for Michigan's struggles has fallen on Denard Robinson, but Brady Hoke has seen missed assignments all over the field. How many missed assignment? A gaggle. How much is a gaggle? Enough to increase the competition level at practice.
Michigan receivers, lacking timing with Denard Robinson, change practice habits
Michigan's passing game was lackluster last year, so the receivers spent much of the summer working on their timing with quarterback Denard Robinson. Now four games into the season, the timing is off, so the group changed some practice habits in preparation for Purdue.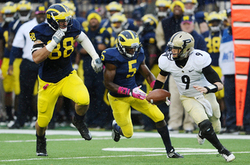 Purdue's Danny Hope says injured QB Robert Marve could play this week vs. Michigan
When Purdue played Notre Dame earlier this season, dual-threat quarterback Robert Marve suffered the third anterior crucial ligament injury of his career. Regardless, coach Danny Hope said this week that Marve is physically ready to return and could see action against the Wolverines.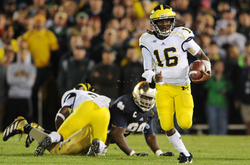 Al Borges combs through every playcall in past 2 years in search of answer to road woes
Michigan offensive coordinator Al Borges is not comfortable with the way the Wolverines have struggled on the road during the Brady Hoke era. In an effort to find the culprit for the away woes, Borges pored over every playcall made on offense over the past two years.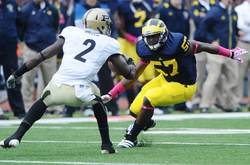 Michigan, 7-1 after byes since 2001, looks to come out sharp against Purdue
There is a finesse to handling a bye week. Rest too much, and risk coming out sloppy. Rest too little, and risk wearing down late in the season. It's a fine line to walk -- and Michigan has straddled it well. The Wolverines have won seven of their past eight games after a bye, including last year's 36-14 victory against Purdue.
Michigan's Devin Gardner is feeling fine after Notre Dame spill, Brennen Beyer expected back vs. Purdue
Last we saw of Devin Gardner, he was writhing in pain after sliding out of the end zone and into a steel contraption. Brady Hoke said this week Gardner is fine, but he said the same about Denard Robinson last year after Robinson was sent to the hospital with a staph infection.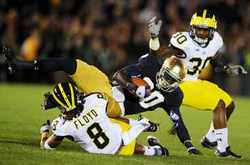 Michigan's Big Ten-best pass defense to be tested against Purdue
Don't look now, but Michigan actually leads the Big Ten in passing yards allowed per game with 154.5. Purdue is second in the conference in passing yards per game with 262. So which strength will prevail on Saturday?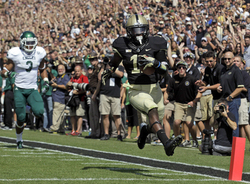 Purdue, by the numbers: Michigan looks for continued success in West Lafayette, Ind.
Michigan has 20 wins in its past 25 games against Purdue. This is but one of many historical statistics in Michigan's favor when the Wolverines and Boilermakers meet on the field.
Purdue writer: Michigan, outmanned at receiver, will fall to Boilermakers
Mike Carmin covers the Boilermakers for the Lafayette Journal and Courier and he was kind enough share his insight on the matchup against the Wolverines. In his humble/informed opinion, Michigan's secondary is no match for Purdue's big play wide receivers and he thinks the Boilermakers are primed for an upset. In addition to his prediction, Carmin gives a breakdown of the Purdue team.

This and that:
WHO YA GOT?
LOOKING BACK
Michigan began the year ranked No. 8 in the country, but a season-opening blowout loss to Alabama and a 13-6 setback at Notre Dame two weeks ago have dropped the Wolverines out of the national rankings. The Wolverines had a chance to regroup with a bye this past week, and they have won eight of their last nine following a bye. With 10 of the Wolverines' 12 opponents receiving bowl bids a year ago, they can ill-afford to look past any opponent.
Purdue is 3-0 at home this year, with all three wins coming against non- conference foes. The Boilermakers topped Marshall this past weekend, 51-41, and they are coming off back-to-back wins for the first time since the 2010 campaign. It is the first time Purdue has boasted a winning record through four games since the 2007 squad opened the year 5-0.
PLAYERS TO WATCH:
Michigan: Quarterback Denard Robinson enters the weekend one rushing touchdown shy of becoming only the eighth player in NCAA history to rush for 40 touchdowns and pass for 40 touchdowns. However, he needs to demonstrate much cleaner decision-making in the pocket if the Wolverines hope to get back into the BCS picture. Senior safety Jordan Kovacs and sophomore linebacker Desmond Morgan shared team-high honors with seven tackles apiece. Safety Thomas Gordon notched six stops and an interception.
Purdue: Quarterback Caleb TerBush threw four touchdowns, three of which went to Gary Bush, who became the first Boilermaker to have at least three receiving TDs in a game since 2004. Antavian Edison also had a big day, finishing with six catches for 99 yards and a TD. He has logged at least one reception in 25 consecutive games and remains a focal point of the Purdue passing game. Despite TerBush's success, coach Danny Hope said earlier in the week that Robert Marve may play for the Boilermakers on Saturday. Kawann Short, averaging a sack per game, has been a disruptive force on the defensive line.
MAGIC NUMBER:
For Michigan, 20 is the magic number. The Wolverines are 13-0 under head coach Brady Hoke when scoring 20 or more points in a game, and they are 0-4 when scoring less than 20.
Around the Big Ten...and Ypsilanti
Pete Cunningham covers sports for AnnArbor.com. He can be reached at petercunningham@annarbor.com. Follow him on Twitter @petcunningham.