Posted on
Tue, Jan 1, 2013 : 6 a.m.
Your mega guide to the Outback Bowl, No. 18 Michigan vs. No. 11 South Carolina
By Pete Cunningham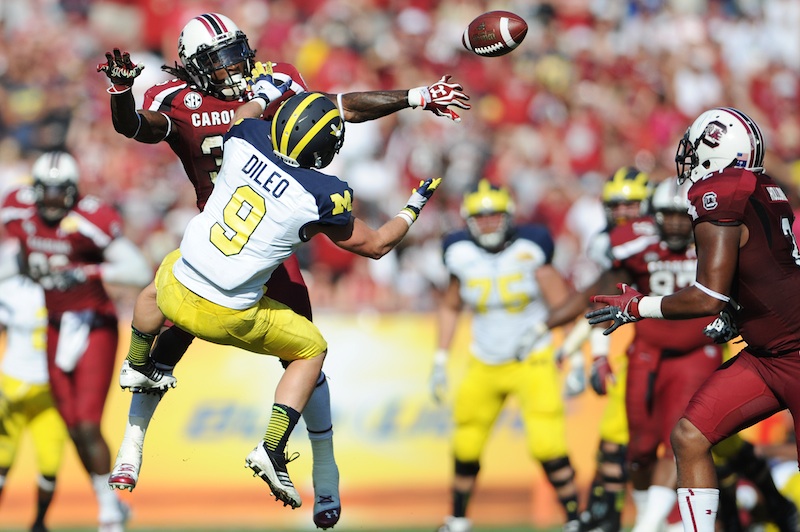 Melanie Maxwell | AnnArbor.com
GAME STORY: Outback heartbreak: Michigan comes close, but suffers crushing 33-28 loss to South Carolina in the Outback Bowl
WHO: No. 18 Michigan (8-4) vs. No. 11 South Carolina (10-2).
WHERE: Raymond James Stadium, Tampa, Fla.
WHEN: 1:00 p.m.
LIVE COVERAGE Follow the game action as it happens from Nick Baumgardner's live blog on the Michigan Football homepage. Also, be sure to follow Kyle Meinke (@kmeinke) and Nick Baumgardner (@nickbaumgardner) on Twitter.
ODDS: South Carolina is favored by five points.
SERIES RECORD: Tied (1-1).
LAST MEETING: Saturday, September 21, 1985. Michigan won 34-3 at South Carolina.
WEATHER: Mostly sunny. Winds blowing from the Southwest at 5-10 m.p.h. Game-time temperature: Near 70.
BROADCAST INFORMATION: TV: ESPN; Radio: Michigan Sports Network (local affiliates).
SOUTH CAROLINA: Roster | Schedule
AnnArbor.com coverage: It may not be the New Year's Day bowl Michigan fans envisioned when the season began, but the Wolverines will wrap up their season on Tuesday. Another thing Wolverines fans probably never imagined when the season began: Denard Robinson will not start at quarterback in his final game as a Wolverine. Regardless of the position he's playing, Robinson no doubt wants to go out a winner and has a chance to do so in his home state on Saturday against No. 11 South Carolina. Here's everything you need to know about the game in one easy to read package: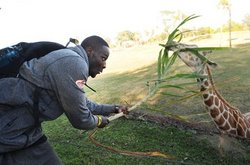 It's official: Devin Gardner to start at QB for Michigan, Denard Robinson the No. 2
Denard Robinson may finish his career as one of the best quarterbacks in Michigan football history, but he will not be the starting quarterback in his final game in a winged helmet. When Robinson was hurt, backup Devin Gardner shined in his placed and Michigan coach Brady Hoke finally made it official on Monday: the Wolverines will go with the hot hand, Gardner, on Tuesday.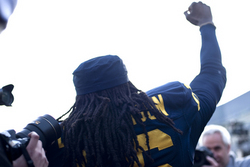 So long, Shoelace: Denard Robinson preparing to wrap up uncommon career
Tuesday's Outback Bowl will be the final game of Denard Robinson's illustrious, record breaking career at Michigan. Robinson's career at Michigan has been a whirlwind. While he may not be going out like he had planned, his career was one filled with more than its share of "wow" moments.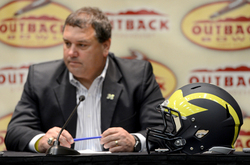 Michigan won't name starter at tailback, likely will go with committee approach
Michigan's starting tailback Fitz Toussaint had a disappointing junior season. That season became even more disappointing when he broke his leg against Ohio State. With Toussaint out, who is Michigan's No. 1 option at running back? If Brady Hoke knows, he's not telling.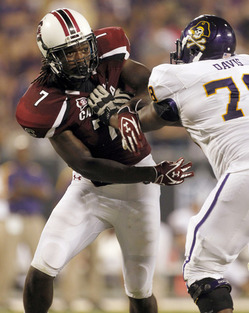 Brady Hoke: Anybody, including Jadeveon Clowney, can be blocked 1-on-1
South Carolina defensive end Jadeveon Clowney leads the nation in sacks with 13 and in tackles for loss with 21.5. Brady Hoke still likes his team's chances against him, especially because lined up across from Clowney will be Michigan's First-Team All American, Taylor Lewan.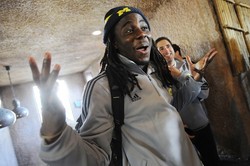 Denard Robinson practicing on return teams, Brady Hoke says
Since injuring a nerve in his throwing hand, Denard Robinson has been all over the place on the field. Michigan coach Brady Hoke revealed earlier in the week that Robinson has been practicing on return teams. Could we see Denard field a few kicks or punts against South Carolina?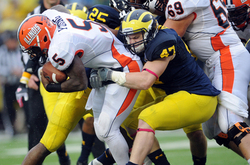 Michigan plays SEC-caliber defense, South Carolina says
South Carolina plays in the Southeastern Conference, universally regarded as the best college football conference in all the land, especially on defense. The Gamecoacks say that based on what they've seen on film, the Wolverines defense looks like an SEC-type team.
Michigan OL Patrick Omameh wearing cast on hand
Just four days before the game, Michigan starting offensive lineman Patrick Omameh was seen wearing a cast on his hand. Omameh, according to a team spokesman, was wearing the cast for precautionary purposes. Will Omameh be able to play on Tuesday, and if so will he be 100 percent?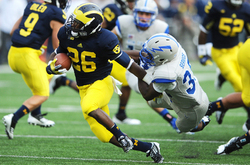 With video: Dennis Norfleet will play some cornerback in Outback Bowl
Dennis Norfleet wowed people all year with his speed and elusiveness in the return game for the Wolverines. That speed and quickness is now going to be displayed on the other side of the ball as Norfleet was switched to cornerback for the bowl game. Will it be a permanent switch for the 5-foot-7 speedster?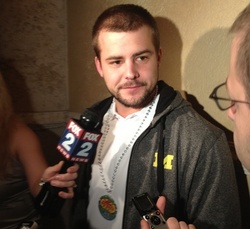 Outback Bowl holds special significance for 10 Floridians, including pirate-loving Brendan Gibbons
There are 10 players on Michigan's roster for whom Florida is home. Playing in the Outback Bowl may not be how they pictured their season ending when it began, but to end the season in their home state is still something special, especially for the seniors. Will they give the hometown crowd a victory to enjoy?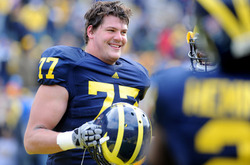 South Carolina's Jadeveon Clowney oozing confidence heading into matchup against Taylor Lewan
Michigan's Taylor Lewan is an All-American offensive tackle. South Carolina's Jadeveon Clowney is an All-American defensive end. Both are projected as top-15 NFL Draft picks -- Lewan this year, Clowney next year -- and will tangle in the most anticipated head-to-head matchup of the Outback Bowl.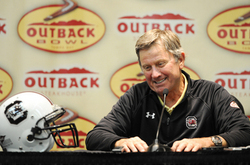 South Carolina's Steve Spurrier has same old charm, but new-look offense
The Old Ball Coach's still got it -- the Southern charm, the quick wit, the fascinating tangents. He captivates with the best of them. And of course, he's still got a winner. But Steve Spurrier has shed one thing: The Fun 'n' Gun offense that brought him early success -- including a national title in 1996 -- at Florida. Will it be successful against Michigan?

This and That
Associated Press Preview:
WHAT'S AT STAKE
South Carolina is trying to close out the most successful three-year run with the second 11-win season in school history. The Gamecocks, who've won four straight after consecutive losses to LSU and Florida derailed hopes of playing for the Southeastern Conference title, won 11 games for the first time last season. Michigan is trying to avoid ending a two-game losing streak. Three of the Wolverines' four losses came against the top three teams in the Associated Press poll — Notre Dame, Alabama and Ohio State — heading into the postseason.
KEY MATCHUP
South Carolina QB's Connor Shaw and Dylan Thompson against the Michigan defense, which ranks second in the nation against the pass (155.2 yards per game. Michigan standout left tackle Taylor Lewan vs. South Carolina defensive end Jadeveon Clowney, who has 13 sacks and 21.5 tackles for loss. It's an All-American matchup.
PLAYERS TO WATCH
MICHIGAN: QB Denard Robinson was replaced at QB by WR Devin Gardner late in the season after injuring his right elbow but has continued to contribute by running the ball and catching passes. Gardner is likely to start the Outback Bowl, however Robinson has thrown some passes in practice and coach Brady Hoke hasn't ruled out the possibility that he could play some at quarterback against South Carolina.
SOUTH CAROLINA: Shaw has thrown for 1,732 yards and 15 TDs, while backup Thompson has thrown for 910 yards and eight TDs, including 310 yards and three TDs while filling in for the injured Shaw during the Gamecocks' regular season-ending victory over Clemson.
FACTS & FIGURES
Michigan's 42 bowl appearances are the most in college football history. The Wolverines are 20-21, including 7-4 all-time against Southeastern Conference teams in bowl games. They are 18-17 in January bowl games. ... South Carolina is making its seventh bowl appearance under coach Steve Spurrier, who's trying to become the first coach to win three bowl games at the school. The Gamecocks' 21 wins over the past two seasons are a school record. ... Michigan is 3-1 in four previous trips to the Outback Bowl, beating Alabama in 1988, North Carolina State in 1994 and Florida in 2003 and losing to Alabama in 1997. ... South Carolina is in the Outback for the fourth time. The Gamecocks beat Ohio State in 2001 and 2002, but lost to Iowa in 2009.
Pete Cunningham covers sports for AnnArbor.com. He can be reached at petercunningham@annarbor.com. Follow him on Twitter @petcunningham.