Posted on
Fri, Apr 22, 2011 : 10:22 a.m.
UMass brings 14th football team, and Gillette Stadium, into the Mid-American Conference
By Rich Rezler
While Eastern Michigan was busy introducing its new basketball coach on Thursday, athletic director Derrick Gragg took a moment to discuss the newest member of the Mid-American Conference.
Of course new Eagles hoops coach Rob Murphy won't see much of the University of Massachusetts, which joined Temple as the league's second football-only member.
"I think UMass coming into the conference is a great thing for us," Gragg said. "They have obviously done very well on the football side, having great success on the I-AA FCS level and some of the resources they are going to put into the program to elevate it.
"Their academic profile is excellent, and I know our presidents are very pleased with that. I think it'll be a good fit."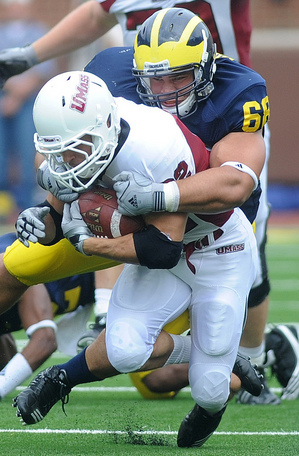 AnnArbor.com file photo
In a teleconference on Wednesday, MAC commissioner Jon Steinbrecher said the league has not yet discussed realignment for when UMass plays its first full football schedule in 2012.
Eastern Michigan is currently in the six-team West Division with Ball State, Central Michigan, Northern Illinois, Toledo and Western Michigan. UMass will likely join the seven-team East Division, with one of its current teams moving to the West.
Geographically, Miami (Ohio) or Bowling Green are the most likely to move. The MAC might favor moving Bowling Green to align the Falcons with their primary rival, Toledo.
Steinbrecher did say teams will continue to play eight league games. That means six against division opponents and some sort of rotating games against two cross-division opponents.
That means it could be a while before Eastern Michigan plays at UMass. The Minutemen will play their home games at Gillette Stadium in Foxborough, Mass., home of the New England Patriots.
Gragg referred to playing in Gillette Stadium as something "that'll be great not only for their student-athletes but the visiting teams like us."
The Boston Globe reported that Gillette Stadium owner Robert Kraft was one of the driving forces behind UMass' move from the Football Championship Subdivision to the MAC and Football Bowl Subdivision level.
He's allowing the Minutemen to play there rent-free, but will share in the revenue he anticipates the team drawing.
UMass played New Hampshire in Gillette Stadium last year, drawing 32,848 fans. McGuirk Alumni Stadium on the campus of UMass holds 17,000. A requirement of playing at the FBS level is averaging 15,000 in attendance.
According to the Globe: "Kraft is smart enough to know that MAC games against Central Michigan or Akron in October and November won't draw half (the UMass-New Hampshire crowd). But he also knows that schools such as Michigan, which hosted the Minutemen last year, might come here to play a UMass team at the FBS level."
The newspaper reported that teams such as Virginia Tech, Washington and Texas A&M have already talked to UMass about possibly playing games in Foxborough.
Even for its Mid-American Conference games, UMass believes it can do better than the 17,000 capacity of McGuirk. The school estimates it has 120,000 alumni living in eastern Massachusetts, within driving distance of Foxborough.
Playing at Gillette Stadium does put UMass in the unusual position of playing its home games nearly 100 miles away from its main Amherst campus.
Ron Chimelis of The Republican newspaper in Springfield, Mass., says the move will test the loyalty of western Massachusetts fans.
"Playing in the FBS is where UMass should be positioned as the flagship campus of the state system, said UMass athletic director John McCutcheon. "The exposure and visibility that comes from playing on a national level will be a tremendous asset not only for athletics, but for the entire university. To have the opportunity to play games at a state-of-the-art facility like Gillette Stadium really is one of the key elements that makes this transition possible."
UMass joins Boston College as the only FBS teams in Massachusetts and is one of only three (along with UConn) in New England.
The Minutemen will continue to compete in the Atlantic 10 Conference in its 20 other sports.
Similar to the MAC's agreement with Temple, the only other conference tie-in with UMass will be four non-conference games (two home and two away) each year in men's and women's basketball.
AnnArbor.com's Michael Rothstein contributed to this report.
Rich Rezler covers sports for AnnArbor.com. Contact him at richrezler@annarbor.com or 734-623-2553.