Posted on
Thu, Jul 18, 2013 : 4:35 p.m.
Michigan regents approve alcohol sale at Michigan Stadium for NHL Winter Classic...again
By Kellie Woodhouse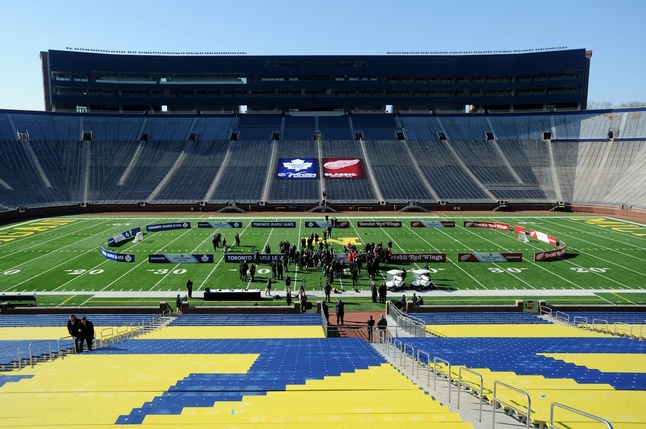 Melanie Maxwell | AnnArbor.com file photo
University of Michigan
will seek special permission to allow alcohol in Michigan Stadium when the Detroit Red Wings and Toronto Maple Leafs face off during the
2014 NHL Winter Classic
.
Have that deja vu feeling?
The Michigan Board of Regents unanimously approved an application for a temporary liquor license that would allow beer to be sold at the Jan. 1, 2014 Winter Classic at Michigan Stadium at the their meeting on Thursday.
Last year, the school -also with unanimous approval from the eight-member Board of Regents- lobbied state lawmakers to pass HB 5611 and allow temporary 30-day licenses to be granted for venues such as Michigan Stadium for certain events not affiliated with the school, such as the 2013 NHL Winter Classic. The bill passed, a temporary license was granted and beer was scheduled to be served in the normally dry venue.
But when the Winter Classic was cancelled due to the NHL Lockout, the temporary license was rendered useless.
Earlier this year the NHL scheduled the 2014 Winter Classic for Michigan Stadium, agreeing again to pay U-M $3 million for use of its facilities.
So, once again, U-M's governing board has approved a request for a permission for its concessionaire to serve alcohol in the Big House during the event, using modifications to the Michigan Liquor Control Code approved in the passage of HB 5611. Prior to the bill, venues as large as the Big House couldn't get temporary licenses.
"We did this once before, we're trying once again," said U-M chief financial officer Timothy Slottow on Thursday.
The license is likely to be approved.
Liquor sales are normally forbidden at the facility, and U-M leaders have said they have no intention of changing that policy for university-sanctioned events.
Ann Arbor and school officials estimated that the event would have a $14 to $15 million impact on the area, with anywhere between 3,000 and 6,000 hotel nights booked by visitors.
The NHL is hoping that Michigan Stadium, with a capacity of more than 114,000, can facilitate the largest Winter Classic attendance in history. The world record for attendance at a hockey game is 104,173, a record set at the outdoor game between Michigan and Michigan State in 2010.
The NHL also plans on breaking the Michigan Stadium attendance record of 114,804.
Kellie Woodhouse is reporter for AnnArbor.com. Reach her at kelliewoodhouse@annarbor.com or 734-623-4602 and follow her on twitter.