Posted on
Tue, Sep 13, 2011 : 11:22 p.m.
Zach Putnam's big league debut: Two runs allowed, two strikeouts
By AnnArbor.com Staff
Related story: Ann Arbor native Zach Putnam called up by the Cleveland Indians
Welcome to the big leagues, Zach Putnam.
The former Pioneer High School and Michigan baseball star made his Major League Baseball debut on the mound for the Cleveland Indians on Tuesday night and Texas Rangers third baseman Adrian Beltre made it a bittersweet experience.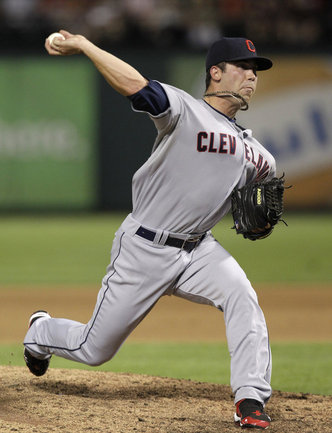 AP Photo
Beltre, the first batter Putnam faced after being called on in relief in the bottom of the seventh inning, sent a 93 mile-per-hour Putnam fastball 418 feet into the left-center field seats at Rangers Ballpark in Arlington for his 24th home run of the season.
Things got rockier for Putnam before they got better.
The Rangers' next batter, David Murphy, doubled to the left-center field gap and Mike Napoli followed that with an RBI single to put the Rangers up 10-3.
Putnam then set down three straight Rangers batters. He used his breaking ball to strike out the Rangers' Mitch Moreland and leadoff hitter Ian Kinsler -- with Craig Gentry grounding into a fielder's choice in between.
"(Putnam) bounced back, threw the ball well, threw some split-fingers," Cleveland manager Manny Acta told the Indians website after the game. "He made a comeback -- rude awakening by Beltre and those guys -- but he's got a good arm and he's going to get innings here for us to take a look at them."
For the record, Putnam's first big league pitch was a fastball that Beltre took for a strike. He then fouled off four Putnam pitches before hitting the home run on a 2-2 count to extend his hitting streak to 17 games.
Texas won the game, 10-4, to push the Indians 12 1/2 games behind the Detroit Tigers in the American League Central Division standings.
Before the game, Acta had the following to say about Putnam: "He's a guy that we like. We feel that he has the stuff to be an option for us next year to be in the mix. We're going to take a look at his last couple weeks and see what he can do up here. He had a pretty decent year for us in Triple-A. We feel he's got some out pitches that can help us out."