Posted on
Tue, Sep 13, 2011 : 5:02 p.m.
Ann Arbor native Zach Putnam called up by the Cleveland Indians
By Pete Cunningham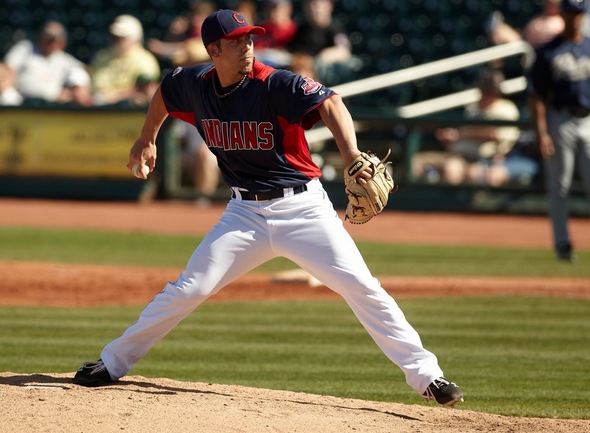 Photo by Dan Mendlik | Cleveland Indians
Related story: Zach Putnam's big league debut: Two runs allowed, two strikeouts
Former Pioneer High School and Michigan baseball standout Zach Putnam was called up by the Cleveland Indians and will be in the bullpen for an 8 p.m. game at Texas.
The Indians' official Twitter account announced the call up on Tuesday.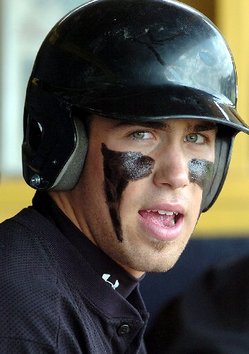 File photo
Putnam learned of the call-up himself on Monday afternoon and called Ann Arbor to tell his parents, Mary Beth and Steve Putnam, the news.
"He was still kind of shell shocked and we were just speechless," Mary Beth Putnam said.
Steve Putnam hopped on a flight to Texas to be in Arlington for his son's Major League debut. He will follow the team to Minnesota for its next series against the Twins, and Mary Beth hopes to join him there.
"The last 24 hours my head feels like its been in a blender," Steve Putnam told AnnArbor.com on Tuesday, while he was pulling into the parking lot of the Indians' team hotel.
Minutes earlier, Zach Putnam sent him a text message from Rangers Ballpark saying it was 106 degrees.
"So even if (Indians' scheduled starter Justin) Masterson has a good start, the chances of him tiring and them needing to go to the bullpen are probably pretty high," said Steve Putnam, who already has an outfit planned for tonight's game that includes an Indians polo shirt and a Michigan baseball cap.
Zach Putnam, who'd been focused on a playoff series with the Clippers, didn't know who the Indians were playing this weekend until he was handed a plane ticket. He was excited to learn it was Texas because he grew up a huge fan of Nolan Ryan, who now owns the ballclub.
"(Ryan) wouldn't know me from the man on the moon, but at our house are all kinds of pictures of Zach and Nolan and me," Steve Putnam said. The three had pictures taken together at a baseball camp. "Nolan has been Zach's guy and my guy for the longest time. It's just kind of cool that he, hopefully, could get to play his first game against (Ryan's) team."
Pioneer veteran baseball coach Jerry Holley said the call-up was an emotional moment for himself. Putnam is the first of his former players -- and, Holley believes, the first Pioneer graduate -- to make the big leagues.
"I haven't had a harder-working ballplayer come through my program, so he deserves every opportunity he gets," Holley said.
Paul Hoynes, the Indians beat writer for the Cleveland Plain Dealer, wrote of Putnam's call up: "As the Indians near elimination in the AL Central, they're looking for ways to ease the workload on workhorse relievers Tony Sipp, Rafael Perez, Joe Smith, Vinnie Pestano and closer Chris Perez."
The Indians trail the Detroit Tigers by 11.5 games with 18 games remaining on their schedule.
The Indians-Rangers game is the MLB Network's national game on Tuesday, so local viewers with access to the network (channel 258 on Comcast's channel lineup in Ann Arbor) can watch.
Putnam was 6-3 with nine saves and a 3.65 ERA in 44 games with the Columbus Clippers, the Triple-A affiliate of the Indians. He hasn't allowed a run in his last five appearances, which span 7 1/3 innings pitched, and struck out 68 batters in 69 innings overall.
After two All-American seasons in his three-year career at Michigan, Putnam was drafted by the Indians in the fifth round of the 2008 Major League Baseball draft. He began his career as a starting pitcher in the Indians' farm system, but became a reliever when he was moved up to Columbus midway through the 2010 season.
Indians vice president of player development Ross Atkins told AnnArbor.com in early July that the club's long-term plan for the 6-foot-2, 225-pound right-hander was as a reliever.
"His fastball command has improved, his split-finger has become more of an above average weapon than just an average weapon, his slider's developed and he's a little bit better at controlling the running game than he was a year ago," Atkins said. "We're really encouraged by his progress."
Putnam becomes the 62nd former Michigan player to reach the Major Leagues, according to a release from the Michigan athletic department. He joins J.J. Putz (Arizona), Jake Fox (Baltimore), Chris Getz (Kansas City), Rich Hill (Boston) and Clayton Richard (San Diego) as current MLB players.