Posted on
Tue, Sep 21, 2010 : 11:31 a.m.
Ann Arbor peddlers, solicitors, and mobile food - but not panhandlers
By Edward Vielmetti
Getting all of the proper permits to run a mobile food establishment on the streets of Ann Arbor is no small task. You can't just trundle up a hibachi to the corner of Fifth and Liberty streets and start grilling up chicken on a stick for sale without a sheaf of paperwork to legitimize your existence and to protect the citizenry from your overheated poultry.
The Ann Arbor City Council passed an ordinance last night reviving the city's task force aimed at controlling the problem of aggressive panhandling downtown. Here's a look at some of the hoops that you would have to jump through to legitimize your on-street retail sales and marketing activities, so that rather than being labelled as an "aggressive panhandler" you can rebrand yourself as a "skillful street vendor".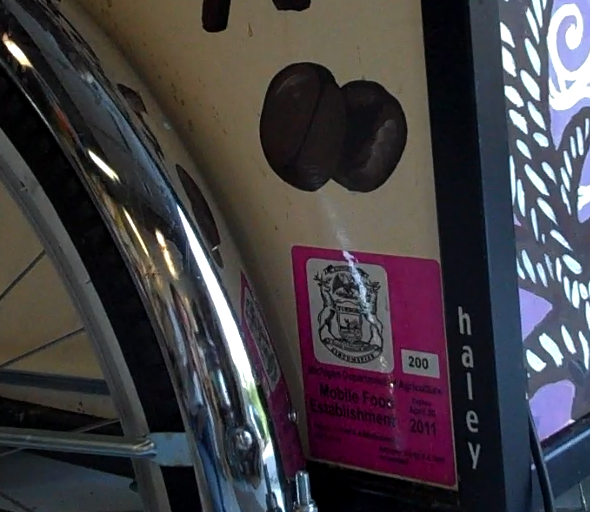 Peddlers and solicitors
If you want to sell or offer for sale goods and services on the streets of Ann Arbor, or if you want to go door-to-door making sales of items to be delivered later, you need to have a Peddler and Solicitor permit. The permit is defined in Chapter 79 of Ann Arbor City Code, and it spells out all of the requirements.
The application for such a license fills a page, and the city provides a helpful form for the license. The form collects a little bit more information than the ordinance requires; it asks, for example, for both your driver's license number and your Social Security number, when the ordinance at (7:63) specifies that either one is OK. Licenses are good for six months.
City Code specifies two pages full of requirements, and if the items to be sold are food items, further certification must be obtained from the County Health Officer (7:64). There is a break for fees if you are less than 14 years old and if you reasonably expect less than $100.00 profit from the activity (7:67). Peddlers and solicitors must carry public liability and personal injury insurance, naming the City of Ann Arbor as an insured party (7:68). The requirements for the insurance language are complicated enough that they fill an entire additional page, and specify that the City Attorney must approve the policy language with specific words omitted. I will not endeavor to describe these requirements, except to note that you would be good to select an insurance agent or representative who is capable of handling these requirements.
I would have liked to have given you a list of all of the current peddlers and solicitors, but because the aforementioned forms contain personal information including Social Security numbers and driver's license numbers, they were not available for inspection when I went to the Planning and Development Services office's Building Division at 2000 S. Industrial Highway this morning. I did get the blank form, and I was told that a FOIA request might be the the best way to get the detailed information that I was looking for since all records kept in that office contained protected personal information.
Links


Mobile food establishments, food carts, and taco trucks
Veterans of the Art Fair know that lots of people do know the routine for getting that sheaf of paperwork in order. The nature of the Ann Arbor seasons is such that it's hard to run a year-round mobile food service and have it make sense. Art Fair brings all of the food trucks out, with their elephant ears and cotton candy and temporary food permits. Farmers Market brings out vendors with long-term stalls and commercial kitchens to cook their food. Mobile food carts selling coffee and hot dogs are out on the street at times, and vendors do a brisk business on football days if they are far enough away from the exclusion zones invalidating their permits near the stadium.
There isn't the "food truck" culture here in Ann Arbor with a panel van driving from place to place dishing out Korean-style tacos or other food innovations, though I am sure that we're only one potluck dinner and a big stack of permits away from making that happen.
Links
Edward Vielmetti is wondering when AnnArbor.com is going to send him out on the street to peddle newspapers, with or without a license. Contact him at edwardvielmetti@annarbor.com.