Posted on
Wed, Jun 2, 2010 : 10:45 a.m.
Berry picking links: 'U-Pick' strawberries are ready this week
By Edward Vielmetti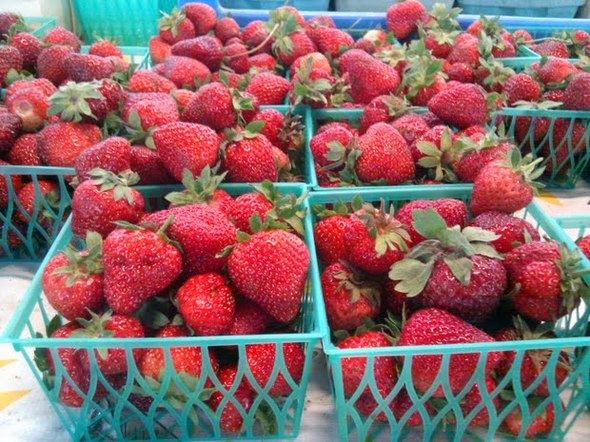 Courtesy Karl Rosaen, Real Time Farms
The pick-your-own strawberry season is short. Typically there are only three or four weeks when the berries in the fields are ripe enough to pick, and some years there are only two weekends when they are out in enough quantities where you can count on getting enough to freeze, turn into jam or prepare in quantities at reasonable prices.
At least two different local "u-pick" strawberry farms are open starting Wednesday, June 2. "Local" for our purposes extends out of Washtenaw County to adjacent counties, because there just aren't that many places you can pick berries. This list is sorted by distance from the center of Ann Arbor.
New for this year on the berry-picking front is the widespread use of social media, especially Facebook and Twitter, to let people know about picking conditions. Also new is
Real Time Farms
, which has photos every day of farmers bringing locally picked berries to market.


U-Pick berries
Rowe's Produce Farm on Martz Road near Rawsonville Road in the very southeast corner of Ypsilanti Township (about 18 miles from downtown Ann Arbor) has pick-your-own berries. The 2010 season opens Wednesday, June 2; the price is $1.49 per pound. The farm's Facebook page has crop updates, and you can sign up for email alerts to get more information. Rowe's notably also has pick-your-own peas; edible pod sugar snaps usually start a week after the strawberries, and the English-style shelling peas are ready a little later.
Whittaker's Berry Farm in Ida, about 45 minutes south of Ann Arbor in Monroe County, has pick-your-own berries. The 2010 season opens Wednesday, June 2; the "u-pick" price is $1.25 per pound, and pre-picked are $3.25 per quart. You can sign up for email or see the farm's Facebook page for day-to-day details. They grow the Honeoye, Allstar and Jewel varieties of berries. Get there via US-23 at the Ida west exit, which is exit 13.


Opening soon
DeGroot's Strawberries is in Gregory in southern Livingston County's Unadilla Township, about 30 miles northwest of Ann Arbor and due north of Lyndon Township. Check out its Facebook page for details.


Berries at farmers markets
Thanks to Real Time Farms, you can see a complete list of area farmers markets that have strawberries with photos.


U-Pick Directories
PickYourOwn.org has a list of southeast Michigan pick-your-own operations, sorted by county. I'll be looking forward to Wasem's gooseberry season.


Blog posts from previous years
In 2009, Michigan in Pictures featured a photo from 1940 of strawberry season in Michigan, showing a migrant worker picking in Berrien County. This was part of a photo series by photographer John Vachon, who worked for the Farm Security Administration from 1936 to 1943. See the University of California Press book John Vachon's America for more photos.
In 2008, Absolute Michigan noted that berries were ready to pick, and gave a simple recipe for strawberry sorbet (simple syrup, strawberry puree, lemon juice).
In 2007, Potato Girl in Michigan wrote of berry picking. She does not "recommend strawberry picking with a young baby, unless said baby likes being covered in dirt and strawberry juice and eating small rocks and pieces of straw (mine does)".


Note to self from previous years
Last time I went out berry picking in the hot sun, I reminded myself that it would have been a good idea to bring a broad-brimmed hat, a big container of cold water and sunscreen.


What to do with all of those berries
To freeze the berries, wash and hull them and then spread them out in a single layer on a cookie sheet. Put the cookie sheet in the freezer, freeze until solid, and then take the berries off the cookie sheet and store in bags or tubs.
The best way to make sure that you don't eat all of the berries at once is to label at least one container of berries as "beans."
You might enjoy Peggy Lampman's recipe for Strawberries in Puff Pastry or her Waffles with Strawberry Compote, or Mary Bilyeu's Strawberry Rhubarb Pie. Since it's the season, I suspect that more recipes will come up.
Edward Vielmetti goes berrypicking for AnnArbor.com every chance he can get. Contact him at edwardvielmetti@annarbor.com.