Posted on
Wed, Dec 29, 2010 : 11:45 a.m.
Top 10 government databases
By Edward Vielmetti
The end of the calendar year is a good time to review some of the obscure sources of information that help round out stories. I've compiled a list of some of my favorite government databases which have detailed data compiled at the city, county, state and national level.
Government data is almost always cumbersome to work with, but a measure of patience pays off. Once you locate the particular collection you want there is almost always material hiding in it which is impossible to find any other way.
City of Ann Arbor
Legistar, Ann Arbor City Council: This system allows the city to put all of the information provided to members of council before a meeting online, with each agenda item containing its own collection of relevant documents. After the meeting, the agenda is updated with video that shows how the vote went. It's a handy way to track how decisions are made. Some, but not all, of the city's larger boards and commissions use this system routinely, and those that do routinely produce timely meeting minutes.
eTrakit: This permit-tracking database lets you see building and trade permits, inspection results and scheduling, rental property information, site plan/annexations/zoning/other planning project information, and civil engineering plans. The City Clerk's office also uses it to track dog permits and block parties.
City Assessor's office: If you're looking for a house, check out the assessor's office database to find about home sales in your neighborhood, or look for the registered owner of a commercial property. The database also has exterior photos and floor plan schematics.
Washtenaw County
Restaurant inspection reports, Washtenaw County Public Health: Look up restaurant inspections, which show violations of the state food laws that govern sanitation and management of restaurants. AnnArbor.com prints summary reports as new restaurants are listed, or look in Arborwiki for restaurants with inspection reports.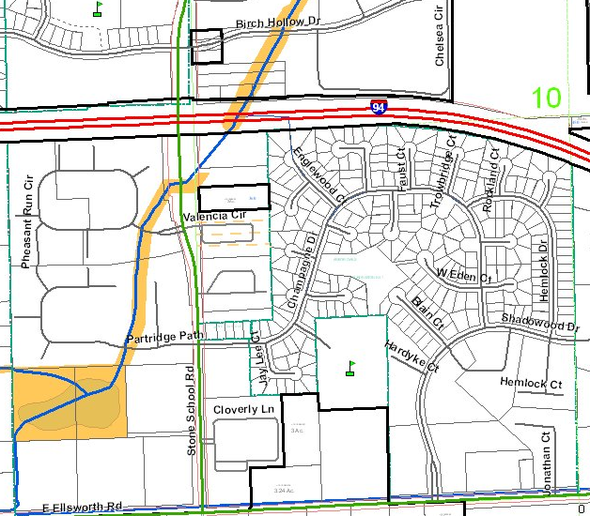 Image from MapWashtenaw
MapWashtenaw: Look up parcels, drains, roads and municipal boundaries across the county and explore aerial photography. The county can also print custom maps for you on large scale printers for reasonable prices.
Register of Deeds: Find detailed property records, including transactions, recorded easements, liens and more. You must register online to do a search, but once you do, searches are free; or go into the county offices at 200 N. Main St. in Ann Arbor if your real estate search is complex enough to need human assistance.
University of Michigan
Salary survey: This annual report, showing who makes what at the University of Michigan, is extremely popular among employees and job seekers.
State of Michigan
Business registrations, State of Michigan Corporation Division: Look up records of corporations, limited liability companies and limited partnerships authorized to transact business in the State of Michigan. Determine who the owner is and see when a business was founded and when it closed.
Federal Government
National Pipeline Mapping System: When an Enbridge pipeline ruptured in Marshall, Michigan, this summer, first responders were not even aware that there was a major petroleum pipeline in the area. Look up your location to see where major oil and gas pipelines run.
US Census: The census numbers for the 2010 count are to be released over the span of the next few months, and the details will help the states redraw congressional district boundaries. Look for intense interest in the process, as Michigan loses as congressional seat.