Posted on
Tue, Jun 22, 2010 : 3:35 p.m.
601 Forest student high-rise developer aims for fall construction start
By Paula Gardner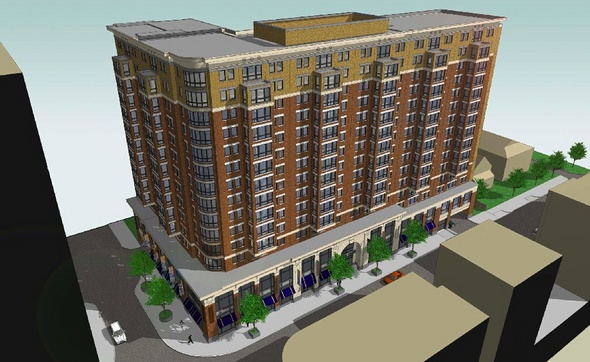 Ann Arbor web archives
The developer of
601 Forest
- a planned 14-story student high-rise at the
corner
of South University and South Forest - is adding parking and shedding some square footage.
The next step, city officials say, appears to be filing for building permits that will start the construction process.
"They've given me every indication ... they'd begin construction in the fall," said city planner Matt Kowalski.
Plans for 601 Forest were approved in October 2008 after developer Ron Hughes scaled back the original vision for a 26-story project.
The plans include first-floor retail space, two levels of underground parking, a fitness center and landscaped terrace on the 2nd floor and apartments marketed toward students on floors 2-14.
Now Hughes and his development team are seeking changes to the plans. According to a recent letter to the city and revised site plan:
• The bedroom count would climb by 10 to a range of 570-620. • The number of parking spaces would go from 102 to up to 146, due to moving the location of a water storage tank. • The building size would be reduced by about 9,000 square feet from its original 227,223 square feet.
Other changes include some building configurations that will move the entrance south on South Forest, add two retail storefronts and remove two elevators from the design.
"They've indicated to me that they're making more efficient use of the space," Kowalski said.
The administrative changes face up to 45 days of review by Kowalski and other city staff, and they won't need to go back to the Planning Commission for approval.
The 0.79-acre 601 Forest site includes several existing buildings, which would be demolished to make way for the new construction. They include the buildings that house Village Corner and Campus Student Bike Shop, the former Bagel Factory and two student rentals.
Dick Scheer, owner of Village Corner, said he has not yet been notified that construction could be starting on the project.
"Once construction starts, we'll be moving elsewhere," he said.
That location is undetermined, Scheer added.
"We'll cross that bridge when we come to it," he said. For now, he added, "it's business as usual."
Hughes has not returned a call seeking comment. Initial plans called for construction to begin in spring 2009, but financing stalled in the wake of the banking crisis.
In other recent student housing construction news, Zaragon Place 2 was approved June 15 by the city Planning Commission. That 14-story high-rise is planned for the corner of Thompson and East William.
Read the letter from the 601 Forest development team to the city here..
Paula Gardner is Business News Director of AnnArbor.com. Contact her at 734-623-2586 or by email. Sign up for the weekly Business Review newsletter, distributed every Thursday, here.