Posted on
Thu, May 31, 2012 : 5:21 p.m.
A123 Systems: 'No assurance' it can continue to operate
By Lizzy Alfs
Massachusetts-based manufacturer A123 Systems issued a "going concern" warning in a filing with the U.S. Securities and Exchange Commission this week.
The lithium-ion battery maker said it expects "significant net losses and negative operating cash flows over the next several quarters."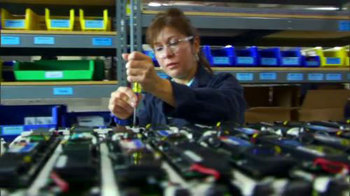 Photo courtesy of A123 Systems
The warning comes after the battery maker — which employs about 700 people at its battery plants in Romulus and Livonia and about 40 at its research and government solutions division in Ann Arbor — recalled defective batteries built at its Livonia plant. The company makes batteries for electric vehicle startup Fisker Automotive, BMW and General Motors.
A123 is replacing battery modules and packs that may contain defective prismatic cells produced at the facility. The cost: $51.6 million. It also recorded an inventory charge of $15.2 million related to existing inventory at the plant that may be defective.
A123 said in the filing it's looking to raise additional capital and is in discussions with strategic partners for investments in the company while it continues to seek to reduce cash used in operating and investing activities.
"Although the company's intent is to improve its operating efficiencies and to obtain additional financing, there is no assurance that the company will be able to obtain such financing on favorable terms, if at all, or to successfully further reduce costs in such a way that would continue to allow the company to operate its business," the filing says.
In 2009, A123 landed government support via a $249.1 million economic stimulus grant from the U.S. Department of Energy — a grant Ann Arbor entrepreneur Maria Thompson was credited for playing an instrumental role in. Thompson retired as an A123 executive in 2010.
That came after the battery manufacturer won $125 million in tax credits and incentives from the Michigan Economic Development Corp in spring 2009 and a $10 million cash grant from the state in fall 2008.
Then the company took a series of blows after it temporarily laid off about 125 workers last fall after Fisker delayed a key product. In December, the company acknowledged a manufacturing error in the hose clamps in the internal cooling system of up to 50 battery packs.
General Motors acknowledged Wednesday's filing and told Reuters in a statement: "We are aware of the filing and continue to work closely with A123 Systems as we do with all of our suppliers. Our plans for the Chevrolet Spark remain unchanged."
For first quarter ended March 31, A123's total revenue dropped 40 percent to $10.9 million. Product revenue was $7.3 million, a 53 percent decrease from $15.5 million in the first quarter of 2011.
Shares of A123 (NASDAQ: AONE) are down Thursday after the news, falling 10.5 percent to $1.02 a share.
Lizzy Alfs is a business reporter for AnnArbor.com. Reach her at 734-623-2584 or email her at lizzyalfs@annarbor.com. Follow her on Twitter at http://twitter.com/lizzyalfs.