Posted on
Fri, Apr 5, 2013 : 5:58 a.m.
University of Michigan startup AlertWatch raises $1M pending FDA approval
By Ben Freed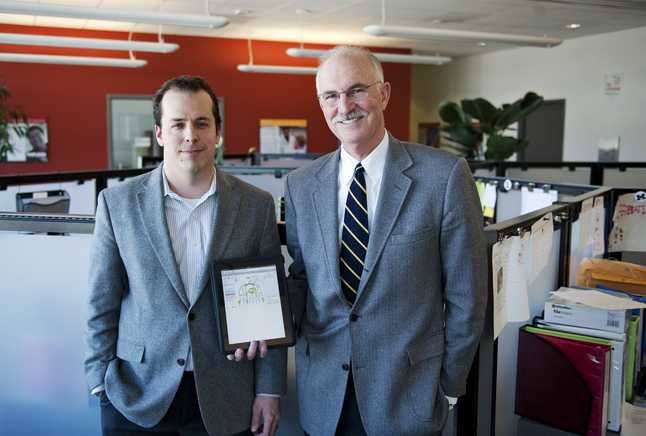 Daniel Brenner | AnnArbor.com
As hospitals become digitized, there is increasing demand for software that can take newly available patient information and make it useful for doctors and nurses in operating rooms and intensive care units.
New University of Michigan spinoff AlertWatch aims to display vital data to doctors in an easy-to-understand format that could help increase patient safety.
"The good news is that to begin with we don't kill very many people. The odds of a major problem in the operating room are relatively low." AlertWatch founder Dr. Kevin Tremper said.
"The airline industry was in the same boat before they digitized. The commercial crash rate was at about one in a million and now they're less than one in 25 million. Right now we're at about one in 200,000 that's an anesthetic related disaster, we'd like to get that closer to 1 in a million."
As pilots and nuclear plant operators learned, just because more information is available does not mean that putting it all in one place is easy or efficient. As an anesthesiologist, engineer, and amateur pilot, Tremper wanted to incorporate that lesson as he designed the first iteration of AlertWatch.
"In a cockpit 20 years ago you saw lots of dials and gauges. Now you only see switches and three screens in front of the pilot… alerts come up on the one called the 'multi-function monitor' and are triggered by a hierarchy of importance," he said.
"At Three Mile Island and other disasters they went back and determined that when something happened all of the alarms went off at the same time and it was distracting and unhelpful."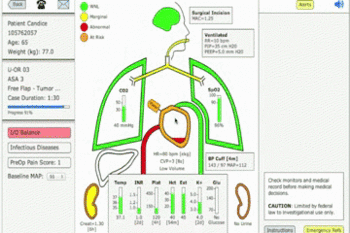 Courtesy AlertWatch Website
The multi-function monitor developed by AlertWatch is designed to aggregate information from 204 different sources and display them on an animated human body that gives off different signals if readings indicate potential problems.
"The system knows how these different data points relate to each other and can do calculations in the background that otherwise would have been difficult to do," Tremper said.
The animated color-coded display is one of four screens that anesthesiologists monitor while caring for a patient at U-M's hospital.
"You have the wavy line screen that everyone is familiar with, and then you also have one screen that you use to adjust medication levels, to control what's happening, and one to document what you're doing," Tremper said. "This one goes above it and it's monitoring everything and bringing it all together."
Once it brings the information together the screen outlines and colors in vital organs using a green-yellow-red coding system. Organs that have a history of disease or need immediate attention are outlined in orange.
Tremper first started working on AlertWatch 4 years ago with one graduate student. Since then, the company has raised nearly $1 million from angel investors and matching funds from the Michigan Economic Development Corp. and Ann Arbor SPARK.
CEO Justin Adams said the company is in the process of receiving Food and Drug Administration approval for the technology.
"We are currently operating the system at the University of Michigan hospitals and in the background at the University of Tennessee and University of Vermont," he said.
The company is developing an intensive care unit and mobile versions of its software, but each new feature requires scrutiny from the FDA.
"They really want to see that you've thought about how you could mess this up, if someone else could hack into it, pretty much all of the risks involved," Adams said.
"And that you've thought about how to mitigate those risks and you've tested the solutions you've developed."
Once the FDA approves the operating-room software — likely some time this summer — Adams plans for the company to begin making money by selling the program as a subscription to hospitals around the country. Once they start signing on, he sees accelerated growth potential for the company.
"For a software company, pre-revenue is not a great position to be in to go out and raise venture capital," he said.
"… Hopefully the money we've raised will get us through sometime next year when we'll have a couple of revenue streams and we can have a good balanced conversation with institutional investors who can help us rocket the company up."
AlertWatch consists of Adams and two programmers working out of the Venture Accelerator in the North Campus Research Complex. Adams said he hopes to add three more employees by the end of 2013, including two more software developers.
The company has a "board" of seven people that meets on Sunday mornings at a coffee shop to discuss the progression of the company. The board includes the current employees as well as Temper, his executive assistant, Dr. James Bagian and Temper's son who recently graduated from U-M.
"The cool thing about us is that thanks to the where we are with our founding team and being at the accelerator, we are less under-resourced than most startups," Adams said.
"If you need 10 things to get off the ground, a typical startup might have 3 of those to begin with, but we already have 7 or 8."
Ben Freed covers business for AnnArbor.com. You can sign up here to receive Business Review updates every week. Reach out to Ben at 734-623-2528 or email him at benfreed@annarbor.com. Follow him on twitter @BFreedinA2