Posted on
Tue, May 3, 2011 : 6:24 p.m.
And the winner is: Ypsi Arbor Bowl sign sold to highest bidder after online auction
By Angela Smith
The Ypsi-Arbor Bowl sign has been an iconic feature of Washtenaw Avenue for decades, but by the end of the month, it will be gone.
The sign, and many other assets of Ypsi Arbor Lanes, have been auctioned off individually by a website called auctionbowling.com.
Glenn Hartshorn, who oversees the auction site, says that there are 45 individual highest bidders who will make their way to the alley to collect lanes, pins, memorabilia, and that classic sign.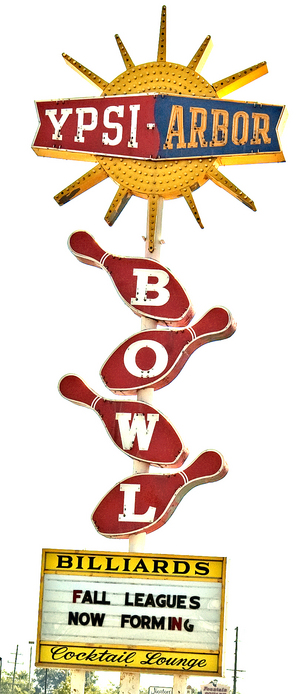 ypsi arbor bowl
The auction site lists the sign's highest bid as $4,845.00, but Hartshorn told AnnArbor.com that the bid was placed by a minor, and they did not pursue collection of the offer.
The second highest bid, reportedly made by an Ann Arbor man, resulted in unreturned emails and phone calls.
The winning bid - the third down the line - belongs to a sign museum in South Dakota, according to Hartshorn.
The unnamed museum was willing to invest $5,000 into obtaining the historical Vegas-style sign, but asserted that it would cost $1,750 to move it, thus arriving at a maximum bid of $3,250.
"I think it was a fair price," said Hartshorn, stating that the buyers paid what they wanted, "everyone comes out a winner."
Bowling Alley manager Ray Bonkowski agreed. He was pleased to find out that the new owner plans to display the sign, and "keep it going."
When the bowling alley first announced its plan to close, there was a rise of initial interest in the sign. Many locals wanted to see the sign stay where it was, or donated to a local museum like the Henry Ford.
Within weeks, the History Channel's popular TV show, American Pickers had made contact and expressed interest in purchasing it.
But that interest fizzled out. The starting bid was placed at $3,000, and the show never made any official offer higher than that, according to Hartshorn.
Ypsi Arbor Bowl closed for business after its final frame on Saturday. Ypsi Arbor Lanes was Ypsilanti's last standing bowling alley, with a number of league bowlers who played there regularly. Bonkowski said that the alleys were busy on its last Saturday night, and that many regulars made their way out to say goodbye.