Posted on
Wed, Feb 22, 2012 : 5:59 a.m.
Ann Arbor's Blue Tractor completes renovations, doubles in size and changes menu
By Lizzy Alfs
Six weeks after announcing Cafe Habana would relocate to make room for the adjoining Blue Tractor to expand, renovations at the restaurant are complete and Blue Tractor has introduced its new menu.
The barbeque restaurant and brewery located on East Washington Street in downtown Ann Arbor has doubled in size and now has a seating capacity of 211 people.
The reason for the expansion: Blue Tractor sales were up 19 percent in 2011 and the restaurant "just (didn't) have enough seats", said owner Jon Carlson, who opened the restaurant with business partner Greg Lobdell, operating partner Dan Glazer and other investors in 2008.
As part of the expansion, they temporarily closed Cafe Habana and plan to reopen the restaurant in the Parthenon Restaurant space on South Main Street this summer. Parthenon is still open and plans to close in the coming months.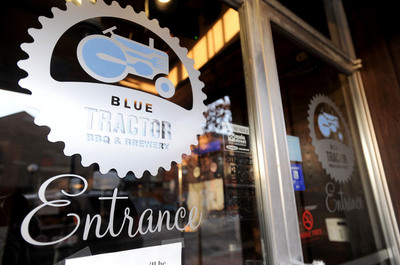 Angela Cesere | AnnArbor.com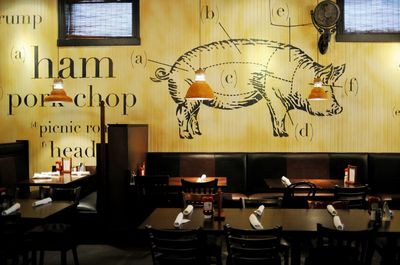 Melanie Maxwell | AnnArbor.com
Changes at Blue Tractor include a new hot deli case for prepared foods, a retail counter, and an expanded waiting area. The former Cafe Habana has been decked out in reclaimed barn wood from the Midwest, a giant pig graphic is painted on the wall, new TVs are mounted and the bar has been replaced with additional seating.
The pathway that connects the two spaces now looks directly into an open kitchen, which allows people to "see inside and smell food from the smokers," Glazer said.
The Cafe Habana Cellar Lounge - complete with its popular salsa nights - is still located in the basement of the restaurant, and it now has its own entrance from East Washington Street.
Eventually, the lounge will transition into a new concept that is yet to be revealed.
"What I can say is we're going to have a great atmosphere down there, and the new Habana (on Main Street) will inherit what we have going down there now," Glazer said.
Along with renovations to the space, the entire Blue Tractor menu has been revamped.
"We felt that with any rebirth of a space or anything, you need a full revitalization of everything," said chef James Wilhelm. "If you're going to put the time and energy into a new space, we should create a new menu to go along with it."
Wilhelm said they kept Blue Tractor's "classics," such as fried pickle chips, corn muffins, sliders and the pulled pork sandwich, but threw in "eclectic barbeque" here and there.
The new menu has inspiration for all over the world, he said. Some new items: Chile ginger spare ribs, barbeque wings with toasted sesame seeds, crushed tomato soup, salad with cured and smoked salmon and a smoked tofu hoagie.
"We're trying to excite people and have them say, 'Wow, I've never seen that,'" Wilhelm explained. "It's items people can relate to, like tacos and wings, but with a different spin to get people's minds rolling around a little."
The hot deli case offers items including pulled pork, brisket, ribs, baked beans and coleslaw. Wilhelm said he is also toying with the idea of offering a packaged family meal as a "quick, easy way to get good food to families."
The restaurant now has a revised cocktail list and some new beer in the works, such as a partnership with Cherry Republic to make a cherry stout.
Although it was a lot of work to prepare for and execute the expansion and menu changes, Wilhelm and Glazer agreed: it's been a successful transition.
"I've worked 120 hours a week and haven't had a full day off, but I'm grateful for our staff and it's really nice to see our hard work paying off," Wilhelm said.
Glazer added: "We're bigger and better. It's busy, it flows better and ultimately, this was the way to go."
Lizzy Alfs is a business reporter for AnnArbor.com. Reach her at 734-623-2584 or email her at lizzyalfs@annarbor.com. Follow her on Twitter at http://twitter.com/lizzyalfs.