Posted on
Wed, Sep 11, 2013 : 10:40 a.m.
The Lunch Room does vegan food in a way that even non-vegans can enjoy
By Kim Bayer
With the publication a couple of years ago of the epic vegan tome Veganomicon and more recently Mark Bittman's VB6: Eat Vegan Before 6pm to Lose Weight and Restore your Health, vegans (i.e. people who abstain from using animal products) are gaining ground in numbers and in national conversations around food.
Since the August opening of a brick-and-mortar location in Kerrytown after years as a popular food cart, now Ann Arbor has its second 100 percent vegan restaurant with The Lunch Room.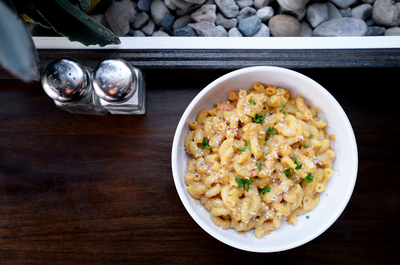 Melanie Maxwell | AnnArbor.com
They don't advertise explicitly that they are vegan (except on "secret vegan handshake" websites like
Happycow.net
) and the Lunch Room's all-vegan menu includes many mainstream dishes like loaded nachos, pad thai, mac and cheese, posole and BBQ sliders. Lunch Room owners, Phillis Engelbert and Joel Panozzo, demonstrate a passion and ingenuity for creating delicious food that is rare in any part of the restaurant landscape. The fact that they do it all with no meat, no dairy, and no eggs makes the Lunch Room's food especially impressive.
To order, you'll find clipboards with menus sitting on a glass-fronted case of fresh baked goods just inside the Lunch Room door. They are open for every meal, including breakfast on Wednesdays and weekends. Without cheese, bacon, ham, sausage, eggs, butter, or milk (and that goes for the baked goods too), I told Phillis Engelbert that it takes a lot of cojones to open a restaurant that serves breakfast.
But their breakfast is fantastic, with menu choices like made-from-scratch wheaty and tender pancakes with real maple syrup and fresh fruit, and perfectly baked house-made granola (with almond milk), and a fresh vegetable and seitan chorizo hash. On weekends, light and chewy glazed pumpkin cinnamon rolls are very nice with locally-roasted Mighty Good coffee. And don't miss the chocolate babka either.
For the "main event" dishes I've been puzzling over whether to review them just on their vegan merits or on an objective comparison with non-vegan food. But how can a vegan pad thai hope to compete with regular pad thai made with fish sauce, shrimp and scrambled eggs? That's just bringing a knife to a gun fight - not a fair contest.
Probably the dish that surprised me the most was the excellent loaded nachos made with "cashew cheese nacho sauce, grilled onions & green pepper with corn and black beans, topped with fresh pico de gallo salsa." These were amazing, mostly because of the cashew-based nacho "cheese" that they make. Phillis Engelbert says they make almost all of their proteins, including a half dozen vegan cheeses and seitan (for "seitanic sliders") themselves. I was not expecting to like vegan nachos as much as I did - they're great.
Another excellent option was the enormous and super fresh Greek salad with "romaine, smoked tofu, kalamata olives, tomatoes, pickled beets, thinly sliced red onion, cucumber, banana pepper rings and our own Greek dressing," (the Lunch Room also makes all their own salad dressings Engelbert told me). And she said she estimates that they are getting 80 percent or more of their produce at the farmers market right now. The Greek salad was so gorgeous it looked like an advertisement for a Greek salad and came with two slices of house-made baguette.
One other dish that I really enjoyed, though I had to suspend a little bit of disbelief, was the mac and cheese, made with another cashew-based cheese. In their description "the "cheese" is rich with butternut squash & red peppers" and "baked to perfection with a crunchy almasen (almonds, lemon zest and sesame seeds) topping."
The soft macaroni coated in a creamy, cheesy sauce was a little mushy and deeply comforting in a way that only carb-rich foods can be. And your tongue could be fooled into believing you were eating real macaroni and cheese if you weren't paying close attention. It's a yummy dish even if it's different from a richer dairy cheese version - with sweetness from the squash, savory cheesiness from nutritional yeast, and round depth from red pepper. I loved the savory bit of crunch from the sesame topping.
Even making allowances for the vegan verisimilitude, the Lunch Room's pad thai with "slightly spicy coconut-milk peanut sauce and topped with fresh red pepper, cilantro, cucumber, carrots, crushed peanuts" could kick it up a notch in my book. It was beautiful but bland and, unlike almost all the other dishes, a little underwhelming with the amount of toppings. A bit more salt, more cilantro, coconut, garlic and lime would have gone a long way for my tastebuds.
Another dish that was somewhat unidimensional was a posole dinner special. This bright red stew filled with chickpeas, tomatoes and tortilla chips was beautifully garnished with creamy avocado and crunchy purple cabbage and had a nice, medium slow burn from the peppers. But the flavor was not as exciting as I wanted it to be. I wanted more herbs and onion, more lime, more cilantro.
Either before or after your entree, you'd do well to pay attention to the bakery case when you walk in.
Engelbert told me they have three bakers on staff and they are making all their own bread and baked goods (some of which are also gluten free). I am a fan of their excellent cookies which are bigger than the palm of your hand. Engelbert says the soft carrot cake-like "orange chewy" with white icing and raisins is their most popular, but I'm crazy for the dark and spicy Mexican hot chocolate cookie with cayenne and cinnamon. Really all the cookies are good - molasses ginger, chocolate chip - you can't go wrong.
The Lunch Room also makes a daily variety of baked "donuts" in interesting flavors like chai and lemon-lavender. Some of the regular cakes have been hit or miss though. Recently a peach farmers market cake was rubbery and wet, but a blueberry coffee cake was light and tender with a delicious crunch of streusel on top.
RESTAURANT REVIEW
The Lunch Room
407 N. 5th Avenue, (inside the Kerrytown Market & Shops), Ann Arbor, Michigan
734.224.8859
http://thelunchrooma2.tumblr.com
Hours: M, T, TH: 11am-8pm; Wed: 8am-8pm; Fri: 11am-10pm; Sat: 8am-10pm; Sunday Brunch: 10am-3pm
Plastic:All
Liquor: None
Prices: Inexpensive. Entrees: $6-$10
Noise level:Moderate
Wheelchair access:Yes
I have heard the Lunch Room makes excellent pies so I am interested to try a future menu item Engelbert says they hope will draw in the Commie High students - "pie fries," which she described as baked pie dough fingers served in a paper cone with a jammy dipping sauce. Mmmm.
For drinks with a bakery treat, their barely sweetened spicy, gingery chai is made in-house (with real spices, not from a mix) and delicious. Get the hot version though - the iced was too watery. I also love that they have limeade - and it's excellent and not too sweet. I'm a sucker for fresh limeade and long time Ann Arbor townies will know why.
Much has been written already about the history of Engelbert and Panozzo as business partners. In a nutshell it started when Phillis Engelbert hired Joel Panozzo as a graphic designer and eventually convinced him to buy the house next door. They enjoyed cooking together and started testing out recipes for things like coconut milk yogurt and pad thai by throwing vegan dinner parties, then pop-up dinners. That led to buying a food cart that they dubbed the Lunch Room, a name based on the cafeteria tray that they had served five-course meals on at their pop-ups. The Lunch Room gained a devoted following at Mark's Carts (which also helped them "crowdsource" some of their capital funding with a pre-sold Meal Plan - in which I was a participant), and that success translated into their ability to open the Lunch Room restaurant in Kerrytown.
In going from Lunch Cart to restaurant, an evolution that Engelbert describes as a "big fun, crazy exhausting project" they've gone from three employees to 20. And the service is quick, friendly and coordinated. The space is beautiful and the food is delicious. Yummy enough so that Engelbert estimates that under 10 percent of their customers are actually hard core vegans.
But she says they know when vegans come because of the wonder and disbelief in their voices.
"They ask 'Is everything here vegan?' and 'You mean I can order everything?'" she said. "They look like they died and went to heaven - that's how we know when vegans come."
Whether you're vegan or not, Bittman is definitely onto something regarding the health (and environmental) benefits of a vegan diet, but your tongue and your community will benefit, too.