Posted on
Tue, Jul 27, 2010 : 6:03 a.m.
Ann Arbor engineering firm Raetech Corp. developed engine powering Automotive X Prize front-runner
By Sven Gustafson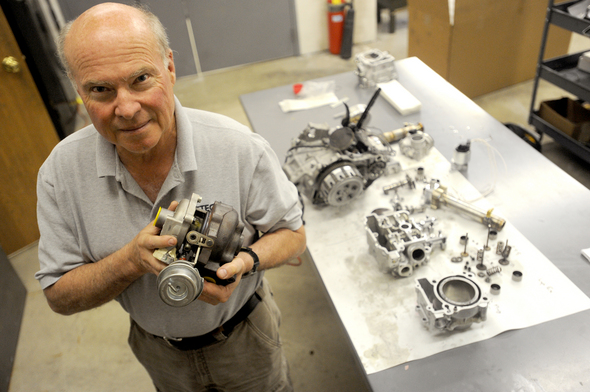 Angela Cesere | AnnArbor.com
A small engine designed and built in Ann Arbor is powering three unusual-looking vehicles that many observers are picking to win the Automotive X Prize, a rigorous international competition to develop ultra clean-energy vehicles.
The one-cylinder, 250 cc, partly turbocharged workhorse that powers the Edison2 Very Light Car was developed by Raetech Corp., a small automotive, motorsports and aviation engineering firm. The Automotive X Prize is a $10 million competition to build a production-capable clean vehicle capable of achieving 100 miles per gallon or its energy equivalent.
Raetech's engine, which burns a fuel blend of 85 percent ethanol and 15 percent gasoline, has been good enough thus far to get three different Edison2 Very Light Cars into contention for the finals, which started July 19 and runs until July 30.
The Very Light Car unofficially achieved 129 miles per gallon during Thursday's testing at MIS.

Winners, if any, are to be announced in September.
"We are only facing meeting the standards and ourselves, Edison2, to win the prize," said David Finch, president of Raetech.
Indeed, two versions of the Very Light Car are the only vehicles remaining in the mainstream (four-seater) category. The team also has a nearly identical-looking entry with minor powertrain tweaks in the alternative tandem class.
One of the secrets of the Very Light Car's success may be its ultra-efficient platform. "The light chassis and aerodynamic body will make hybrid or electric cars much more efficient, helping solve problems of range and performance," according to the team's website.
Contestants must pass a rigorous set of tests — conducted by Consumer Reports — that evaluates not only fuel efficiency, but also emissions, range, safety and other technical benchmarks. The competition, which began with 28 teams and 36 vehicles, is now down to 12 teams and 15 vehicles.
Finch and his company, which he began in 1984, first got involved with the project about a year and a half ago. Ron Mathis, the chief engineer for Lynchburg, Va.-based Edison2, reached out to Finch, whom he knew from when the two worked on a Chrysler racing program in the 1990s, asking about different engine concepts for the challenge.
Finch said the team quickly opted against going electric or hybrid-electric for the mainstream category out of concerns over excessive weight of the battery packs and limited range. Engineers instead based their design on a Yamaha single-cylinder motorcycle engine.
"We kept the core motor, but we had to develop inductions systems and exhaust systems and pistons and cams, all the things that attach to the motor, and electronics, and adapt it to E-85 fuel, which in this case was a good choice," Finch said.
"E-85 works out quite well in very high-performance vehicles because it can withstand a lot of compression ratio, which raises the efficiency. And in this particular case, on a gallon-per-gallon basis, E-85 is not as good as gas, but there is equivalency. So one and a half gallons of E-85 gets equated to one gallon of gasoline."
In addition to designing within strict parameters for vehicle drag, aerodynamics and drivetrain characteristics, Raetech engineers had to devise an electronic controls system and an exhaust gas recirculation system.
"We can't just go on efficiency," Finch said, "we have to have efficiency and we have to have power. So we turbocharged it to get the power. To get the efficiency, we run on a non-turbocharged part of the power band."
Finch remains relatively low-key about his team's accomplishments to date. He chalks up the spate of 18-hour days spent at the Michigan International Speedway in Brooklyn — the competition's proving ground — and the occasional pro-bono work to being "success-oriented."
"Coming from a motorsports background, we do whatever it takes to win," he said.
Check out Mathis, the Edison2 chief of design, discussing the Very Light Car below.
Contact Sven Gustafson at sventg123(at)gmail(dot)om, or follow him at twitter.com/sveng.