Posted on
Mon, Jan 16, 2012 : 4:05 p.m.
Bankrupt college bookstore chain may close Michigan Book and Supply
By Nathan Bomey
The parent company of five of the largest college bookstores in Ann Arbor and Ypsilanti is considering whether to close 40 bookstores throughout the country.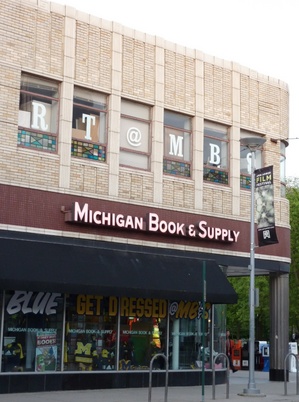 Photo via Flickr user sfgamchick
NBC Acquisition Corp.
's
Nebraska Book Co.
, which filed for Chapter 11 bankruptcy protection in June, is closing seven stores and weighing whether to reject leases at an additional 40 stores, company president
Barry Major
said in a
newsletter
.
The company owns Campus Book Supply, Mike's Bookstore and Ned's Bookstore near Eastern Michigan University's campus in Ypsilanti and Ulrich's Bookstore and Michigan Book and Supply near the University of Michigan's campus in Ann Arbor.
The Michigan Daily reported today that Michigan Book and Supply is among the stores the company may shutter. It was not immediately clear whether the company's other local stores could also be closed.
Representatives for Nebraska Book Co. could not be immediately reached for comment.
The closure of Michigan Book and Supply would open up a sizable piece of commercial real estate in one of the hottest retail markets in the Ann Arbor area. The store sits at the corner of South State Street and North University Avenue on the edge of U-M's central campus.
Nebraska Book Co. said it had "requested that the landlords of approximately 40 additional off-campus stores allow us to continue to evaluate their performance (including Spring Rush) through April 30, 2012, at which time we must either assume or reject those off-campus leases."
The news adds to a period of turbulence for the bookstore industry, which endured the liquidation of Ann Arbor-based Borders in 2011.
Among the challenges for university bookstores is a move toward electronic textbooks, a shift U-M is considering accelerating.
Nebraska Book Co., which recently had to request court approval to adjust its bankruptcy financing agreement, believes it will successfully emerge from bankruptcy court.
"While we would like to have this behind us, we are pleased with the progress and remain confident we will successfully exit the Chapter 11 process in the near future," Major said.
Contact AnnArbor.com's Nathan Bomey at (734) 623-2587 or nathanbomey@annarbor.com. You can also follow him on Twitter or subscribe to AnnArbor.com's newsletters.