Posted on
Thu, Apr 4, 2013 : 5:58 a.m.
Belly Deli restaurant opens on South University Avenue in Ann Arbor
By Lizzy Alfs
Photo by Mike Han
The owners of Ann Arbor's
No Thai!
restaurants are trying their hand at a new concept: a banh mi-focused Asian deli.
Belly Deli opened on Monday at 1317 S. University Ave. in the original 700-square-foot No Thai! space. No Thai! relocated last year to the first-floor of Landmark student high-rise.
"(Belly Deli) is kind of a fusion of Vietnamese and Korean cooking, and maybe a little Chinese," said Belly Deli co-owner and operational manager Eric Joh.
"I really like (banh mi sandwiches) a lot because they're not as heavy as other sandwiches," he continued. "We kind of wanted to take that idea and put our own little twist on it."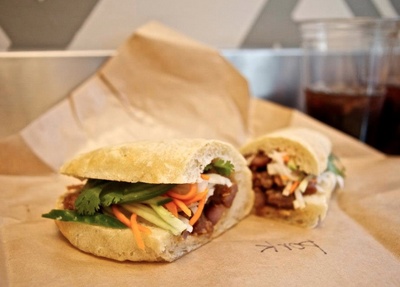 Photo by Mike Han
Already prevalent in New York, banh mi sandwiches started gaining popularity in the Ann Arbor area last year. The Lunch Room, San Street, Bona Sera and Sava's Restaurant have served versions of the Vietnamese sandwich, which is prepared on a baguette and filled with pickled vegetables, meats or tofu, and fresh herbs.
But Belly Deli's offerings don't end there: the restaurant also serves salads and appetizers, like its kimchee pork fried rice balls.
"We realized that there are not a lot of places that sell salads on South University," Joh said. The first few days of business, Joh said the Szechwan stir-fry salad was popular among customers.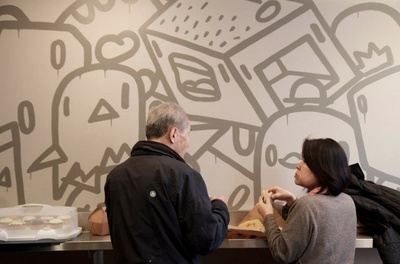 Photo by Mike Han
"We try to perfect the few (menu) options that we do have," he said.
After No Thai! vacated the space, Joh said it was renovated to give it an "urban and different" feel. A stainless steel countertop wraps around the restaurant and graffiti artist Mike Han painted a mural on one of the walls.
A sandwich at Belly Deli costs $7 or $8, and salads cost between $7 and $9. There are 10 seats and a standup counter. Joh said he's also still looking to hire a few employees. (Visit the website to apply)
Belly Deli is open from 11:30 a.m. to 10 p.m. seven days a week.
Related coverage: AnnArbor.com's Jessica Webster wrote about Ann Arbor's 'banh mi revolution' last summer. Read her report to learn more about the sandwich and its growing popularity.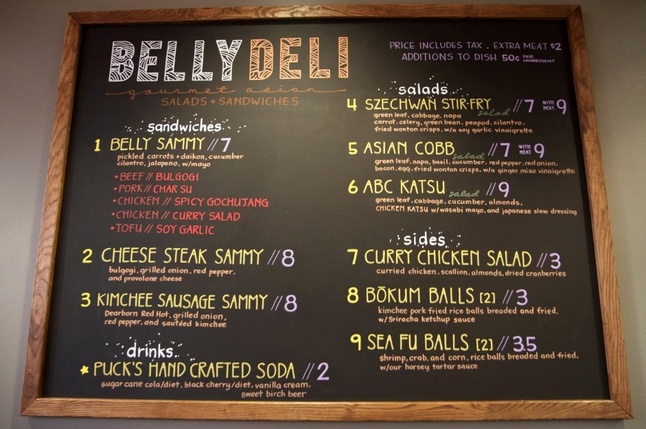 Photo by Mike Han
Lizzy Alfs is a business reporter for AnnArbor.com. Reach her at 734-623-2584 or email her at lizzyalfs@annarbor.com. Follow her on Twitter at http://twitter.com/lizzyalfs.