Posted on
Mon, Oct 25, 2010 : 3:27 p.m.
Gateway founder Ted Waitt donates to Rick Snyder's Michigan gubernatorial campaign
By Nathan Bomey
Ted Waitt, the co-founder of Gateway who built the computer company in a global giant and became a billionaire through its rise, is supporting Michigan Republican gubernatorial candidate Rick Snyder.
Waitt donated the maximum $3,400 to Snyder's general election campaign, according to campaign finance records released by the state of Michigan.
It marks the first time Waitt has signaled any kind of interest in the campaign -- which has featured regular attacks from Democrats and, in the primary, Republicans accusing Snyder of outsourcing jobs as a Gateway executive.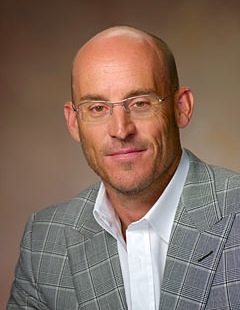 Waitt, who invested in the venture capital firm Snyder formed when he left Gateway in 1997, has not responded to repeated interview requests over the last several months from AnnArbor.com. His net worth was listed as
$1.7 billion in 2007 by Forbes
, though that was
down from $8.54 billion
in 2000.
Rick Rice, a spokesman for Waitt's La Jolla, Calif.-based investment firm Avalon Capital Group, said today that he would ask Waitt whether he's willing to make any comments about the gubernatorial race.
It's unclear how close Snyder and Waitt remain today, but the Snyder campaign is welcoming Waitt's support.
"Rick is happy to have Ted's support," campaign spokesman Bill Nowling said in an e-mail. "It shows he believes Rick is the right person to lead Michigan."
Waitt and Snyder met when Snyder was a tax accountant 20 years ago for Coopers & Lybrand's Chicago office.
Waitt, who founded Gateway with his brother but later became the public face of the company, hired Coopers & Lybrand to analyze the merits of a possible acquisition. Snyder counseled against the acquisition, and Waitt was impressed with Snyder's advice.
Waitt soon recruited Snyder to become Gateway's executive vice president, and Snyder moved from Chicago to Gateway's then-headquarters in South Dakota in summer 1991. At the time, Gateway had fewer than 1,000 employees and some $600 million in annual sales.
"Ted figured he needed some help running the company, so he asked me to move out to South Dakota," Snyder told AnnArbor.com in an interview earlier this summer. "And basically after I got out there, it evolved fairly quickly. We didn't have it fully defined. It was a trust relationship to say move out to the prairie and go to work.
"So I moved out there to go to work. Ted did marketing and product stuff. He did anything he wanted, but basically the people all worked for me and I was responsible for running the place. Basically in the early days that was the relationship through those whole six years of (working for) the company. I had a blast."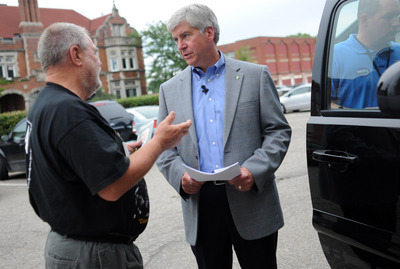 Melanie Maxwell I AnnArbor.com
Snyder eventually became president and chief operating officer of Gateway but left in 1997 to return to Michigan. In 1997, Gateway had some 10,600 employees in the U.S. and more than $6.2 billion in sales. Snyder continued to serve on Gateway's Board of Directors until 2007, when the company was sold to Taiwan-based Acer Inc.
After Snyder's departure, Gateway ballooned to 21,100 employees in the U.S. and 3,500 in 16 foreign countries by Dec. 31, 2000.
But the company's growth had gotten out of control and its grip on the market was slipping, just as the computer industry started to restructure and cost concerns shifted most of the industry's manufacturing overseas.
Waitt, who led the company successfully as CEO until stepping down in 1999, ousted an executive and became CEO once again in January 2001. But he made several strategic missteps as CEO of Gateway from January 2001 to March 2004, analysts told AnnArbor.com this summer.
Gateway sold 4.6 million computers in 1999 but that sunk 54.3 percent to 2.1 million in 2003.
The company founder, who still owned 32.8 percent of Gateway's stock as of Feb. 4, 2004, lost billions as Gateway collapsed. He gave up control of the company after Gateway acquired competitor eMachines Inc. for $289.5 million in March 2004.
As part of that deal, Wayne Inouye, eMachines' CEO, took over Gateway. He accelerated the shift of Gateway's manufacturing to eMachines' network of foreign suppliers. By Dec. 31, 2005, Gateway had just 1,800 employees, all in the U.S.
Collectively, the downsizing and outsourcing returned Gateway to a profit in 2005 for the first time in five years, according to SEC records.
But the outsourcing that occurred at Gateway in the time after Snyder had resigned as an executive but was still serving on the Board of Directors has become an issue in Michigan's gubernatorial campaign.
The Michigan Democratic Party and Democratic gubernatorial candidate Virg Bernero have accused Snyder of outsourcing jobs at Gateway. They've said he should have found a way to convince the Board of Directors to keep jobs in America.
Snyder has said he was a "minority voice" on the board and couldn't stop the outsourcing.
During the gubernatorial debate Oct. 10, Bernero called Snyder "chief executive outsourcer" and rejected Snyder's assertion that the outsourcing accusations were "simply untrue."
"As far as Gateway, either he lied to the SEC or he's lying here tonight," Bernero said.
A spokesman for Bernero's campaign could not be reached for comment this afternoon.

Waitt today runs Avalon Capital Group and several philanthropic initiatives, including the Waitt Foundation, Waitt Institute and the Waitt Institute for Violence Prevention. He has largely stepped out of the public spotlight, although his investment group reportedly faces allegations of profiting after a real estate development plan in Minnesota fell apart.
Contact AnnArbor.com's Nathan Bomey at (734) 623-2587 or nathanbomey@annarbor.com. You can also follow him on Twitter or subscribe to AnnArbor.com's newsletters.