Posted on
Thu, Apr 4, 2013 : 5:58 a.m.
Blimpy Burger owner remains optimistic as he searches for a new restaurant location
By Lizzy Alfs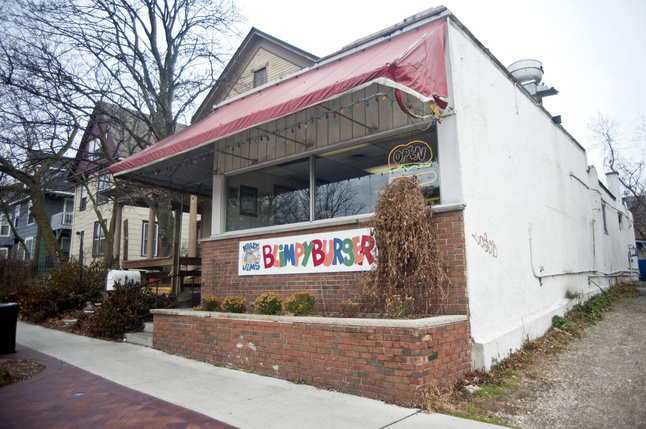 Joseph Tobianski | AnnArbor.com
Krazy Jim's
Blimpy Burger
owner
Rich Magner
is confident he will find a new space for his iconic Ann Arbor restaurant before his current lease expires in August.
He said he's looked at several spaces, but none have been the perfect fit for the 60-year-old burger restaurant.
"I was hoping to have a spot before last month actually, but I'm working on stuff," he said.
"I've got a couple possibilities now and I'm trying to get that figured out. Something else may pop open," he continued.
Magner was notified in late 2012 that he would need to vacate the Blimpy Burger building at 551 S. Division St. when his current lease expires in August. Patricia Shafer, the property's long-time owner and wife of Blimpy Burger's original founder, Jim Shafer, sold the property to the University of Michigan for $1.075 million in December.
U-M also purchased an adjacent building at 545 S. Division St. from Shafer for $425,000, property records show. University officials are discussing possible construction projects for the site, but it's unclear what their plans entail. The two properties sit next to an existing university-owned parking lot, and between the school's West Quadrangle dormitory and Perry Building.
Magner declined to provide details on where he's considered moving Blimpy Burger, but he's clear about one thing: he wants to keep the restaurant near downtown and the university's campus.
He said he inquired about the recently vacated Grand Traverse Pie Company space on East Liberty Street, but said the rent was too expensive for him and the landlord was already in negotiations with a new tenant.
Magner said Blimpy Burger customers have been equally supportive and worried since hearing that the restaurant has to relocate.
"Of course, this week the public schools are off, so we've got a gazillion kids in here today. It's been busy the last couple days," he added.
If he ends up with several possible locations to relocate Blimpy burger, Magner said he might ask customers to vote on where they'd like to see the restaurant move.
Asked if Blimpy Burger could close permanently, Magner said that's not an option.
"If I win the lottery, I might take a break before we reopen," he joked.
Lizzy Alfs is a business reporter for AnnArbor.com. Reach her at 734-623-2584 or email her at lizzyalfs@annarbor.com. Follow her on Twitter at http://twitter.com/lizzyalfs.