Posted on
Sun, Aug 11, 2013 : 11:27 a.m.
Blimpy Burger to close Wednesday; plans to host "Last Supper" fundraising meals
By Lizzy Alfs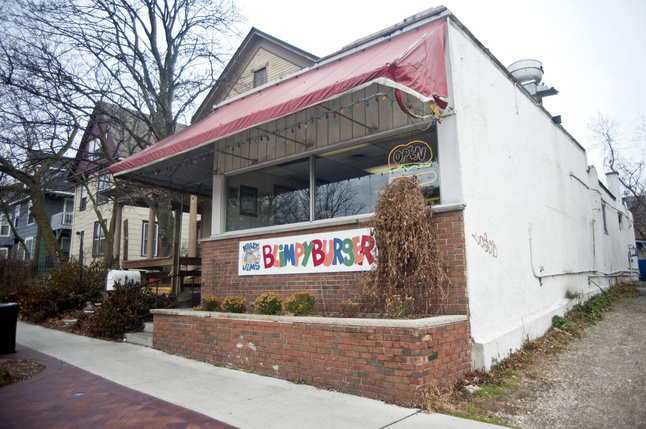 Joseph Tobianski | AnnArbor.com
After 60 years, Ann Arbor's iconic
Blimpy Burger
restaurant plans to close this week.
The burger joint at 551 S. Division St. will close at 8 p.m. on Wednesday, Aug. 14, said owner Rich Magner. Blimpy Burger's hours are noon to 8 p.m. for its remaining days in business.
The restaurant has to close after the University of Michigan purchased the Blimpy Burger building and surrounding properties to make way for a 600-bed graduate residence. Blimpy Burger must vacate the building by Aug. 31.
Magner is in the early stages of negotiating a lease for a new restaurant space in the downtown Ann Arbor area. He said it could be several months before Blimpy Burger reopens.
"The lease isn't signed yet, so the location isn't disclosed," Manger said. "However, we will be moving, of course."
Although Blimpy Burger won't be open to the public after Wednesday, Magner plans to host fundraising meals on Aug. 17 and 18.
The restaurant launched a "Blimpy Last Supper" fundraising website, where people can purchase tickets to have a final meal in the building.
"Our time at 551 S. Division is coming to an end and we will no longer be able to serve the public mouth watering burgers beyond (August 14th), but we wanted to offer some of you the opportunity to be the last customers at the original location," the website says.
The Blimpy Last Supper meals are being held in one-hour time slots between noon and 8 p.m. on Saturday and Sunday. There are 35 seats available per hour, and tickets costs $100.
The ticket price includes a meal, a custom Blimpy Burger T-shirt and an invitation to an annual private appreciate dinner at the restaurant's new location. The restaurant will also hold a drawing for a private catering event.
Magner said the money raised through the fundraisers will be used to help Blimpy Burger transition to a new location.
Check out the Blimpy Last Supper website.
Lizzy Alfs is a business reporter for AnnArbor.com. Reach her at 734-623-2584 or email her at lizzyalfs@annarbor.com. Follow her on Twitter at http://twitter.com/lizzyalfs.