Posted on
Thu, Jan 27, 2011 : 6:55 p.m.
Borders gets tentative financing deal but refuses to rule out 'in-court restructuring'
By Nathan Bomey
Ann Arbor-based Borders Group Inc. said late today that it had landed a new source of credit contingent upon its ability to secure additional concessions from its vendors and financing from other lenders.
At the same time, the book store chain said it wouldn't rule out "in-court restructuring" to solve its financial woes.
GE Capital has agreed to provide a $550 million credit facility to Borders based on several conditions, officials said.
Borders said in a statement that under the agreement, it has to: Convince other lenders to syndicate $175 million of the credit facility; find an additional $125 million in "junior debt financing" from outside sources; close underperforming stores "as soon as practicable"; and convince vendors and landlords to agree to financial concessions.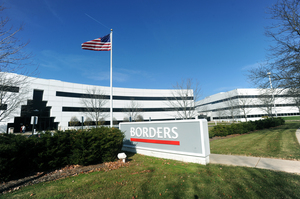 Photo by Lon Horwedel | AnnArbor.com
If completed, the new credit facility would give Borders access to cash to fund its day-to-day business operations, including inventory fulfillment. It would be the second time in less than a year that Borders restructured its main source of credit.
The potential deal reflects Borders' attempt to avoid a bankruptcy filing, a situation that would almost certainly wipe out the equity of its shareholders, result in many store closures and raise the possibility of liquidation.
But the Wall Street Journal reported late tonight that Borders is simultaneously seeking to line up possible bankruptcy financing if it decides to file Chapter 11 instead of trying to continue operating out of court. That deal -- which is called "debtor-in-possession financing" -- would be struck with Bank of America and GE. It would give Borders a shot at reorganizing and exiting bankruptcy with a profitable business model.
In December, the firm said it had lost $74.4 million in its fiscal third quarter and indicated that it would have to find a new source of lending to avoid a cash crunch in early 2011. The company also started negotiations with publishers to convince them to accept short-term debt in exchange for forgiving missed payments.
Michael Edwards, president of Borders Group subsidiary Borders Inc., said in a statement that the company "is doing everything possible to maintain its long-term and valued relationships with our vendors and publishers."
"We view the refinancing route as the most practical, efficient and beneficial to all parties, and we are working with our vendors in this regard," he said. "At the same time, given the current environment surrounding Borders, and in order to assure that the company can pursue its efforts to position itself to properly implement its business plan, it is prudent as well for Borders to explore alternative avenues, including the possibility of an in-court restructuring.
He added: "We are confident that whatever path Borders pursues to implement its strategy, we will be able to count upon the support of our vendors, who understand the critical role a strong Borders provides to the reading public."
Investors reacted positively to the news of a potential financing deal with GE Capital. Borders stock (NYSE: BGP), which was trading at $0.81 when the market closed today, was up 37 percent to $1.11 in after-hours trading.
Borders employs about 550 workers at its Ann Arbor headquarters and about 19,000 worldwide.
Contact AnnArbor.com's Nathan Bomey at (734) 623-2587 or nathanbomey@annarbor.com. You can also follow him on Twitter or subscribe to AnnArbor.com's newsletters.