Posted on
Tue, Feb 1, 2011 : 4:31 p.m.
Borders Group preparing possible bankruptcy filing
By Nathan Bomey
Ann Arbor-based book store chain Borders Group Inc. is preparing a possible bankruptcy filing, according to anonymous sources cited by Bloomberg late this afternoon.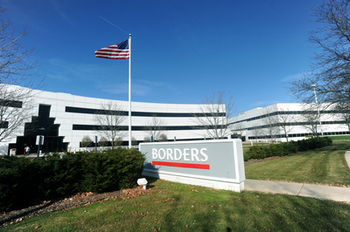 Borders stock (
NYSE: BGP
) is plunging on the news. Shares fell 35.6 percent to close at $0.47, a new 52-week low, and the stock was hovering around $0.36 in after-market trading.
A Chapter 11 bankruptcy filing would give Borders a shot at reducing its costly lease footprint. Bloomberg reports that the firm's bankruptcy proposal would involve the closure of about 150 of its 500 superstores.
But bankruptcy also would probably wipe out the equity of Borders shareholders, leave unsecured creditors with next to nothing and raise the possibility of liquidation.
Borders, which employs about 550 workers at its headquarters in Ann Arbor and operates three superstores in the county, has been delaying payments to landlords, publishers and other parties in an attempt to save cash.
The company said last week that it had gotten a possible $550 million line of credit from GE Capital, but the credit is contingent upon a number of additional factors, including Borders' ability to secure financing from other sources.
A Borders spokeswoman could not be reached for comment this afternoon.
In recent interviews, restructuring experts said a bankruptcy filing could lead to any number of outcomes for Borders:
--Borders could successfully make cuts to its leases and convince lenders to accept equity in exchange for eliminating debt, finally emerging with a profitable business model.
--The firm could sell off its assets to Barnes & Noble or another player like a private equity firm with a tolerance for a restructuring effort. Under this option, Borders could use the Section 363 provision in the bankruptcy code, a provision that allows valuable assets to be packaged together so that they can be sold to an outside firm or emerge as a new company. In that scenario, the old assets would stay in bankruptcy and be liquidated. This is what happened during General Motors' 2009 bankruptcy filing, for example.
"Even if they decide they do want to merge with Barnes and Noble, they still may want to go through a prepackaged bankruptcy to scrub out some of these leases," University of Michigan law professor and national bankruptcy expert John Pottow said recently.
New York hedge fund manager Bill Ackman, one of Borders' largest shareholders, said recently that he would help Borders finance an acquisition of competitor Barnes & Noble in a bid to create a streamlined, single national bookseller.
--The company could be forced to convert its Chapter 11 reorganization filing into a Chapter 7 liquidation, which would involve a sale of all of its assets and the death of the company.
Contact AnnArbor.com's Nathan Bomey at (734) 623-2587 or nathanbomey@annarbor.com. You can also follow him on Twitter or subscribe to AnnArbor.com's newsletters.