Posted on
Mon, Jul 18, 2011 : 4:40 p.m.
Borders plans to liquidate, ending 40-year-old bookstore chain
By Nathan Bomey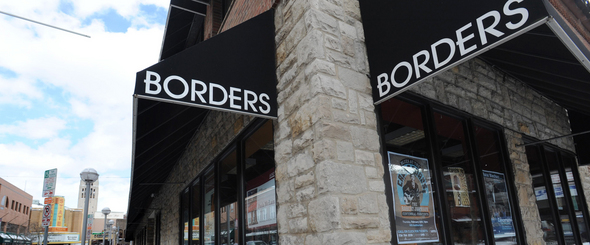 (
This story has been updated several times
.)
(Related: View an extensive timeline documenting Borders' rise and fall.)
Borders Group Inc. plans to liquidate, marking the culmination of a years-long decline for the nation's second largest bookstore chain, which had fallen into disrepair four decades after it opened its first store in downtown Ann Arbor.
The liquidation, which Borders announced shortly after 4:10 p.m., means that the 10,700 people who still work for Borders — including about 400 at its Ann Arbor headquarters — will lose their jobs.
The Ann Arbor-based chain's 399 remaining stores will be closed quickly, with liquidation sales starting as soon as Friday — although the company said in a court filing late today that 30 leases could still be sold off.
"It's not news to me," said Jim McTevia, a turnaround consultant with Bingham Farms-based McTevia & Associates. "The handwriting was on the wall for this company two years ago."
Although Borders is a shadow of its former self — it once employed some 1,800 workers at its corporate headquarters — it's still a profoundly disheartening development for the local workforce. And it's the biggest gut punch for the local economy since Pfizer announced its departure from Ann Arbor four years ago.
The liquidation will also carve a major hole in downtown Ann Arbor's retail market. Borders' flagship store at the corner of Liberty and Maynard streets — steps away from the location of the company's first store on South State Street — is likely to close quickly. The chain's superstore at the shopping center on Lohr Road next to Kohl's is also expected to close.
As recently as earlier today, several reports indicated that Borders was in discussions with Books-A-Million about possibly acquiring fewer than 50 store leases.
Borders said in a filing late today that it had received a bid to acquire leases for 30 stores and that it would "reserve the right ... to seek approval" from the court to sell those leases and the inventory within those stores. It was not clear whether that bid was filed by Books-A-Million or some other entity — and the location of those 30 stores was not known.
"For decades, Borders stores have been destinations within our communities, places where people have sought knowledge, entertainment, and enlightenment and connected with others who share their passion. Everyone at Borders has helped millions of people discover new books, music, and movies, and we all take pride in the role Borders has played in our customers' lives," Borders President Mike Edwards said in a statement. "I extend a heartfelt thanks to all of our dedicated employees and our loyal customers."
Borders declined to make Edwards available for interviews, and store managers for the company's two Washtenaw County locations declined to comment.
Borders' liquidation comes five months after the company filed for Chapter 11 bankruptcy protection with hopes of shedding unprofitable stores, cutting debt and reemerging by September as a viable company.
But the company — which had closed more than 230 stores since its bankruptcy filing — has continued to lose millions every month.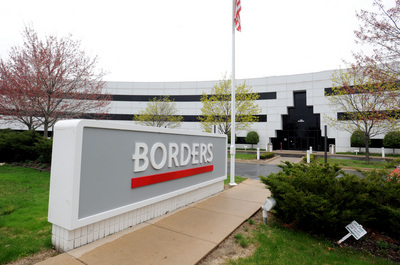 Melanie Maxwell | AnnArbor.com
Borders last week had briefly lined up a prospective buyer: Phoenix-based private equity firm Najafi Companies, which owns Direct Brands, operator of the Book of the Month Club.
But Najafi pulled out of the deal when publishers and landlords objected to the proposed sale, arguing that nothing would prevent Najafi from liquidating Borders on its own, pocketing the cash and keeping valuable intellectual property for itself.
Instead, Borders will be sold to a team of liquidators led by Hilco Merchant Resources LLC and Gordon Brothers Retail Partners LLC. The liquidators are expected to launch going-out-of-business sales as soon as Friday with the "wind-down" complete by September, a spokeswoman said.
"We are saddened by today's news announcing the imminent liquidation of Borders, as we had hoped for a different outcome," Najafi said in a statement. "However, last week the debtor selected the liquidators' bid over our proposed plan to keep Borders operating as a going concern, a decision that is a detriment to Borders' employees, suppliers and customers."
A New York bankruptcy judge will be asked to officially approve the liquidation at a hearing on Thursday.
DJM Realty, a consultancy for Borders, said 13 leases in Michigan would be up for sale.
"It's very disappointing that Borders couldn't come back from a series of bad decisions and bad luck and harsh business environment," said Michael Norris, a publishing industry analyst with Simba Information, "because I've always enjoyed shopping at Borders and so have a lots of other people. It's going to have a pretty bad effect on the industry."
The bankruptcy is also a major blow to landlords throughout the country. Borders, which leases all of its stores, has an average of about 25,000 square feet per superstore. The chain has about 270 superstores and 130 small-format locations.
In Ann Arbor, Tom Crawford, the city's chief financial officer and interim city administrator, said it was difficult to immediately assess any potential loss of property taxes in connection with Borders' liquidation.
"So we'll have to see what the ultimate impact of that is," he said. "We wouldn't expect the taxes to disappear necessarily, because if someone else is leasing, they're ensuring the taxes are paid. I think the big impact is the jobs and that's a disappointing situation."
Edwards said in a letter to employees that they can expect information later this week "regarding separation information, severance, benefits, and other resources for employees."
"You have my assurance that we will do whatever we can to help our employees through this transition," he wrote.
At its headquarters on Phoenix Drive on Ann Arbor's south side, Borders leases space in a 460,000-square-foot facility owned by Agree Realty, which has been trying to sell the building. But Borders only occupied about 25 percent of the building as of a few months ago and was seeking a new headquarters.
At 6 p.m. today, no employees could be found at the headquarters building.
During the bankruptcy process, major publishers turned into an obstacle to Borders' reorganization. They filed several objections to Borders' bankruptcy plans and, on Wednesday, objected to Borders' plan to allow Najafi to be the leading bidder for the company's assets.
Borders' top seven unsecured creditors, including publishers such as Simon & Schuster and Random House, were owed more than $193 million, according to bankruptcy documents filed in February.
Borders' liquidation is a concrete sign of the rapidly shifting market for book sales. Borders was a victim of industry dynamics, exacerbated by a number of strategic errors, an insatiable desire to expand and rapid executive turnover.
Executives failed to capitalize on the sales opportunity created by the emergence of the Internet, built a network of superstores that turned out to be far too large and didn't develop an electronic books strategy.
In a rare interview in May, Edwards, who joined the company about two years ago, said Borders erred by "not investing in the online experience," buying back shares of its own stock and investing in foreign stores.
Borders losses and profits

2010 (first 11 months): $168.2 million loss

2009: $109.4 million loss

2008: $186.7 million loss

2007: $157.4 million loss

2006: $151.3 million loss

2005: $101.0 million profit
2004: $131.9 million profit
2003: $115.2 million profit
2002: $107.6 million profit

"Amazon has been investing in technology, creating a great online book experience for years and they haven't really changed their strategy. They continue to invest aggressively in it," Edwards said. Barnes & Noble "never looked at international, they never took on more than they could, they kept their balance sheet healthy and they ultimately resonated with the core reader customer."
Before e-books, the Internet undercut Borders' traditional business model — and Borders failed to capitalize on the opportunity it presented.
In 2001, Borders signed a contract to allow Amazon.com to handle its online book sales — which was later considered to be the moment when Borders lost control of its online destiny.
In 2008, Borders ended that relationship, deciding to launch its own website — but, by that time, Amazon already had a stronghold in the online book sales marketplace. At the time of its bankruptcy, online sales made up only about 3 percent of Borders' total revenue.
Borders superstores

This table shows the rise in the number of Borders superstores at the end of each fiscal year and corresponding fall in the average sales per square foot of those stores in the years since the company's 1995 initial public offering, according to U.S. Securities and Exchange Commission records.

1996: 158 superstores ($259 average sales per square foot)

1997: 204 ($261)

1998: 256 ($256)

1999: 300 ($255)

2000: 349 ($255)
2001: 385 ($245)
2002: 434 ($237)
2003: 482 ($223)
2004: 504 ($227)
2005: 528 ($232)
2006: 567 ($236)
2007: 541 ($228)
2008: 518 ($203)
2009: 511 ($173)
"They never really harnessed the power of the Internet," said David Dykhouse, a manager of Borders' Arborland store from 2002 to 2007, in February. "As someone once said, the Internet is the comet that killed the dinosaur. I'm afraid Borders is one of those dinosaurs."
Norris argued that Borders' decision to outsource its online sales to Amazon was a crucial error.
He said the company's liquidation was a blow to publishers and to the cultural status of book reading.
"Fewer people will buy books," he said.
The recent emergence of e-book sales — which surged in 2010, powered by Amazon's Kindle, Apple's iPad and Barnes & Noble's Nook — added another layer to Borders' digital troubles.
"Following the best efforts of all parties, we are saddened by this development," Edwards said in a statement today. "We were all working hard towards a different outcome, but the headwinds we have been facing for quite some time, including the rapidly changing book industry, eReader revolution, and turbulent economy, have brought us to where we are now."
Borders didn't have enough cash to develop its own e-reader, so it invested in Toronto-based Kobo Inc., which developed an e-book store for Borders and offered its e-reader for sale in Borders superstores.
But the progression of book sales from print to digital gave readers another reason to visit Borders stores but walk out without making a purchase, analysts said.
"That profound impact on the retail traffic puts a lot of pressure on not just our bookstore, but all bookstores," Edwards said in May, acknowledging that he was "surprised" at the pace of the transition to e-books but didn't "anticipate it slowing down any time soon."
Borders' liquidation is a major development for the book industry. The company still had 10.7 percent market share in the book store industry, according to a report by research firm IBISWorld. The company's chief bricks-and-mortar competitor, Barnes & Noble, had 36 percent market share.
By all accounts, Borders made a number of strategic errors over the last two decades.
It was a stunning reversal for a company once known for innovation. Borders, in fact, is generally credited with inventing the superstore format for book sales.
"Anybody who bought the company would have had a very, very formidable competition in Barnes & Noble and Amazon," McTevia said. "The company and the technology and the industry is all in transition. And they're just completely out of money, unable to afford to innovate."
Founded in 1971 by brothers Tom and Louis Borders as an 800-square-foot shop on South State Street in the shadow of the University of Michigan, Borders quickly appealed to a college town filled with voracious readers.
"I'm sorry to see them go," said John Hieftje, mayor of the city of Ann Arbor. "The downtown store has really been a great place. A lot of us in Ann Arbor have an emotional attachment to Borders … and you certainly feel for the people who work for Borders and are going to lose their jobs."
Soon after Borders was founded, Louis Borders developed an innovative inventory tracking system that improved the company's product management and sales projections. It was that system that allowed the company to surge, according to research by Daniel Raff, a professor at the University of Pennsylvania's Wharton School of Business. "They were typically 2-3 years ahead of their competitors," Raff wrote in his research paper about the history of book superstores in the U.S.
Still, the stores operated by the Borders brothers look and feel a lot different than the stores Borders operates today.
The brothers, in fact, sold Borders to retailer Kmart Corp. in 1992, when Borders had only about 21 stores. Kmart, which had acquired small-format bookstore chain Waldenbooks in 1984, merged the two companies and spun them off into a separate, public corporation in 1995 under CEO Robert DiRomualdo.
Borders expanded without abandon from 1992 to 2006, even though its sales-per-square-foot peaked at $261 in 1997, when the company had 204 superstores, according to Securities and Exchange Commission records reviewed by AnnArbor.com.
Average sales per square foot at Borders superstores fell 33.7 percent from a peak of $261 in the 1998 fiscal year to $173 in 2009, but the number of large-format Borders stores doubled, rising from 256 to 511.
When Borders filed for bankruptcy, the company said it was losing about $2 million per week at its unprofitable stores, which average about 24,700 square feet.
In recent years, Borders cycled through executives at an unsettling pace. The company has had five CEOs in five years.
Many other executives have come and gone — and the company lost several in the months since its bankruptcy filing. The turnover contributed to an inconsistent corporate strategy as the company tried a number of products, store formats and promotions to boost revenue.
Within the last two years, the company decided to cut its commitment to movies and music, choosing instead to focus on "non-book products" such as children's toys and games.
But nothing could stop a sales slide that started five years ago. The company posted losses of more than $770 million from 2006 to 2010.
The loss of Borders may be good news for competitor Barnes & Noble — at least in the short term, while book shoppers look for alternative options.
But Borders' liquidation raises serious questions about the long-term future of physical book stores as Amazon dominates online sales, e-books surge and big-box stores undercut independent stores on price.
"I, for one, feel that bookstores will never go away," Edwards said in May. "They're too important to the American culture and our communities. It's like the last safe social escape for retail. I don't think people want to hang out or relax in a Target."
He added: "People are really focused on Borders right now, but I think we should be expanding our view in terms of what's happening in the book industry. The real story is all these amazing writers out there — where are they really going to be able to show their books in a way that continues to inspire society?
"That's what the bookstore is about."
AnnArbor.com reporters Lizzy Alfs and Ryan Stanton contributed to this report.
Contact AnnArbor.com's Nathan Bomey at (734) 623-2587 or nathanbomey@annarbor.com. You can also follow him on Twitter or subscribe to AnnArbor.com's newsletters.