Posted on
Tue, Jul 2, 2013 : 5:59 a.m.
Buffalo Wild Wings will open in ex-Damon's Grill in Ann Arbor
By Ben Freed
A new Buffalo Wild Wings franchise will take the place of the Damon's Grill that closed in February at 3150 Boardwalk Dr. in Ann Arbor.
Mallory McLellan, a spokeswoman for franchisee JK&T Wings, said that the company hopes to open the restaurant for business sometime in late fall 2013.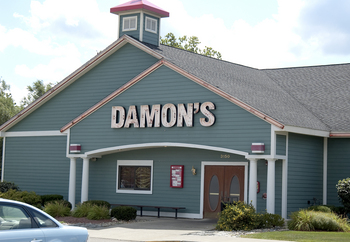 File photo
"We're still working with the city on the plans, so the opening date is still very much in the air," she said.
JK&T Wings is headquartered in Shelby Township and operates 35 Buffalo Wild Wings franchises, three Smashburgers and one Newk's Express Cafe. The company's restaurants are spread across Michigan, Massachusetts, and Louisiana.
According to Entrepreneur.com, the franchise fee for a new Buffalo Wild Wings restaurant is $40,000 with an ongoing royalty fee of 5 percent. A person or business must display a net worth of $1.5 million with $750,000 cash on hand to be considered for a franchise. Approximately half of all Buffalo Wild Wings franchisees own more than one location.
McLellan said that the four franchisees for Buffalo Wild Wings do not have distinct territories and often find themselves in close proximity. JKT&T Wings owns the Buffalo Wild Wings on South State Street in downtown Ann Arbor and the Brighton and Canton locations, but does not own the franchise in Ypsilanti.
"We've had our downtown Ann Arbor location for a long time, and we think that there's the market to have a two in the city," McLellan said.
"The one we have now is on campus so there's not a lot of parking and it can be tough for families to go to. The new location gives us the opportunity to get more involved in the Ann Arbor community and appeal to the masses."
She added that JK&T franchises offer fundraising programs for a wide variety of causes and often sponsor little league teams and other community endeavors.
It was a winding road for the property at 3150 Boardwalk Dr. to go from Damon's Grill to potential Buffalo Wild Wings.
According to city records, California-based investor Ronald Campos bought the property in 2006 for nearly $3.5 million. In late 2009, Campos and his wife Zenaida were listed in the Washtenaw Legal News as being in default on payments to Flagstar Bank to the tune of $2.38 million.
Maryland-based McCormick 104, LLC, a subsidiary of an investment company that specializes in buying foreclosed properties, bought the property for $1.45 million in a sheriff's sale on November 1, 2012.
The company initially allowed Damon's Grill to continue operating but when the franchisee could not come to a new lease agreement, the restaurant closed on Feb. 24.
At the time, franchise spokesman Jason No told AnnArbor.com in an email that "the business has not been able to sustain itself, and it did not appear to be able to change course."
The property was listed for $1.9 million by Realtor Jim Stokas and was purchased for exactly that amount by JK Ann Arbor Real Estate LLC on June 4. JK Ann Arbor is registered to the same address as JK&T Wings.
When the new JK&T owned franchise opens, McLellan said it will likely employ approximately 100 people including servers, cooks and the restaurant's management team.
Buffalo Wild Wings has grown from 386 locations in the U.S. in 2009 to 504 in 2012. The company has not opened any international franchises.
Ben Freed covers business for AnnArbor.com. You can sign up here to receive Business Review updates every week. Get in touch with Ben at 734-623-2528 or email him at benfreed@annarbor.com. Follow him on twitter @BFreedinA2