Posted on
Thu, Feb 23, 2012 : 5:58 a.m.
Ciena Healthcare reopens Ann Arbor nursing care facility after $5 million renovation
By Nathan Bomey
Senior care services provider Ciena Healthcare this month reopened its Ann Arbor skilled nursing center after a $5 million expansion project.
The Regency at Bluffs Park, which had been closed since fall 2008, reopened with a second floor and a new wing attached to its eastern side.
In a strategy shift, Southfield-based Ciena converted the Regency at Bluffs Park into a short-term rehabilitation facility. When it closed, the aging building — which had changed ownership since it was built in the 1960s — was functioning as a long-term care facility.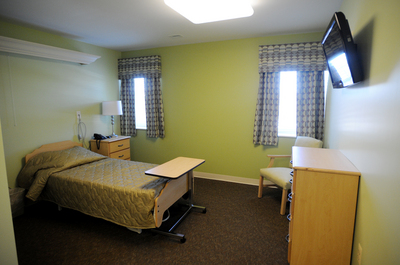 Melanie Maxwell | AnnArbor.com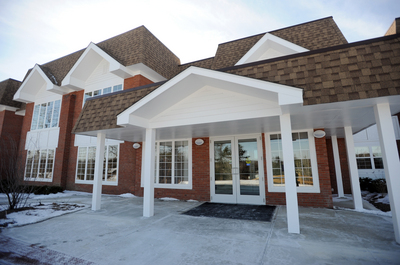 Melanie Maxwell | AnnArbor.com
But Mohammad Qazi, CEO of Ciena Healthcare, said the new focus on short-term rehab was a response to market trends.
"It's not that we're abandoning long-term care, but more and more patients that are coming from hospitals these days are in need of short-term services," Qazi said.
That includes cardiac rehabilitation and orthopedic rehabilitation patients who are recovering from knee replacement surgery or hip replacement operations, for example.
The new facility, which has 33 private rooms and 19 double-bed rooms, is located on Huron View Boulevard southwest of M-14's interchange with North Main Street. It was built to feel more like a "boutique hotel" instead of a nursing home, Qazi said.
"The expectations are different these days," he said.
The renovated and expanded structure is 37,169 square feet, 60.4 percent bigger than the old facility.
The renovation project, which didn't start immediately after the Ann Arbor facility closed, was completed nearly five years after Ciena agreed to pay $1.25 million to settle a health care fraud investigation by the U.S. government and Michigan Attorney General's Office.
The investigation, which focused on four Ciena facilities, did not include the Ann Arbor site, but Ciena was forced to complete a "corporate integrity agreement that is designed to improve the care provided by all of the Ciena facilities," according to a 2007 news release distributed by the former AG Mike Cox's office.
That corporate integrity agreement required Ciena to conduct training for its employees and institute policies to ensure the proper handling of "basic care needs," "appropriate drug therapies," "fall prevention strategies" and resident nutrition, according to the 40-page corporate integrity agreement.
A spokesman for Regency at Bluffs Park said there was "no relation" between the 2008 closure of the facility and the settlement, in which Ciena did not admit wrongdoing. An AnnArbor.com review of settlement documents confirmed that assessment.
"Ciena had no legal or regulatory requirements or obligations to reconstruct and renovate the Ann Arbor facility," the spokesman said.
As part of the settlement, Ciena was required to install an independent examiner to monitor some of its facilities, but that requirement expires in August.
Qazi said the Regency at Bluffs Park upgrades were necessary to appeal to residents who want private rooms, for example, which the previous facility did not have.
Ciena expects the facility — which incorporates environmentally sustainable features like recycled ceramic bathroom tiles and cork dining-room flooring — to secure LEED Silver certification from the U.S. Green Building Council.
Each resident room has a 32-inch LCD TV, accessible shower stalls and a phone answering system.
The renovated facility features portable electronic medical records stations, a refreshed activities room and private restaurant-style dining facilities on both floors.
Ciena Healthcare, which has 32 facilities in Michigan and four in Connecticut, officially reopened the Ann Arbor facility in early February. The building will gradually add residents over the next several months. It had three residents as of Feb. 13 and is expected to be at full capacity by late summer or early fall, said administrator Dave Hautamaki.
Hautamaki said the facility would eventually employ about 100 workers, with the hiring process accelerating as the resident population rises. That reflects an increase of 25 percent to 30 percent over the facility's personnel count when it closed in 2008, he said.
Ciena's decision to redirect the focus of the Regency at Bluffs Park toward short-term rehab comes as long-term and short-term care providers are bracing for the full impact of federal health care reform.
Providers have said that the federal health care reform law will force them to operate more efficiently, reduce patients' hospital readmission rates and consider partnerships with major health care systems.
The reform, signed into law by President Barack Obama in early 2010, favors so-called "accountable care organizations," which receive more funding for containing and lowering costs by coordinating patient care at all stages of the recovery process.
Qazi said long-term and short-term care providers must play a critical role in ACOs.
"There's an increased emphasis on hospitals to get people out and if you're not equipped, they end up being re-hospitalized, which adds to the overall costs of the health care system," he said.
Contact AnnArbor.com's Nathan Bomey at (734) 623-2587 or nathanbomey@annarbor.com. You can also follow him on Twitter or subscribe to AnnArbor.com's newsletters.