Posted on
Fri, Aug 5, 2011 : 5:56 a.m.
Meet the Apple accessories maker that manufactures in Ann Arbor, not overseas
By Katrease Stafford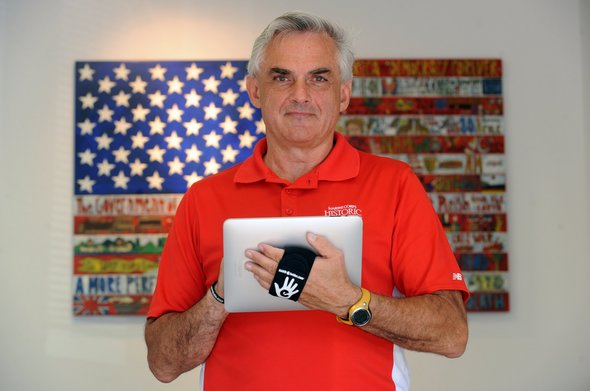 Melanie Maxwell I AnnArbor.com
Despite the allure and cost benefits of making products in cheap foreign markets,
Scio Township
-based
Hand-e-holder Products Inc.
plans to continue manufacturing its
iPad
accessory in Michigan.
Most consumer electronics are made overseas, but Hand-e-Holder is assembling its product in Ann Arbor — with 95 percent of the components made in Michigan.
The firm, a sister company of Burns Computer Services, said it's now sold "thousands" of units and is currently introducing its product to major retailers like Best Buy and Target in hopes of securing shelf space.
The company's device straps to the back of tablet computers like Apple's iPad, allowing the tablet to be held comfortably.
But, unlike Apple products, the Hand-e-Holder device is not made overseas.
"I've been called stupid for not building them offshore, but we're going to keep making them here," Hand-e-holder President Mike Burns said. "We made the choice to make them in Michigan because if you don't make something here, there are no jobs for anybody."
The company is assembling its device at its West Liberty Road headquarters. The device's straps are made in Hillsdale, its locking mechanism is produced in Plymouth, its plate components are made in Saline and other components are made in Ann Arbor.
Burns said the idea for the new company came about by accident a year ago while he was at an event for Burns Computer Services.
"I had an iPad application I had written that we were going to be using at a running event to show runners how they finished," he said. "I purchased the iPad and almost five minutes after purchasing it, I almost dropped it because it was very slick and very slippery. Thirty minutes later, I came up with the idea of a holding mechanism on the back of the iPad that would hold it in a very secure fashion and you wouldn't be able to drop it. We had volunteers working with the iPads so we didn't want them dropping $500 to $800 devices because they were slippery."
After fashioning a makeshift holder at the event, Burns and his employees returned to their Ann Arbor office and created an improved version of the product.
"Necessity is the mother of invention," he said. "I had a very clear vision of what I wanted to do with it and so we made it."
The company currently employs seven workers but hopes to add more as sales momentum continues.
"We're in the process of introducing this to a number of the mass retailers," Burns said.
The company is currently selling its product through its website, HandeHolder.com, Amazon.com and in local Wireless Zone stores.
Whether they're purchased online or at Wireless Zone, the prices remain the same, Burns said. The Hand-e-holder costs $39.99 and some of the other popular products such as leg strap kit costs $49.99.
Burns has seen interest from a variety of users, including doctors, pilots and the military. "We have the FBI who has purchased some, the federal government, the Army, the military and the Census Bureau," he said. "People purchase them for any device where they want to have a simple way to hold their products securely. Anyone that has touched and used it has seen how versatile and comfortable it is."
Burns believes Hand-e-holder has an advantage because its accessory does not need to be changed to fit new versions of tablets. Many Apple accessory makers, for example, have to tweak their products every time a new device is released.
Katrease Stafford is a freelance reporter for AnnArbor.com.