Posted on
Thu, Feb 11, 2010 : 6:03 a.m.
Startup electric vehicle firm may add 500 jobs for Ann Arbor region engineering operation
By Nathan Bomey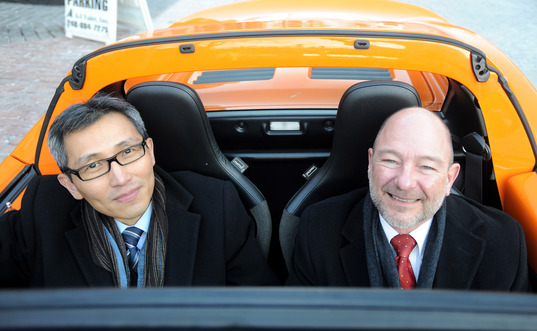 Angela J. Cesere | AnnArbor.com
Detroit Electric Holdings, a startup electric car company with close ties to Asian vehicle manufacturers, is searching the Ann Arbor region for office space with plans to hire more than 500 engineers.

The firm plans to establish a technical center to serve as the engineering headquarters for its global electric vehicle operation, executives told AnnArbor.com in an exclusive interview. The company has dual headquarters in Hong Kong and the Netherlands.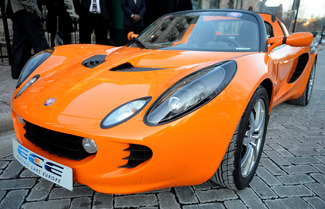 Angela J. Cesere | AnnArbor.com
Detroit Electric executives said they're also considering North Carolina and California but that their preference is to set up shop around Ann Arbor, Northville or Livonia. The firm is seeking tax incentives from the
Michigan Economic Development Corp.
to support the expansion.
"We're now looking at which is the best office location for us," said Detroit Electric Holdings Chairman and CEO Albert Lam, a former managing director of Apple Computer in Asia and former CEO of Lotus Engineering Group.
Detroit Electric is one of several startup electric car companies that have surfaced over the last few years with hopes of grabbing a share of the emerging market for alternative propulsion vehicles.

The global lithium-ion battery-powered car market is expected to balloon from $878 million in 2010 to $8 billion by 2015, according to a December report by Boulder, Colo.-based Pike Research.

But startup electric car companies face enormous challenges due to the sheer complexity of auto manufacturing and the massive amount of capital typically required to make cars of any kind. In 2009, for example, high-profile Silicon Valley startup Tesla Motors had to recall half of its 2008 Roadster electric vehicle due to a parts problem.
Detroit Electric

The name: Revived a century-old brand.
The technology: Developed proprietary electric drive technology that it will integrate into vehicle bodies produced overseas.

Corporate background: Headquarters in Hong Kong and Netherlands.
Business ties: Manufacturing agreements with Malaysian automaker Proton and Chinese automaker Dongfeng Motor Corp.
Engineering operation: Plans to hire 500 workers for technical center, likely in Ann Arbor region, though California and North Carolina are also possible.
Ann Arbor ties: Working with Ann Arbor SPARK and Ann Arbor real estate firm Milliken Realty.
Electric vehicles: Plans to produce cars with battery range of at least 111 miles and prices starting at $23,000.
Leadership: Detroit Electric Holdings Chairman and CEO Albert Lam is former CEO of Lotus Engineering Group and former managing director of Apple Computer in Asia.
Web site: Detroit-Electric.com

Detroit Electric executives rejected skepticism that startup electric vehicle companies can't compete with giants like General Motors, Ford, Toyota and Nissan.
"We're not like a lot of startups that we think we're going to teach Detroit how to do it all," said Don Graunstadt, CEO of Detroit Electric Automobile Inc., the Detroit Electric Holdings subsidiary that is seeking engineering space. "We're going to learn the best from Detroit. But at the same point, we're different. We don't have any legacy costs. We're going to do things that make sense."
Lam, Graunstadt and Detroit Electric Automobile Vice President for Strategic Programs Doug Moore are former executives from Lotus Engineering Group.
Detroit Electric believes its proprietary electric drive technology -- developed in the Netherlands -- will allow it to mass-produce low-cost electric cars using lithium-polymer technology. The firm this week showed off a prototype to local executives, but the flashy orange sports car was not representative of the more typical family-sedan-style vehicles the company expects to produce.

Detroit Electric is in discussions with economic development group Ann Arbor SPARK about its plans. Ann Arbor real estate agent Bill Milliken of Milliken Realty confirmed he is representing Detroit Electric in its search for space.
SPARK CEO Michael Finney, who test-drove a Detroit Electric prototype this week, said the company would be a good fit in the Ann Arbor region.
The Ann Arbor area has about 30 automotive engineering and technology centers, including Toyota's 1,100-person technical center in York Township and Hyundai-Kia's 170-person technical center in Superior Township. Michigan is also steadily assembling a base of battery companies -- including A123Systems, which has an operation in Ann Arbor, as well as Troy-based LG Chem subsidiary Compact Power and Dow Chemical-backed Dow Kokam.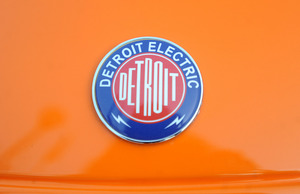 Angela J. Cesere | AnnArbor.com
Detroit Electric's new operation would conduct engineering and design for the firm's electric vehicles.
"What they're doing is clearly the next mode of automotive transportation," Finney said. "We think this is an ideal location for them to move our product forward."
Detroit Electric has revived a century-old brand that graced battery-electric cars in the early 1900s.
"We believe in the vision of this name. Detroit is always a place for innovation, great engineering, skill, great quality," Lam said.
Detroit Electric's business model relies on a complex network of contract manufacturing, licensing and distribution deals.
The firm in 2009 signed a manufacturing contract with Malaysian car manufacturer Proton, which agreed to produce Detroit Electric's vehicles. The cars will incorporate vehicle bodies from Proton and electric drivetrain technology from Detroit Electric.
"Our mission is practical, affordable electric cars for everyone," Lam said.
The firm plans to market the vehicles under the Detroit Electric brand in the U.S., Europe and Asia. The company says it will produce pure electric cars with a range of 111 miles to 200 miles. The company says it aims to start pricing at $23,000 for its cheapest models.
In addition, Detroit Electric struck an agreement in 2009 with Chinese automaker Dongfeng Motor Corp., which plans to incorporate Detroit Electric's drivetrain into its own cars for distribution in China.
Lam said the contractual manufacturing relationships are critical to the company's business model. Detroit Electric won't need as much capital as startups like Tesla Motors or Fisker Automotive because it won't be manufacturing cars itself.
Detroit Electric is seeking about $150 million in capital, Lam said. The firm has about $30 million right now from private investors, he said.

Erich Merkle, an auto analyst and president of Grand Rapids-based Autoconomy.com, said skepticism about Detroit Electric's ambition is prudent.
"The cost of capital is so high, and the development costs are so high," Merkle said. "Electric vehicles themselves have a lot of risk. And when you start applying that to electric vehicles and startup automaker, you start multiplying that risk even more so."
Lam said the company hopes to launch its first vehicles in Europe by the end of 2010. The firm is aiming to hit the Asian market six months later and, soon after that, the U.S. market.
Lam said the firm is targeting volume in the range of 30,000 to 40,000 vehicles in 2011 and 2012 and 200,000 in 2013.
Bruce Belzowski, an assistant research scientist at University of Michigan's Transportation Research Institute, said startup car companies face major hurdles.

"The idea of a startup (car) company is daunting because of the R&D expense, the product development expense, the manufacturing expense and the sales and marketing expense," Belzowski said. "It's such a capital-intensive business. You have to have all this money up front."

Detroit Electric is in discussions with prospective dealerships in the U.S. that would sell vehicles, Graunstadt said.
Detroit Electric faces intense competition from a variety of global giants and ambitious startups.
For example, GM's Chevrolet Volt, an extended-range electric vehicle with 40 miles of battery-only range, will go on sale in November. Nissan's pure electric Leaf will have a range of 100 miles and go on sale later this year.
"There's going to be plenty of competition from a well-entrenched, very established automotive establishment," Merkle said. "You've got a lot of automakers that are venturing into the electric car segment."
Contact AnnArbor.com's Nathan Bomey at (734) 623-2587 or nathanbomey@annarbor.com. You can also follow him on Twitter.
Sign up here for the weekly Business Review newsletter, published every Thursday by AnnArbor.com.