Posted on
Fri, Jan 13, 2012 : 2:59 p.m.
Developer proposes new 224-unit student housing project for Grace Bible Church site in Ann Arbor
By Lizzy Alfs
Three months after the 42 North site plan expired, a development company is proposing a new 224-apartment student housing project for property owned by Grace Bible Church on Ann Arbor's west side.
The 15-acre site is located off South Maple Road near Pauline Boulevard.
The controversial 42 North project - a five building, 120-unit apartment compound with 494 parking spaces - was approved by City Council in a 7-4 vote in 2008.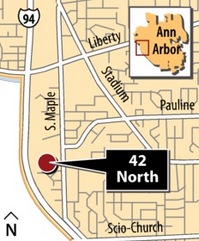 As the housing market went soft, the North Carolina-based developer, Wood Partners, didn't move forward with the project and the site plan expired in late 2011.
Grace Bible Church still owns the property because Wood Partners never exercised its option to purchase. It has been listed for sale at an undisclosed price.
Now, a different North Carolina-based development company is proposing student housing for the site: 10 to 12 three-story apartment buildings, totaling about 224 units each with two or three bedrooms. It includes one parking space per bed.
Developer Campus Crest Communities is holding its first citizen participation meeting to get public input on Jan. 19 at 6:30 p.m. in the Grace Bible Church fellowship hall at 1300 S. Maple Road.
Founded in 2004, Campus Crest specializes in "fully loaded" student housing properties, according to its website. The company has 33 student properties in 18 different states, and also has it's own construction and real estate management branches.
Chris Russ, vice president of development for Campus Crest, said its student projects - which are all named The Grove - are very similar and only have a few different building types.
"It's a branded product," he said. "When kids come to school they look in the market and see if there's a Grove there they could possibly live at."
He said the compounds offer "resort-style amenities," and The Grove at Ann Arbor - the first Campus Crest development in Michigan - would be no different.
Amenities typically include a large pool, sand volleyball courts, a basketball court, barbeque pits, game room, bistro eating area, coffee bar, library, fitness center, in-room washer and dryer and fully furnished apartment units.
They also offer the tenants life skills courses and host charitable events at local establishments, Russ said.
"We're not about heads and beds," he said. "We've got a number of great programs we're trying to get our students involved in and I think that's really what sets us apart."
The average rent for apartments in Campus Crest buildings nationwide is $500 per month per bedroom. That number will change based on Ann Arbor competitors and proximity to campus, he said.
Similar student apartment projects that are located closer to the University of Michigan campus, such as Zaragon Place on East University Avenue and Sterling 411 Lofts on East Washington Street, are priced from $800 to $1,650 per bed.
Sketches for The Grove at Ann Arbor are still in the preliminary stages and might change, he said, based on feedback from the community at the citizen participation meeting.
The goal is to have about 600 parking spaces on the edges of the 15-acre site and the buildings in the middle to eliminate noise and light for neighboring residents.
"We're trying to design it in such a way that the impact felt by the neighbors…are minimized as much as possible," Russ said.
Because the project is located a few miles from the U-M campus, Russ said it would likely offer a shuttle service to ease traffic and parking concerns.
One of the major concerns with the 42 North project was the transportation issue for students. At the time of approval, neighborhood residents also raised questions about stormwater management and crime.
In 2008, Council members spoke at length about their reservations about 42 North, but concluded there wasn't sufficient justification to block the project.
Mayor John Hieftje said at the time he thought it was being built "for a market that may not exist" and that the number of student housing units proposed was "way beyond demand."
Since then, several other student apartment projects have come into development near the U-M campus, which promise to bring thousands of new beds onto the market. Among the projects:
--The Varsity on East Washington Street received approval in November and construction is set to begin soon.
--The under-construction Zaragon West is projected to open on East William Street in fall 2012.
--Landmark on South Forest is under construction and slated to open fall 2012.
--Construction has begun on City Place apartments on Fifth Avenue after seven houses were demolished to make way for the project.
--Both the Ann Arbor City Apartments on First Street and 618 South Main are targeted towards young professionals and graduate students. City officials expect the Ann Arbor City Apartments to break ground this month, while 618 South Main is still in the early planning stages.
The student housing boom comes at a time when U-M officials have stated their intention of decreasing student enrollment growth starting next year. About 27,400 students are enrolled as undergraduates right now, 2,400 more than the school would like.
Russ said Campus Crest has been studying the Ann Arbor market for a long time, and the company was just waiting to find the right piece of land.
One of the reasons it landed on the Grace Bible Church site, he said, is that it's already zoned for multi-family use.
"We've looked at the market in enough detail to know we're comfortable with this location for students and its proximity to campus in terms of having some sort of bus or shuttle service to decrease traffic and get cars off the road as much as we can," he said.
He added: "We aim for this thing to be 100 percent full, of course. We're going to come in and get the right price to make that happen."
After next week's public meeting, Russ said site plans would be submitted in late January or February.
Campus Crest is working with Ann Arbor-based architect Brad Moore of J Bradley Moore & Associates.
Lizzy Alfs is a business reporter for AnnArbor.com. Reach her at 734-623-2584 or email her at lizzyalfs@annarbor.com. Follow her on Twitter at http://twitter.com/lizzyalfs.