Posted on
Wed, Sep 15, 2010 : 10:51 a.m.
Domino's Pizza CEO says calorie counts in health care reform bill present 'difficult' task
By Nathan Bomey
Domino's Pizza is actively communicating with federal regulators to determine how to meet guidelines established by the health care reform bill that require chain restaurants to post calorie content to their menus, the company's CEO said this morning.
The health care bill stipulation means that Domino's, which does not have typical fast-food-style menu boards at many of its 4,910 stores in the U.S. and 4,126 foreign stores, may have to install menus at its stores to comply with the law.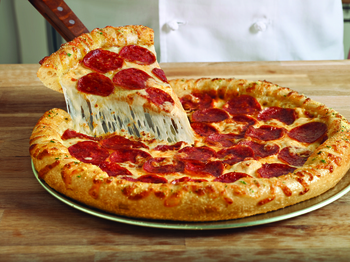 Photo courtesy of Domino's Pizza
"There are 33 million ways to sell a Domino's Pizza, so coming up with a way to put calories in a menu for 33 million varieties is a little bit difficult," Domino's CEO
J. Patrick Doyle
told AnnArbor.com this morning after speaking at an
Ann Arbor/Ypsilanti Regional Chamber of Commerce
event. "So we're still working on that."
The Food and Drug Administration last month issued proposed guidelines detailing how the menu regulations would be enforced. The guidelines said that restaurant chains with at least 20 different locations must post the calorie content of their menu items by March 23.
Doyle said Domino's is meeting with regulators to discuss how the company can comply with the law. He wouldn't say whether Domino's had assessed how much it might have to spend on new menus to comply with the law.
"Clearly we're going to have to do something," he said. "We're still talking to folks in Washington. I was there last week, I'm going there next week to talk to them about the way we do it."
Doyle suggested that the Domino's online ordering system, which accounts for a quarter of the company's orders, would be "the best way" to deliver nutritional information.
"It's actually very effective to do it there," he said. "As people are ordering and they're making changes, they can actually see how the calorie count is changing based on how they're ordering there. That's probably the best way."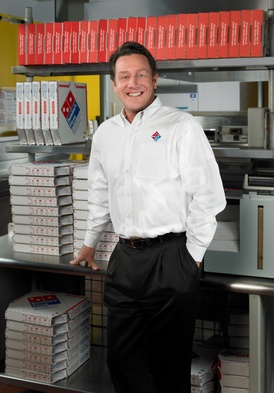 Photo courtesy of Domino's
Whether the bill will hurt sales for items like Domino's 580-calorie MeatZZa Feast Brooklyn Crust Extra Large Slice -- which is one of the most unhealthy slices of pizza in the country, according to The Daily Beast -- is unclear.
But health activists believe that forcing restaurants to put calorie content on menus will prompt consumers to make healthier choices.
Asked whether he thought the law was fair, Doyle said: "Yeah, it's certainly reasonable. If they're doing it for restaurants, then we should be included. It's really more about coming up with a method of complying with the law."
Domino's, which employs about 500 workers at its headquarters in Ann Arbor Township, reported same-store sales increase of 8.8 percent in the fiscal quarter ended June 20.
The company is benefiting from a wave of interest in its redesigned core pizza recipe, which was introduced in December along with a major marketing campaign to bring in new customers.
The TV advertisements during the campaign featured Domino's employees acknowledging that the company's previous pizza recipe was subpar.
"We told people how bad the old pizza was and it broke through in an unbelievable way, and we've been on an absolute tear," Doyle said. "We're pretty pleased with where we are, and we really love what we did with our brand and our company."
Contact AnnArbor.com's Nathan Bomey at (734) 623-2587 or nathanbomey@annarbor.com. You can also follow him on Twitter or subscribe to AnnArbor.com's newsletters.