Posted on
Fri, Jun 22, 2012 : 5:59 a.m.
Downtown Ann Arbor's next high-rise? Building on East Huron sold to Connecticut real estate firm
By Lizzy Alfs
(Editor's note: This story has been revised to correct the zoning of the property.)
Is another high-rise development project in the pipeline for downtown Ann Arbor?
Bruce Thomson, the former longtime owner of the property at 413 E. Huron St., said the outcome is likely.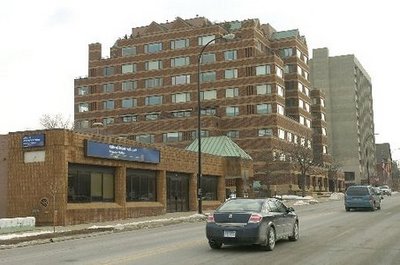 AnnArbor.com file photo
The 10,300-square-foot building and parking lot, situated on a 0.75-acre site between Sloan Plaza condominiums and a Papa John's pizza store, was sold last month from Thomson's family trust to Connecticut-based real estate investment firm Greenfield Partners.
The price, according to city documents: $4.5 million.
Thomson said the property has been in his family for more than 80 years. Over time, the building housed an A&P market, Michigan Bell, a bank and a University of Michigan office.
But after 80 years, Thomson said his family was just "ready to move on."
The site has on and off been listed for sale for about five years. In 2007, it was being marketed for sale for $6 million.
In 2008, Thomson and his wife, Linda, toyed with the idea of redeveloping the site on their own. They planned to redevelop the existing building and construct a neighboring two-story, 15,000-square-foot structure.
The project included eight retail shops and seven luxury student apartments, according to previous reports. Thomson also had plans to install a driveway lined with streetlights and benches between the two buildings, which would lead to 20 parking spaces in rear.
Photo courtesy of Bruce Thomson
But Thomson told AnnArbor.com this week that the real estate market turned south and his plans never came to fruition.
"We never actually went through city approval," he said. "I had a plan I wanted to do…the bottom fell out of the market and we decided it didn't make sense to build it."
Greenfield Partners — which is operating under the name Ann Arbor Green Property Owner LLC — is a privately owned real estate investment firm based in Connecticut. Its asset management office is based in Chicago.
The company's website says it specializes in direct investment; restructuring of financial obligations; development, redevelopment and repurposing; and repositioning assets.
Representatives with the company did not respond to several requests for comment and no site plans have been submitted to the city of Ann Arbor.
The property is in the D1 zoning district, which allows for mixed residential and commercial development. The maximum building height for the East Huron segment is 150 feet.
"I assume it will end of a up high-rise of some kind, but I don't know what they will do," Thomson said. "It's zoned for high-density development, which is what makes sense, so I'm sure it will end up some kind of high-density development."
The property sale comes while downtown Ann Arbor is in the midst of a housing boom. There are six approved or under-construction housing projects in the area surrounding downtown. Among them: 618 South Main, Ann Arbor City Apartments, Landmark, Zaragon West, The Varsity and City Place.
Lizzy Alfs is a business reporter for AnnArbor.com. Reach her at 734-623-2584 or email her at lizzyalfs@annarbor.com. Follow her on Twitter at http://twitter.com/lizzyalfs.