Posted on
Wed, Jul 10, 2013 : 5:58 a.m.
Elevation Burger aiming for late July opening on Washtenaw Avenue
By Lizzy Alfs
Melanie Maxwell | AnnArbor.com
When it comes to the food served at
Elevation Burger
, Ann Arbor franchisees
Mike
and
Sarah Tayter
believe the restaurant's slogan says it all: "Ingredients matter."
The fast-casual, Virginia-based burger franchise — which is opening its first Michigan location at 3365 Washtenaw Ave. in late July — uses 100 percent organic, grass-fed, free-range beef that is ground at the restaurants, according to its website.
Melanie Maxwell | AnnArbor.com
"The whole concept is about getting the best ingredients and doing things the right way," Mike said.
"For a while, we were looking for an excuse to come back to Ann Arbor, and this is a perfect one. We know the community is educated and into eating good foods, and thinking about the impact food has on the environment."
The Tayters, who both attended the University of Michigan, purchased the rights to open three Elevation Burger restaurants in Michigan. In January, they signed a lease for a 2,800-square-foot space in the Chalmers Place shopping center on Washtenaw Avenue. They hope to open that restaurant the week of July 22nd.
The renovation is completed at the restaurant, and the Tayters hired 35 employees. Training will begin next week.
Elevation Burger has 70 indoor seats and an outdoor patio that will seat 12 diners. It has a Coca-Cola Freestyle drink machine, which serves more than 100 beverages.
In addition to the organic Elevation Burger, the menu includes a vegan burger, a vegetarian burger, a grilled cheese sandwich, a salad, hand-cut French fries made with olive oil, and hand-dipped milkshakes made with Blue Bunny ice cream.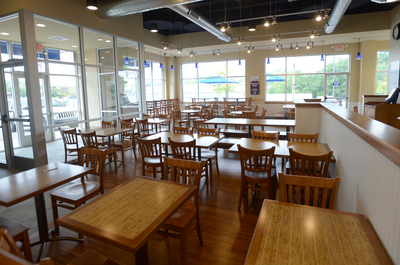 Melanie Maxwell | AnnArbor.com
"A lot of burger places will add a veggie burger as an afterthought, and it's no good," Mike said. "For us, that's not the case."
Burger toppings include 6-month aged cheddar cheese, organic bacon, mushrooms and caramelized onions, among others. Burgers can also be wrapped in lettuce, and nutrition facts are listed on the menu. The Tayters are working with La Grasso Bros. Produce in Detroit to source in-season produce.
"We try to keep it as simple as possible and as wholesome as possible," Mike said.
He said a full meal for adults is in the $10 range. A single burger with cheese costs about $4.50, while a double burger with double cheese costs about $6.
Once the Washtenaw Avenue restaurant is open, the Tayters will start searching for a location for the second restaurant, which they would like to open near U-M's campus.
The Ann Arbor restaurant will be open from 11 a.m. to 9 p.m. seven days a week.
Lizzy Alfs is a business reporter for AnnArbor.com. Reach her at 734-623-2584 or email her at lizzyalfs@annarbor.com. Follow her on Twitter at http://twitter.com/lizzyalfs.