Posted on
Tue, Jan 11, 2011 : 1:41 p.m.
Eve Aronoff explains decision to close Ann Arbor restaurant; Zingerman's will move into its Kerrytown space
By Paula Gardner
Lon Horwedel | AnnArbor.com
Eve Aronoff
calls the
closing of 'eve the restaurant'
emotional and sad. And she's spent the last two days as the news became public in a whirlwind of reaction from customers and many in the city who felt affection for the
Kerrytown business.
But, she stresses, there's no drama behind the move.
"It was a pretty complex decision," she said Tuesday. "Personal and complex."
After 7 years of operating eve the restaurant from the location on the north side of Kerrytown at 415 N. Fifth Ave., Aronoff announced late Sunday on Facebook that she'll be closing on Jan. 16.
Today, a managing partner at Zingerman's Deli confirmed that it will take over the space, using the kitchen for food prep and the dining area for meeting space as the nearby Detroit Street restaurant's expansion gets under way.
"Right now our plans for it are to operate (deli production) in the kitchen," said Rodger Bowser, explaining how the company will use the former eve's space.
He added: "It's not going to be seating for the deli."
Aronoff's decision to close ends the popular restaurant's run as one of the top culinary destinations in Ann Arbor, status fueled in part by Aronoff's appearance on Bravo's "Top Chef" and her creation of a unique, rotating menu.
The decision, she said, frees her to concentrate on two goals: Healing from a 2010 back injury and building her new restaurant, Frita Batidos on West Washington.
Kerrytown manager Karen Farmer and Aronoff both said that the sides couldn't reach agreement on extending the lease for eve, a situation they'd both worked on for 2 years.
While Aronoff appreciated what she'd built in Kerrytown, the building wasn't the best fit for eve the restaurant, Aronoff said. That made her hesitant to commit long-term.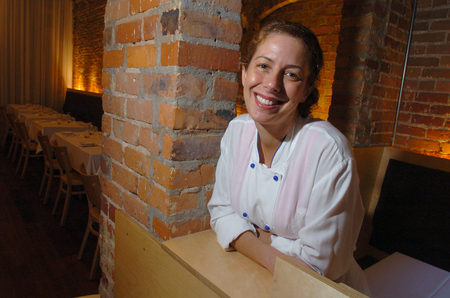 AnnArbor.com files
"I absolutely love, love, love the space in Kerrytown for eve," she said. "But practically it wasn't ideally suited to us."
There were physical limitations, like the lack of a prep kitchen, which "made menus very labor intensive," Aronoff said.
The building offered plenty of charm and customers valued the intimate setting, but its location north of the main Kerrytown building never generated a lot of foot traffic.
That, Aronoff said, meant that non-peak dining hours never got "crazy-busy."
Yet during the main dinner hours, the staff would have to turn customers away.
"It would have been great if we'd had 40 more seats in the dining room," Aronoff said, to even out the revenue potential.
As the lease expired, Aronoff asked for a year-long extension, which worked for both parties.
However, the second request for another extension didn't, though Aronoff said there's no animosity behind it.
"I felt comfortable signing up for another extension, but not another 5-year lease," she said.
The restaurant itself was successful, she said, and "we were busy." She wasn't looking for additional capital, she added.
"We're not closing because it's not going well," she said.
Meanwhile, Zingerman's will buy the restaurant's equipment, she said, as the transition takes shape.
"It's a group that I respect a lot and they were … extremely considerate and fair," she said. "We have 100 percent good feelings and support for each other."
Bowser said Zingerman's had wanted to find nearby space to absorb operations as construction put parts of its deli out of service this year. As the eve space came onto the market and Zingerman's talked to Aronoff, it became clear that for both the timing "couldn't have been better," he said.
For the deli, the opportunity to move into nearby facilities preserves the high level of business it generates, and also adds new, unique space to what Zingerman's offers for catering services, Bowser said.
Site work to prepare for deli construction is happening now, Bowser added, with more work expected to start by spring.
"This whole month has been spent getting the (deli) campus ready for construction," he said.
As for Aronoff, the top of her to-do list right now is healing a back injury that's lingered for 8 months. And with the opening of a second restaurant in downtown Ann Arbor, that healing wasn't going to come with working 100-hour weeks.
Eve the restaurant's staff of 30 met the news of the closing with both sadness and hopes that she'd heal, Aronoff said. They knew she didn't have a working partner in the restaurant - other owners are only financial backers - and that the injury limited what kind of emotional and physical investment she could maintain in the restaurant.
They also knew that the lease negotiations weren't yielding a deal, so learning in recent days about the change left them wishing the restaurant could at least stay open for a bit longer.
"This place really was like a family," Aronoff said.
For now, Aronoff said she's putting her heart and soul into Frita Batidos while her first priority is healing her back.
A bit further down her to-do list is keeping an eye open for future restaurant possibilities. Does that mean she could open a new version of eve the restaurant someday?
"I would love for that to happen," she said, though it won't happen soon.
Aronoff recognizes that many customers will miss eve. She said she started out wanting to create a restaurant that felt personal to its clientele, where people could feel comfortable visiting the kitchen or reacting to menu changes.
Reaction since she announced the closing proves to her that she accomplished that.
"It means a lot to me that people appreciate the care that we put into the restaurant," she said. "… That's what I cared about from the beginning."
Paula Gardner is Business News Director of AnnArbor.com. Contact her at 734-623-2586 or by email. Sign up for the weekly Business Review newsletter, distributed every Thursday, here.