Posted on
Sat, Jun 5, 2010 : 5:55 a.m.
Five Guys Burgers chain to move into former Shaman Drum space
By Janet Miller
Five Guys Burgers and Fries, a rapidly growing national hamburger chain that originated in metropolitan Washington D.C., will move into coveted storefront space on South State Street once occupied by Shaman Drum independent book store.
A number of national restaurant chains, including SmashBurger and Del Taco, competed for the space, said Jim Chaconas, listing agent, of Colliers International. A lease with Five Guys was signed Thursday.
The South State Street retail area, where town and gown meet, has rare vacancies, especially less than 2,000 square feet, Chaconas said. Five Guys will have a long-term lease on the 1,890 square-feet space, he said, although he would offer no more specific details. Shaman Drum had occupied two side-by-side spaces.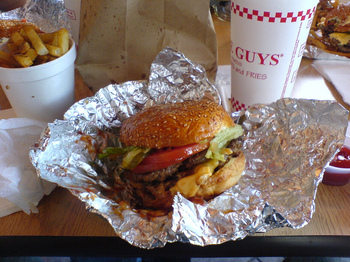 Photo by Flickr user MrMatt
Construction on the Five Guys build out should begin within 45 days, once the city approves architectural and building plans, Chaconas said. The goal is to open by fall, he said. No one from Five Guys could be reached for comment.
The space vacated almost a year ago when Karl Pohrt decided to close his independent bookstore. Negotiations with Five Guys began within a month of the Shaman Drum closing, Chaconas said.
Five Guys was represented by Matthew Berke with the Beale Group.
Pitaya, a small chain of trendy, affordable clothing boutiques for teens and young women, occupies the other half of the former Shaman Drum space. The boutique moved in to 1,840 square feet in October.

Five Guys opened in Arlington, Va. in 1986 and has expanded to 550 locations in 35 states. The privately held chain, which has eight locations in Michigan, says its menu offers 250,000 ways to order a burger.
Five Guys joins Red Robin Gourmet Burgers, which opened in May on Briarwood Circle near Briarwood Mall, as a new burger restaurant in Ann Arbor.
Janet Miller is a freelance reporter for AnnArbor.com.