Posted on
Mon, Feb 25, 2013 : 5:59 a.m.
Former Arthur's Bar on Michigan Avenue rebrands itself but wants to keep 'dive' feel
By Tom Perkins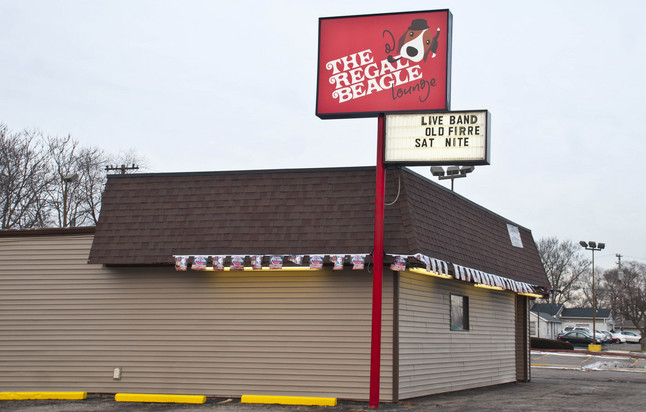 Tom Perkins | For AnnArbor.com
Bob Roberts considers the former Arthur's Bar in Ypsilanti Township a dive bar.
And he intends to keep the Regal Beagle - the East Michigan Avenue watering hole's new name - "still kind of a dive bar."
But, he explains, everyone seems to have a different definition of a good dive, and his isn't a no-holds-barred, biker bar that Arthur's had a reputation of being until recently.
"My interpretation of a dive bar is different. A lot of people think of it as a dirty, grungy hole-in-the-wall with three people hanging out in the dark," Roberts said. "To me it's a smaller, locally owned, locally operated kind of a place that is really rich in history and has character."
He continues that his favorite dives always have something that will "drag you back in for more", be it because of a quirky atmosphere or something unique and delicious on a menu.
The latter is Robert's hook. While he and his partners, who have run McShane's Pub in Detroit for 15 years, will offer standard bar fare like burgers, hoagies and fries, they will also offer something unique to Ypsilanti Township and eastern Washtenaw County - street food from around the world.
For example, the Regal Beagle will serve the Cuban sandwiches one finds for cheap in Miami. Poutine, a Canadian favorite composed of fries topped with gravy and cheese curd, also is on the list. And there isn't anywhere else in the East Michigan Avenue corridor serving beef and pork empanadas, which are deep fried meat pastries found throughout Latin America that are a close cousin to the Upper Peninsula's pasty.
Roberts is banking on the menu to develop a customer base, especially with scant options for dining and drinking in that region of Ypsilanti Township.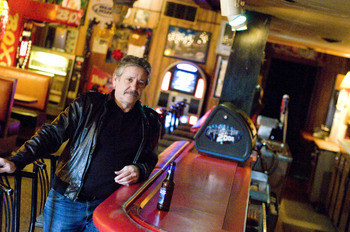 Tom Perkins | For AnnArbor.com
"There's no place on that side of town that has a full bar and a full complement of food," Roberts said. "We want to fill that void."
Gary Miller owned the bar for the past several years, and he remains a silent partner. Miller previously expressed his desire to clean up Arthur's and change it from a biker hangout to a neighborhood bar. Roberts said Miller did an excellent job ridding the bar of its issues with its clientele, but he wasn't successful establishing a new clientele.
Roberts believes the new menu will go a long way to help. He also is now offering five Michigan beers on tap. That small step is a big departure from Arthur's, which only served bottles and cans for 35 years. There will also be the standard cocktails, and "retro" can beers like Pabst Blue Ribbon and Hamm's offered in koozies for $2.
Many of the beer memorabilia is gone from the wall and there is a new pinball machine, online trivia, televisions, electronic dart boards, pool tables and, in the coming months, Keno.
Roberts describes the Regal Beagle as a place where a "mature, 30 and up crowd" can come hang out at a 70s and 80s-style neighborhood bar, which is an atmosphere that is a far cry from the Arthur's of 15 years ago.
"We want to take it to the next level, rebrand it and bring in the elements that will make it a comfortable place for anyone who wants to stop in," Roberts said. Tom Perkins is a freelance reporter for AnnArbor.com.