Posted on
Tue, Jan 29, 2013 : 5:59 a.m.
Grizzly Peak owners plan to revive the Old German in restaurant's basement
By Lizzy Alfs
Ann Arbor District Library archives
It has been 18 years since the
Old German closed
, but
Jon Carlson
still has fond memories of the long-time downtown
Ann Arbor
restaurant.
"I would come in for lunch where there was a lunch counter, and you could sit alone and not feel uncomfortable. I would be here twice a week or three times a week," he said.
Carlson and one of his business partners, Chet Czaplicka, replaced the Old German at 120 W. Washington St. with Grizzly Peak Brewing Company in 1995.
"(Bud Metzger) and I shook hands. I was only 24-years-old and it was my first real business deal," Carlson recalled. "(Bud) gave us the price of the building and the business and we didn't negotiate. It was fair."
Years later, Carlson and his partners have plans to bring the Old German back to life — potato salad and all.
Construction is under way on the vacant 2,000-square-foot basement below Grizzly Peak, which will be transformed into a German bar — called the Old German — with a limited food menu.
File photo
"The (Old German) recipe book is one of the things we saved," Carlson said. "We're not bringing back the full menu, but we'll bring back their potato salad and German sausages and some pretzels. It's going to be more of a limited menu."
The Old German first opened downtown in 1928, according to an Ann Arbor Observer article from 1995. Bud's father, Fritz Metzger, purchased the Old German in 1946 — years after his brother opened a similar German restaurant in downtown Ann Arbor called Metzger's, which is now located on Zeeb Road. In 1975, a fire destroyed the Old German and it was rebuilt before closing in 1995.
During the next few months, Carlson plans to double the brewing capacity at Grizzly Peak, and the lobby will be reconfigured so that the Old German has a direct entrance. He's also bringing back a version of the Old German's wrought iron sign. He hopes to open the bar in March or April.
"It will have more of a bar and lounge feel downstairs that focuses more on our beer," Carlson said. "Grizzly Peak is more American beer culture, but downstairs will be a German one."
"It's going to have heavy cedar timbers and a big, heavy bar with some of the craziest, funkiest lights from the 1960s from Eastern Europe and a jukebox," he continued.
Although the new concept draws inspiration from the original Old German, Carlson wants customers to know it won't be exactly the same.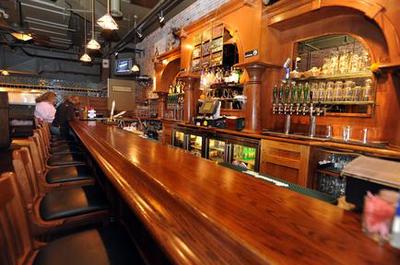 File photo
"We can't bring back what the Metzger family created and we would never try to do that," he said. "They spent their entire lives creating this place and we could never do justice to that. What we're trying to do is put a new spin on it and bring it back almost as an homage to the Old German and to Bud Metzger, who I knew quite well."
Carlson hopes to open a bar that Bud, who died years ago, would be proud of and support.
"I think he'd like to know that something he worked so hard on still means a lot to Ann Arborites and is coming back in a different form," he said.
The basement bar is a model Carlson and his partners know well: they launched two basement concepts in 2012, with the opening of mash below Blue Tractor and the new Cafe Habana underneath Lena.
"We've learned that the concepts can't be mutually exclusive," Carlson said. "If we have (restaurants) in one location, they need to tie in."
Carlson and his business partner at 2mission, Greg Lobdell, together own a dozen restaurants around the state. The duo often works behind the scenes and they hire a partner to handle day-to-day operations at the restaurants.
Although Carlson said they're "slowing down," there are several projects in the lineup, including a possible rooftop concept at Lena, a possible Jolly Pumpkin in downtown Royal Oak and the recent opening of a new Jolly Pumpkin brewing facility in Dexter.
"I don't think we're done, but I think we're definitely taking a kick back to focus on what we have. Of course, I'll say that and then something will come up," he joked.
See also: For more information on the Old German, check out this 1995 article from the Ann Arbor Observer.
There are some copies of an Old German cookbook collection, made by a former server and the chef, available on Amazon.
Lizzy Alfs is a business reporter for AnnArbor.com. Reach her at 734-623-2584 or email her at lizzyalfs@annarbor.com. Follow her on Twitter at http://twitter.com/lizzyalfs.