Posted on
Sun, Jul 28, 2013 : 5:56 a.m.
How could Ann Arbor refocus development in the downtown area?
By Lizzy Alfs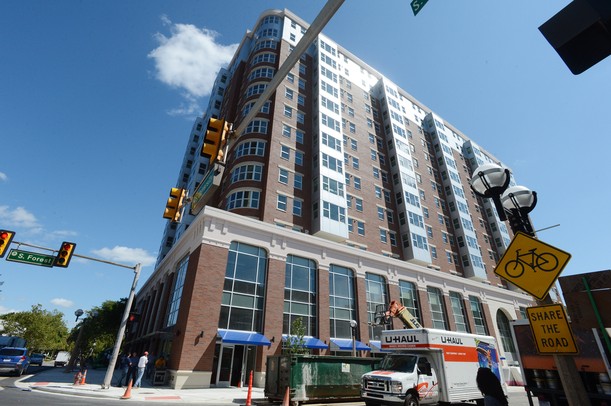 Downtown Ann Arbor's five-year student housing boom has left a permanent mark in the city's skyline.
It shows developers consider Ann Arbor's student apartment market a safe investment, but it's also causing city leaders and residents to push the brakes and ask: Is this really what we want for downtown?
"The biggest difficulty we're facing, I think, is the rate of change and the fact that the change has not been seen as to the benefit of the community as a whole," said Ann Arbor City Council Member Sabra Briere.
"Thirty years ago, one new building in five years was a thing to be talked about and occasionally mourned. The fact that we've had seven new buildings built or proposed and approved in (five) years makes all of the community question whether we're doing things the right way."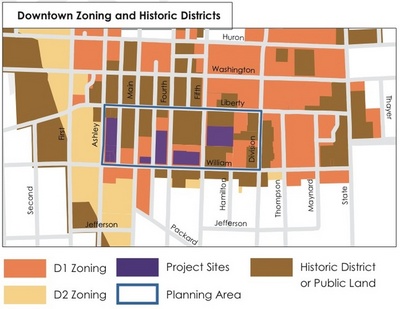 Ann Arbor DDA
With a thorough review of downtown's zoning now underway, the public has several weeks to weigh in on what works, what doesn't work and possible changes to the zoning. The results of the review could affect the pace and scope of future development downtown.
As those conversations continue, here are some ways the city potentially could refocus development downtown:
Downzone certain properties?
D1 is the core downtown zoning district that allows buildings up to 180 feet tall — or in special cases like the 400 block of East Huron Street, up to 150 feet tall. The D2 zoning district has a building height limit of 60 feet.
The zoning was adopted in 2009 as part of the city's Ann Arbor Discovering Downtown (A2D2) process, which also introduced design guidelines for downtown.
Sketch by Norman Tyler
The recently approved 413 E. Huron high-rise has been called "out-of-character" for its neighborhood. At the intersection of North Division and East Huron streets, the 14-story building will abut historic residential homes to the north and is located in the city's East Huron Street character district.
Neighbors of the project and other community leaders rallied for months, challenging the developers to redesign the building and reduce the height, and petitioning City Council to reject the project.
Just before 413 E. Huron was approved, City Council asked Planning Commission to address three specific D1-zoned sites in its review of the zoning to prevent another out-of-character project. Those include:
The south side of East William Street between South Main and South Fourth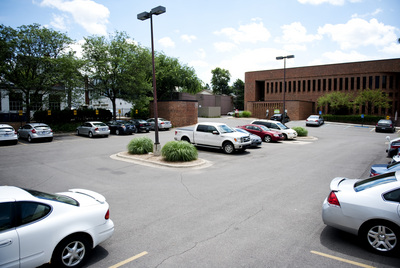 Daniel Brenner | AnnArbor.com
Occupied by the Beer Depot and the DTE parking lot on the corner of Main and William, this site has a D1 zoning designation and abuts residential properties that are located on South Fourth Avenue.
The north side of Huron Street between North Division and North State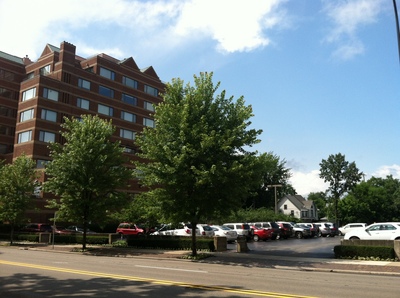 Lizzy Alfs | AnnArbor.com
This block is home to the 413 E. Huron site, but it has an additional area of concern, Briere said. There is a parking lot between the Campus Inn hotel and Sloan Plaza Condominiums, which is utilized by hotel guests and employees. It has a D1 zoning designation, and also backs up to several homes.
A parcel on the south side of Ann Street adjacent to city hall
The University of Michigan Credit Union owns this D1-zoned parking lot. Briere said a developer could potentially come along and acquire the lot and some adjacent parcels and construct a 180-foot-tall development. It rubs up against a historic district and residential properties.
"These areas were called out by council because they reflected the problem at 413," Briere said. "That is, the lack of a buffer zone."
Ann Arbor resident Ray Detter, who was active in the efforts to block the 413 E. Huron project, pointed out other downtown areas where he thinks D1 zoning might be of concern. Among the sites: the northwest corner of North Division and East Huron, occupied by Ahmo's Gyros & Deli; the former flagship Borders building at 612 E. Liberty St.; the Kline's lot at South Ashley and East William streets.
Detter said one possibility might be to look beyond D1 and D2 for certain properties.
"I would like to take a look at that to see whether, in some areas, we might support something that wasn't D2 or D1, but D13 that allows for 80-foot buildings," he said.
Re-examine floor-area-ratio premiums?
As part of the zoning review, City Council asked the Planning Commission to consider whether the D1 residential floor-area-ratio (FAR) premiums effectively encourage a diverse downtown population.
FAR is a development term used to describe the total square footage of floor area in a building divided by the total square feet of the lot on which the building is located. A building in downtown's D1 zoning can have 400 percent FAR by-right, but up to 700 percent by-right if it's for residential use, meaning the building can be taller. Developers are also awarded additional FAR premiums for things like affordability and LEED certification.
The city wants to examine whether those by-right premiums are encouraging the right kinds of development downtown.
"I really appreciate the inclusion of that in this recommendation of things to look at," Ann Arbor Mayor John Hieftje said during an April City Council meeting.
"As we look at things like the (Ann Arbor City Apartments) that are going up, I understand they have a lot of demand already…that's folks who are working in the downtown area and who want to live in the downtown area. We could make an adjustment in that direction very easily to favor that type of housing in the downtown area, and I think that would be very positive."
Daniel Brenner | AnnArbor.com
Ann Arbor City Apartments is under construction on the corner of West Washington and South First streets.
Ann Arbor architect Brad Moore of J Bradley Moore & Associates said the city could create incentives in the zoning ordinance based on what the city wants to see downtown.
"Lets say the city wanted to encourage dwellings in the downtown area that were less than 400 square feet," Moore explained, "They could do that by creating incentives. What you could do in your zoning ordinance is say that if you have 400-square-foot apartments, (the city) won't count those as part of your floor area ratio."
"Now, all of a sudden, the developer has an incentive to build 400-square-foot apartments."
Limit student-oriented projects?
Ann Arbor officials have said they would like to avoid having any more apartment high-rises downtown that cater to U-M students. During the zoning review, the city is legally protected against more of those projects coming forward, Hieftje told AnnArbor.com last week.
Hieftje said the upcoming zoning changes could, just as a possible example, restrict new projects from having anything more than two bedroom units. Another example would be to limit three-bedroom units to 10 percent of the total number of units in a development and prohibit four-, five- or six-bedroom units.
"So that's really going to mean future development in the downtown area will be more focused on young adults, empty-nesters and young families who might want to live there," he said.
Hieftje said the city's zoning changes in 2009 didn't spur the student housing boom — it started on its own.
"(Landmark, 411 Lofts and Zaragon Place) came in under the old zoning. It was a recognition by developers nationwide that they could sell housing in campus towns with a large university, so we didn't start the student housing boom. That started all on its own."
McKinley CEO Albert Berriz said for developers, returns are higher on student high-rise buildings and that's a much safer bet. Many of the units in the new buildings are four-, five- or six-bedroom units, and rental rates often exceed $1,000 per bedroom.
Moore said a main factor behind the student housing boom is simple: financing availability.
"For the past five years, what you could get financed is student high-rises," he said. "That's changing now. With the economy slowly coming back, money is becoming available to build other things now. That's why you'll see, for example, projects like the Ann Arbor City Apartments, Georgetown Mall, 618 South Main." (618 S. Main is an approved housing project just south of downtown)
Mandatory — or stricter — design guidelines?
Developers hoping to build projects in downtown Ann Arbor have to go through a required design review process, but the design guidelines the city sets forth aren't mandatory.
The 413 E. Huron project received some criticism for its design from Ann Arbor's Design Review Board, but the project still complied with the zoning.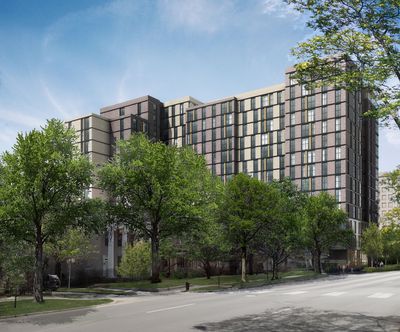 Humphreys & Partners Architects
When the design guidelines were developed in 2009, some city leaders and residents wanted to elevate the guidelines from voluntary to mandatory, and those discussions continue today.
Moore, who has worked on recent high-rise projects such as The Varsity and 624 Church St., worries that making the design guidelines mandatory could limit architects' creativity. He was also involved in the process of creating the design guidelines, and said major design elements — like varying the massing of buildings — already are incorporated in the city's zoning ordinance.
"But the other things, like what's the best color for a building or how big should the windows be or what are the best materials for a building, there was no consensus on that," Moore said. "I think those things are much harder to regulate. It would be like asking, what's proper art or good music?"
Another option would be to strengthen the impact of the Design Review Board's comments by requiring developers to go before the board twice, Detter said.
"I think that by giving the design guidelines process more teeth, or strength, and making the process perhaps a little lengthier, but asking people to consider everything the Design Review Board wants them to do, we can make our projects better," Detter said.
Briere said it's important to remember these buildings will be here 100 years from now, and encouraging good designs is crucial.
"If we're not caring what the outside of the building looks like and trying to control how that affects outside properties adjacent to it, then I think we're really making a mistake," she said.
"What have we done, not just to encourage residential, but what have we done to encourage or demand the best possible design? Right now, I don't think we've done enough."
Lizzy Alfs is a business reporter for AnnArbor.com. Reach her at 734-623-2584 or email her at lizzyalfs@annarbor.com. Follow her on Twitter at http://twitter.com/lizzyalfs.