Posted on
Sun, Jan 22, 2012 : 5:57 a.m.
How Pfizer's exodus affected Plymouth Road corridor
By Lisa Carolin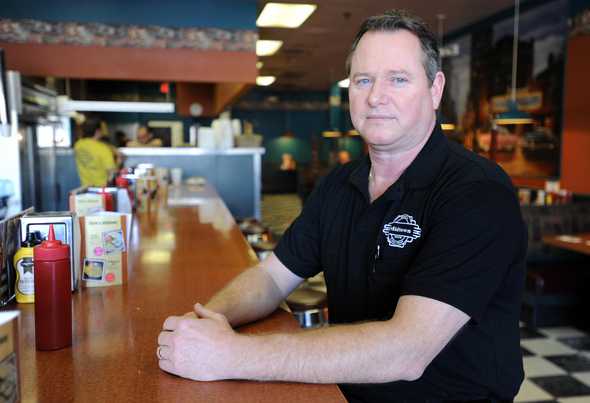 Angela Cesere | AnnArbor.com
When
Pfizer
closed its campus off Plymouth Road five years ago, it had a big impact on many retail businesses in the area that was still felt this year. Most recently, owner Chris Klademenos
closed Flim Flam Restaurant
after 30 years, blaming low business, which began dropping off with the closing of Pfizer, and was followed by the struggling economy.
For Mark's Midtown Coney Island nearby, business took a hit because of Pfizer's closing and other economic downturns, but the restaurant has survived.
"Pfizer's closing affected our lunch crowd especially," said co-owner Mark Colwell. "We slowed down, but we got through it. The hard part was that it happened all at once, but we rode it out and tightened our belts. Now that U-M took over, it's bringing people back."
The University of Michigan bought the Pfizer property and has turned it into a research center.
"You see people walking around with U-M badges now, and there's been a pick up in people looking at space," said Jeff Hutton, owner of Hutton Management Services. "As a landlord, I didn't feel the immediate effects that my tenants did, but with the economic downturn that followed from 2008-2010, Bella Vino, Curves, a tax preparation business and Flim Flam are some of the businesses that moved out."
Carpenter Brothers Hardware & Rental Center at 2753 Plymouth Road lost nine percent of its business after Pfizer closed.
"We had to change our strategy when Pfizer closed," said Armando Reyes, owner of Carpenter Brothers Hardware. "We advertised heavily to get the community into the store and tried to get business from other places. Pfizer was a good contributor to our bottom line, especially the personnel there that took care of the building itself and would come to our store during their lunch time."
Reyes said that he's seen a small increase in business since U-M moved into the former Pfizer campus, but nothing like it was when Pfizer was there.
In surrounding neighborhoods like Orchard Hills, neighbors can't tell whether Pfizer's closing or the general economic downturn are what caused homes to be put up for sale and foreclosures.
"When you take that many white collar jobs out of a market, it affects housing, retail and everything," said Bela Sipos, of Reinhart Commercial. "Initially it was a shock to many of the retailers around here. I've seen a little bit of softening of rental rates, and now I'm seeing an absorption of space.
Sipos cites Plymouth Green Mall, which is now 100 percent occupied, and Plymouth Mall, which has just one retail space available.
"We're seeing new people coming in and starting new businesses," he said.