Posted on
Sat, Jan 28, 2012 : 5:59 a.m.
After rebranding, formerly 'dingy' hotel on Carpenter Road reports uptick in occupancy
By Lizzy Alfs
When Ann Arbor-based Dahlmann Properties purchased the former Comfort Inn on Carpenter Road in Pittsfield Township in 2006, it was outdated and struggled to get guests.
"It was a neglected, tired, old property," described Andy Dahlmann, vice president of Dahlmann Properties. "Occupancy was horrendous."
But after completing an extensive, four-year renovation project in summer 2011, occupancy levels at the Pittsfield Township hotel are slowly but surely stabilizing, Dahlmann said.
"Last year was the first year all the rooms were renovated, and our occupancy improved 50 percent," he said. "For 2012, we're hoping for an occupancy rate in the levels of 50 percent."
Formerly a Comfort Inn, then a Quality Inn, the hotel also has a new name now: the Ann Arbor Regent Hotel & Suites.
In Washtenaw County's hotel industry, the average occupancy rate was 64.5 percent in 2011, up from 58.5 percent in 2010, according to Chuck Skelton, president of Hospitality Advisors Group of Ann Arbor. Although that outpaces the Regent's rate, the owners said they're pleased with their property's progress.
From replacing all the furniture to adding a 24-hour fitness center, the 2-story, 125-room hotel received an extensive facelift, said Aaron Taylor, the hotel's director of sales.
There's a new covered entranceway with brick pavement and a fountain, a repaved asphalt parking lot, and a new game room and fitness center.
The 3,200-square-foot conference center and banquet hall, which is separated from the hotel, was redesigned for both social and business meetings. A large catering kitchen was also installed.
The former drop ceiling panels in parts of the hotel were replaced with drywall to raise the ceiling height.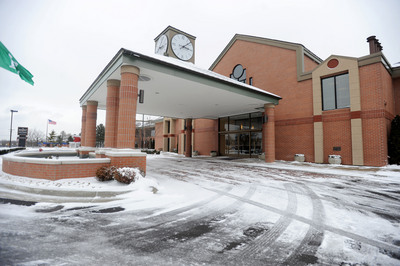 Angela Cesere | AnnArbor.com
The old artwork was replaced with new pieces, many of which are from the
Ann Arbor Art Fair
.
The indoor pool mechanics were moved into a guestroom to provide better views into the hotel's new courtyard and outdoor seating area.
Along with new layouts, the redesigned rooms have new furniture, carpeting, drapery and televisions. Each room now has a miniature refrigerator and microwave.
"These were very dated, very old guestrooms," Dahlmann said. "I don't think it had been touched since maybe the mid-1980s. There isn't anything that was left in here other than the walls."
Skelton of Hospitality Advisors Group added: "Their renovation was spectacular. They probably have the nicest rooms in town."
Dahlmann declined to disclose the investment spent on the renovations, but he calls it a drastic change from the way the hotel used to look.
"You could see chips in the furniture and holes in the carpet," he said.
But because the hotel had a solid exterior and a prime location near four college campuses and US-23, Dahlmann Properties chose the former Comfort Inn to add to its collection of hotels in 2006.
The company also owns Ann Arbor's Bell Tower Hotel on South Thayer Street, the Campus Inn Hotel on East Huron Street and a Campus Inn located in Madison, Wis.
The sale price of the former Comfort Inn, Dahlmann added, was too good to pass up.
The company acquired the hotel for $3.625 million, according to township documents. It was previously registered to Flying Dutchman Motor Inn, Inc. The hotel's assessed value was $2.582 million in the 2010 tax year, making its estimated market value about double that.
"One of the advantages of a saturated [hotel] market is we picked up this property for $30,000 a room - a favorable acquisition price - which enables us to have lower operating costs," he explained.
As part of the hotel rebranding, the pricing structure did increase slightly, Dahlmann said. Rooms have starting rates at $99 per night.
The goal: provide a quality product at a lower price point than the other Dahlmann hotels.
In the Washtenaw County hotel industry, the average daily rate in 2011 was $87.50, up from $82.40 in 2010, according to Skelton.
In the past couple of years, Dahlmann Properties also hired 4 to 5 full-time employees and 8 to 10 part-time employees to work at the rebranded hotel. That number will increase as occupancy rates rise, Dahlmann said.
He said now that the extensive renovations are completed, the hotel will undergo routine maintenance work every few years, similar to the other Dahlmann hotels. Currently, the Bell Tower's bathrooms are being renovated.
"Our renovation process is slow and deliberate," he said. "We take three or four rooms at a time and try different things. We let guests try it and offer comments and then we go forward. It's a multi-phased project and we are very careful to understand what the guests want and what Washtenaw County wants."
Lizzy Alfs is a business reporter for AnnArbor.com. Reach her at 734-623-2584 or email her at lizzyalfs@annarbor.com. Follow her on Twitter at http://twitter.com/lizzyalfs.