Posted on
Thu, Jan 24, 2013 : 5:59 a.m.
Is there a demand for more office space in downtown Ann Arbor?
By Lizzy Alfs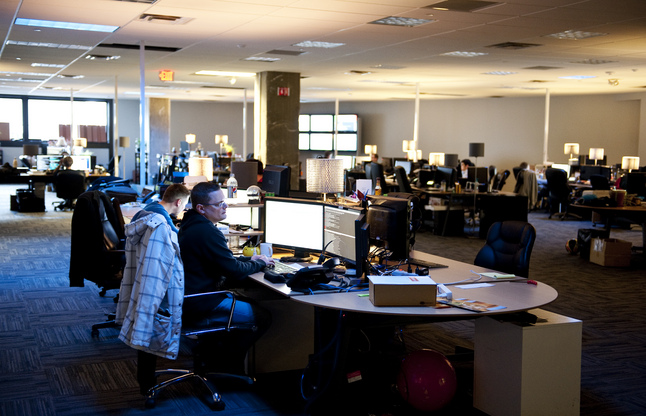 Daniel Brenner | AnnArbor.com
Barracuda Networks
announced
major expansion plans in summer 2011, the company was determined to remain near downtown Ann Arbor.
After scouring the local office market for more than a year, Barracuda signed a deal for 45,000 square feet of space on Maynard Street in Borders' former offices.
But the move — which more than tripled Barracuda's Ann Arbor office — isn't necessarily long term.
"This is enough for us in the immediate term," said Barracuda general manager Guy Suter. "But we're in a situation where we're hiring one to two people per week."
"I'd love to think when we need 100,000 square feet and have 1,000 employees that we can still be downtown, but the path isn't 100 percent clear," he continued. "(The space) we ended up with was the only thing we could have done."
Ann Arbor real estate agents and landlords agree: the office market downtown is tight and it can't support many large expansions right now.
Of downtown's roughly 1,700,000 square feet of office space, less than 170,000 square feet is available, according to Swisher Commercial's 2012 vacancy report. And real estate agents say that vacancy rate is even lower as several companies are negotiating deals for space, including Prime Research's recent deal for 16,000 square feet in the former flagship Borders store.
Most of the available space, said Neal Warling of Jones Lang LaSalle, consists of small offices.
"We just can't find enough space for larger users," Warling said. "Anything above 5,000 square feet is getting really hard to find in one location, and that's a function of two things: there hasn't been a lot of larger building development downtown and those buildings are largely full."
Real estate listings show that one of the only downtown vacancies more than 15,000 square feet is at 111 North Ashley Street.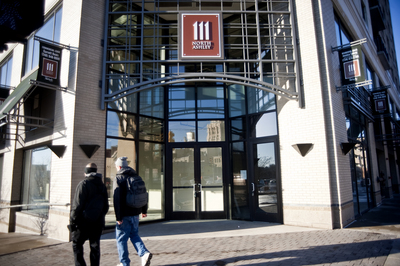 Joseph Tobianski | AnnArbor.com
That makes finding a large chunk of space downtown a challenge for businesses, and companies like Barracuda and Menlo Innovations have thought outside the box in order to expand downtown.
"We found something unusual and we were willing to go the extra mile to make that unusual space work for us," said Menlo CEO Rich Sheridan. Menlo tripled its office space last year when it moved into 17,000 square feet in the basement floor of the former Tally Hall building.
"I've worked out in the fringes of town in office parks…for us, we absolutely love being downtown. The type of business we are and just our spirit and energy; we wanted to be in the vibrancy of the downtown area," Sheridan said.
Does downtown need more office space?
The idea of new office construction downtown is being tossed around by Ann Arbor's Downtown Development Authority as part of its Connecting William Street plan. The DDA, encouraging private redevelopment of several city-owned properties, is suggesting mixed-use buildings with a focus on office as one development possibility.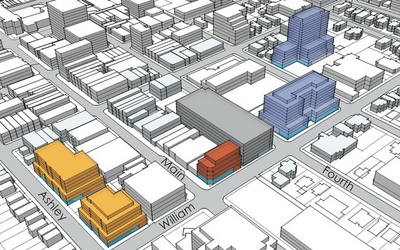 SmithGroupJJR
After studying the market, a land consultant hired by the DDA said downtown could support about 500,000 square feet of additional large floor plate office space over the next 10 to 12 years.
But is that figure really plausible?
No large floor plate office buildings have been constructed downtown in more than a decade, said developer Ed Shaffran. Over time, the available space has been mostly absorbed, but he still questions whether downtown needs large floor plate office development.
"We're Ann Arbor. Who is coming into town that needs this space?" he asked. "I don't see that many big floor plate users coming to downtown."
Swisher Commercial's Mike Giraud agreed, saying: "We're talking (30 percent) more office space over the next 10 to 12 years when nothing has been built since the 1990s."
Although Giraud said the supply is low and downtown could use large floor plate space, he said there are only so many big companies circling the market.
"There have not been a lot of big, corporate clients downtown," he said. "Google was looking for a large chunk of space, and certainly Barracuda. But there hasn't been a lot of office users downtown looking for more than 10,000 to 30,000 square feet."
"The question is, if you build it, will they come?" he asked.
How far off is new office construction?
As the real estate market struggles to recover, developers remain wary and it can be difficult to get financing for projects — especially for office buildings.
McKinley CEO Albert Berriz said Ann Arbor is experiencing a student housing boom because returns are higher and that's a safer bet for developers. However, new office construction downtown is expensive and it would result in high rental rates for businesses, he said.
"The cost to construct a new building in the downtown (is high), and the rents that would justify that construction don't exist in the market," he said.
Office rates downtown vary, but rent typically doesn't exceed $25 per square foot. Rental rates at a newly constructed building could reach $30 to $40 per square foot, Berriz said. Factor in the cost of parking, and operating a business downtown becomes too pricey for many companies.
"It's too expensive (to build) right now," said Jim Chaconas of Colliers International. "The rents have not caught up to what it would cost to make any money on building an office building."
Berriz — whose McKinley Towne Centre building downtown is fully occupied — said most companies are likely to look outside of downtown for space before paying high premiums to be downtown.
The south side of Ann Arbor, for instance, has a 15 percent vacancy rate and several large floor plate availabilities.
"I still think there are companies that are leasing space in the Briarwood Mall area that have said to themselves, 'sure, we'd love to be downtown, but we're not willing to pay to be there.' At what point are you willing to pay twice the rent?" Berriz said.
Shaffran, a developer who owns several buildings downtown, said what makes the most sense for a developer is to pre-lease a building before it's constructed.
"You would need a commitment today (from a tenant) if you were going to build a 100,000-square-foot building," he said. "I think it would be a safe assumption that you need to probably get 60 percent of that pre-leased to get a real commitment from a financial institution."
Susan Pollay of the DDA said the group is being contacted "all the time" by developers and companies interested in the city-owned lots downtown. Inquiries are coming from local, regional and national players, she said.
But she recognizes constructing an office building is still a challenge and it could be several years before the market is right.
"It's probably three to four years before the rents will hit a point to justify new construction," she said.
Staring the development discussions now is important, she said, because it takes a long time for city processes to work.
"The office market is going to take some time," she said. "It will be there, and certainly, as big pieces of downtown are getting signed up with new leases, the vacancy is dropping."
The Connecting William Street plan also suggests mixed-use development downtown should include active ground-floor use and incorporates residential units. The land consultant hired by the DDA, Todd Poole, called office construction by itself a "risky proposition" right now.
Lizzy Alfs is a business reporter for AnnArbor.com. Reach her at 734-623-2584 or email her at lizzyalfs@annarbor.com. Follow her on Twitter at http://twitter.com/lizzyalfs.