Posted on
Tue, Jul 16, 2013 : 5:59 a.m.
Kerrytown's V2V to open store in Arbor Hills on Washtenaw Avenue
By Lizzy Alfs
Five weeks away from its official opening, the Arbor Hills shopping center on Washtenaw Avenue has added a new local tenant to its lineup: V2V.
Tes Haas, the owner of the women's lifestyle boutique in the Kerrytown Market & Shops, signed a lease for a 3,000-square-foot space in the under-construction shopping center on Washtenaw between Huron Parkway and Platt Road.
"I didn't really want to miss the opportunity to have stores on both sides of town," Haas said. "Living here, and (Ann Arbor) being my hometown, I felt like it was a good addition."
Haas opened V2V in Kerrytown in 1982, and later opened V2V stores in downtown Petoskey and Charleston, S.C. The stores sell stylish women's clothing, accessories, gift items and home products.
Daniel Brenner | AnnArbor.com
Haas also owns retail shops named Emma in Petoskey and Chicago.
She said the V2V store on Washtenaw Avenue will have a similar feel as the store in Kerrytown — which will remain open — but there will be some differences in inventory. The new store will be slightly smaller than the roughly 4,000-square-foot space in Kerrytown.
"I think Ann Arbor is big enough and has enough people to have both stores," Haas said.
"(Washtenaw is) just such a big corridor in town for shopping, and I think this complex is going to be a really great mix of locals and nationals with wonderful clothes, food and makeup," she continued.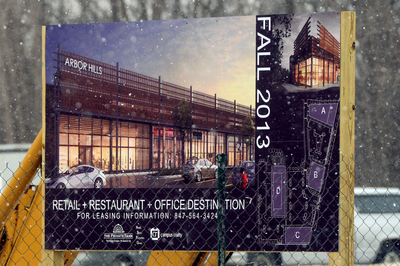 Melanie Maxwell | AnnArbor.com
Renovations are underway and Haas said she's trying to open the store when the entire shopping center opens on Aug. 22. Haas plans to hire 10 to 12 people to staff the new store.
V2V joins 17 other confirmed tenants opening at the four-building, 90,700-square-foot development. Tenants include a mix of national, regional and local businesses, including a restaurant by the Cafe Zola owners and a Running Fit store.
"We want the really strong local retailers," said North Shore Properties Group co-founder Max Reiswerg, a partner in the development. "They're the ones who give the project flavor."
Reiswerg said they turned space over to tenants earlier this summer, and most are working on renovating their individual spaces. He said he's working on finalizing another restaurant tenant and possibly a yoga studio.
Lizzy Alfs is a business reporter for AnnArbor.com. Reach her at 734-623-2584 or email her at lizzyalfs@annarbor.com. Follow her on Twitter at http://twitter.com/lizzyalfs.