Posted on
Mon, Oct 1, 2012 : 2:59 p.m.
Landmark student high-rise changes ownership days after opening
By Lizzy Alfs
The 14-story, 606-bed student high-rise on South University Avenue in Ann Arbor has a new owner after a deal that closed within days of the building opening its doors.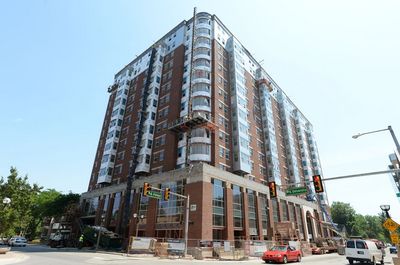 Melanie Maxwell | AnnArbor.com
Texas-based
American Campus Communities
, in a $627 million deal, acquired 15 properties last month from Illinois-based
Campus Acquisitions
, including
Landmark
.
Landmark is part of a wave of high-end student developments opening near the University of Michigan campus. Several similar projects opened this fall, with more in the city's pipeline.
It's unclear the purchase price of the Landmark property, specifically, and a representative with American Campus Communities could not immediately be reached for comment.
As part of the 15-property acquisition, American Campus Communities plans to invest $13.7 million to make improvements across the portfolio, helping to "drive future rental rate and revenue growth," according to a release.
"We are very pleased to be adding 15 properties to the ACC portfolio that meet our investment criteria of differentiated communities close to campus in submarkets with barriers to entry," said American Campus Communities CEO Bill Bayless, in a release.
The publicly traded company — which is one of the largest developers and managers of student housing in the U.S. — owns 152 student housing properties containing approximately 99,500 beds. Its average occupancy across its portfolios is 92.5 percent.
The company owns Willowtree Apartments & Towers off Plymouth Road, about 1/2 mile west of Huron Parkway. The company listed the complex for sale in 2010 to test the Ann Arbor market, but it was never sold.
William Talbot, executive vice president of investments for American Campus Communities, told AnnArbor.com in 2010 that the company sells 5 to 10 properties a year to generate capital and build value for shareholders. Ann Arbor, he said, is a "very desirable place for people to invest."
The company also owns Peninsular Place in Ypsilanti.
Campus Acquisitions is in the process of transitioning Landmark's ownership to American Campus Communities, said JJ Smith, Campus Acquisitions' executive vice president of development and construction, via email.
"Their property management staff has assumed all responsibilities of the building," he said.
Smith told AnnArbor.com in August that of Landmark's 606 beds, 605 were leased.
Rents at Landmark range from $975 to $1,745 per bed, meaning the project could generate $10 million in rent each year for its owner. How the sale could affect the building and its rental rates remains to be seen.
American Campus Communities stock [NYSE: ACC] was selling for $43.73 per share on Monday, with a market cap of $4.02 billion. It has 2,387 full-time employees and reported second quarter revenue of $107 million.
Lizzy Alfs is a business reporter for AnnArbor.com. Reach her at 734-623-2584 or email her at lizzyalfs@annarbor.com. Follow her on Twitter at http://twitter.com/lizzyalfs.