Posted on
Thu, Aug 9, 2012 : 5:59 a.m.
Listing reveals redevelopment plans for ex-Borders building in downtown Ann Arbor
By Lizzy Alfs

Photo from commercialiq.com
The building once occupied by the flagship
Borders
store in downtown Ann Arbor could soon be transformed into the city's newest restaurant and retail hub.
Real estate listings were posted online this week with Colliers International's Ann Arbor office, marketing the two-story, 44,000-square-foot space at the corner of East Liberty and Maynard streets.
The listing says the space, vacated by Borders in September 2011, will be broken up into as many as seven retail and restaurant spaces on the first-floor, with "contemporary" office space on the second-floor. Each retail space would have its own entrance.
Colliers is marketing the building on behalf of Ron Hughes of Bingham Farms-based Hughes Properties — who acquired long-term rights to redevelop the space in May. Hughes is the developer behind the new Landmark student high-rise, formerly called 601 Forest, on South University Avenue.
Hughes has not unveiled his strategy for the building — and was not immediately available to comment — but Colliers' marketing materials reveal an inside look at the potential plans.
The listing, which calls the building a "landmark downtown Ann Arbor redevelopment," says the building will get all new storefronts, windows and retail facades.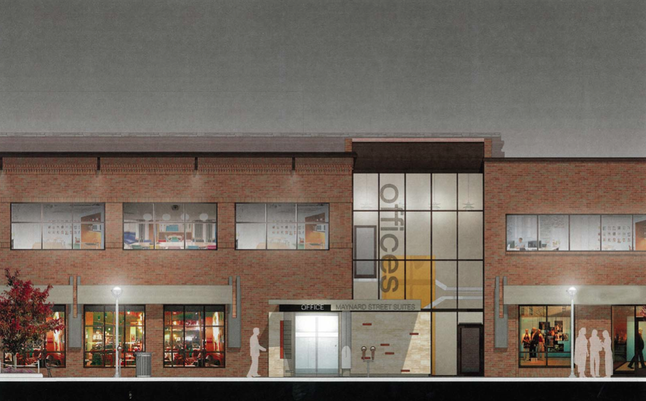 Photo from commercialiq.com
The asking rental rate for the first-floor is an annual $45 per square foot. The asking rental rate for the office space on the second-floor is an annual $24 per square foot.
From the listing:
"First-floor will consist of multiple retail and restaurant spaces that can range from 2,400 square feet up to about 21,000 square feet. Flexible layouts and sizes available."
"Second-floor will be contemporary, light-filled office space. New elevators and office entrance will lead to one of the coolest spaces downtown Ann Arbor. Office suites ranging from 4,500 square feet up to about 22,000 square feet. Second-floor will be getting new windows throughout entire space, filling it with light and views of East Liberty and Maynard."
Colliers representatives declined to comment on the plans.
The redevelopment comes as many Ann Arbor business owners and residents have lamented the loss of Borders and its effect on the downtown area — particularly the East Liberty Street corridor.
Many nearby businesses shuttered their doors in the past year, citing a decrease in foot traffic since Borders closed.
At the same time, business owners are optimistic about the news that network security firm Barracuda Networks plans to move hundreds of employees to Maynard Street when it relocates its Ann Arbor office from Depot Street this fall.
Barracuda signed a lease for 45,000 square feet of office space, which is connected to the former Borders retail site, but technically considered a separate building. That space is located on Maynard Street partly underneath the public parking garage, and it's owned by Ann Arbor-based First Martin Corp.
Construction work is currently under way at that site to transform it into a high-tech, attractive office, according to First Martin property manager John Teeter.
That includes putting in windows along the Maynard frontage, completely redesigning the facade, building a small engineering data center, a training center, workout facilities, showers, break rooms with games, and 30 to 50 foot ceilings in some areas.
Lizzy Alfs is a business reporter for AnnArbor.com. Reach her at 734-623-2584 or email her at lizzyalfs@annarbor.com. Follow her on Twitter at http://twitter.com/lizzyalfs.