Posted on
Mon, Sep 12, 2011 : 5:59 a.m.
Final day arrives for Borders' flagship store in downtown Ann Arbor
By Nathan Bomey
Update: Store officials confirmed that the store closed for good at about noon Monday.
Forty years after it was forged, downtown Ann Arbor's unique connection to Borders will be severed today.
Borders will close its flagship store today, carving a 40,000-square-foot hole at the corner of Liberty and Maynard streets and leaving downtown Ann Arbor without a Borders store for the first time in 40 years.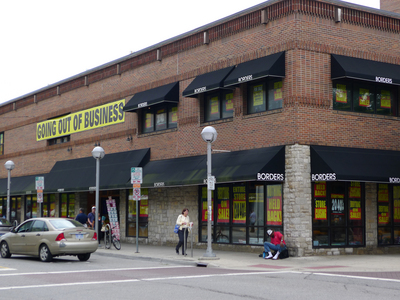 Steve Pepple | AnnArbor.com
Founded in Ann Arbor by brothers
Tom and Louis Borders
in 1971, the bookstore chain announced July 18
that it would liquidate
, abandoning its attempts to restructure under
Chapter 11 bankruptcy protection
.
The original Borders store was located steps away from the current store in an 800-square-foot space on South State Street.
In the mid-1990s, the store moved to a former Jacobson's department store along Liberty Street — and that's where the store remains today.
What will you miss most about Ann Arbor's downtown Borders store? Post your thoughts in the comments section below.
Here's more coverage of the closure of Borders' flagship store:
--Possible new tenant for Borders store in downtown Ann Arbor emerges
--Liquidation starts: Borders store in downtown Ann Arbor enters its final days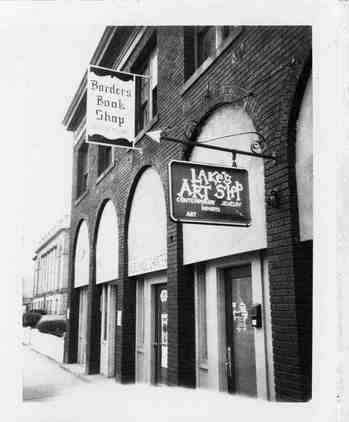 Photo courtesy of Ann Arbor District Library
--Auctions may decide fate: Will Borders stores in downtown Ann Arbor, Pittsfield get new tenants?
--Borders 'now hiring' for its downtown Ann Arbor, Lohr Road stores as liquidation continues
--What's next for downtown Ann Arbor Borders store after chain closes?
--Downtown store closure also means a loss of arts and music venue
--Borders plans to liquidate, ending 40-year-old bookstore chain
--Borders' rise and fall: a timeline of the bookstore chain's 40-year history
--Borders files for Chapter 11 bankruptcy protection
--Column: Where are they now? Borders brothers long gone from Ann Arbor as chain nears bankruptcy
Contact AnnArbor.com's Nathan Bomey at (734) 623-2587 or nathanbomey@annarbor.com. You can also follow him on Twitter or subscribe to AnnArbor.com's newsletters.