Posted on
Thu, Jan 12, 2012 : 4:37 p.m.
Former Ypsilanti Township gas station demolished and cleared
By Tom Perkins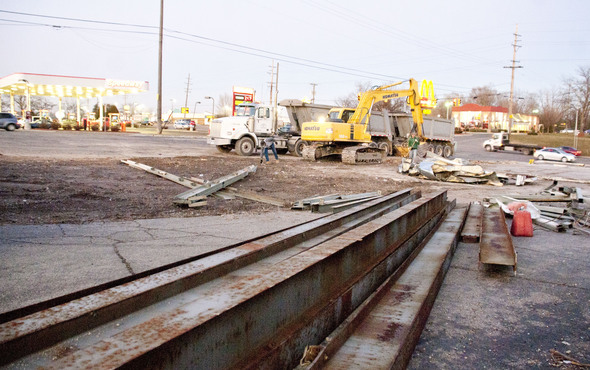 Tom Perkins | For AnnArbor.com
Following legal pressure from Ypsilanti Township, the owner of a former Mobil Gas Station at Rawsonville and Grove roads has torn down the building.
Work began earlier this week, and officials expect the site to be totally cleared by the week's end.
The owner and his attorney argued to the Ypsilanti Township Board of Trustees at its Dec. 6 meeting that the structure was sound and not in danger of collapse.
But the board voted to approve legal action at the meeting, and the township filed a lawsuit in the following week. A contractor pulled a demolition permit last week and began working immediately.
Mike Radzik, director of the township's office of community standards, said the owner of Ypsilanti-Grove Properties and his attorney, Jerry Hamling, wanted to avoid a lawsuit but were refusing to tear down the structure, which the township had deemed in imminent danger of collapse.
Hamling did not return calls from AnnArbor.com.
On Oct. 4, Ypsilanti-Grove was served an order to demolish the structure at 3360 South Grove Road within 30 days or face possible legal action. Because the property has been abandoned for over 30 days and is no longer used as a gas station or suitable for use as a gas station, it is considered blight under township ordinance.
"It all worked out," Radzik said. "This is one of those cases where it would have lingered and lingered for a long time if we hadn't pulled the trigger and filed the legal action."
Among other issues, building inspectors contended the canopy's columns had deteriorated at their base, the canopy was twisting in some areas and the beams were disconnecting from their footings.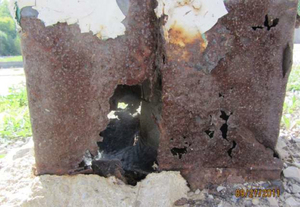 Photos showed that some of the beams had deteriorated so badly that it was possible to see through the holes in the steel supports. Portions of the canopy also were supported by drainage pipes and part of it had begun to deflect.
Hamling argued that the canopy was structurally sound. He told the board that photographs of rusted out beams only showed metal wraps around beams that are there for aesthetic purposes and there were actually four-inch steel beams inside those wrappings.
Township officials disagreed with that assessment and questioned why Ypsilant-Grove wanted the canopy to remain. The property carries a deed restriction that prevents another gas station from being built there.
The owner said he was in negotiations with Taco Bell for four years before they opened a location across the street. He also had been in discussions with CVS and Chase Bank, but no deal was struck.
Radzik said Ypsilanti-Grove owns a strip mall in Van Buren Township that was in poor condition when Ypsilanti-Grove bought it, but the company had redeveloped it into a nice plaza. He said he hoped to see the same happen Ypsilanti Township.
"We're happy that it's down, we're happy that the legal action was short lived, and we look forward to redevelopment," Radzik said. "There are only a few gateways, if you will, into the township … and that was definitely an eyesore and contributed to negative feelings at one of our main entryways. We're glad it's gone.