Posted on
Sun, Jan 30, 2011 : 5:58 a.m.
Long-term care providers say health care reform necessitates cost management, possible hospital partnerships
By Nathan Bomey
The Ann Arbor region's long-term and short-term care providers said the federal health care reform law will force them to operate more efficiently, reduce patients' hospital readmission rates and consider partnerships with major health care systems.
Senior services providers and hospitals have been scrutinizing the 2,000-some pages of the federal health care legislation since it was approved in early 2010.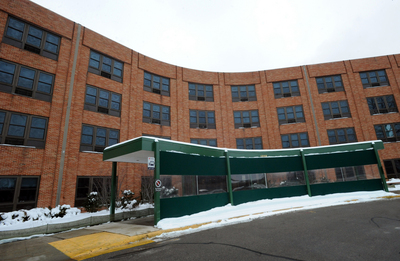 File photo | AnnArbor.com
They're still reaching conclusions on how to respond - but the outcome is likely to include closer relationships between long-term care providers and hospitals, in part because the federal law provides incentives for so-called "
accountable care organizations
" that coordinate care and reduce costs.
Ray Rabidoux, CEO of Ann Arbor-based Glacier Hills Retirement Community, which has about 620 employees, said his organization is having discussions with St. Joseph Mercy Health System and the University of Michigan Health System about ways to collaborate better.
The discussions, he said, center on how to reduce "hospital readmissions and some of those things that cost the health care systems extra dollars, to try to make sure that patients that move from one setting to another are being moved efficiently and only when necessary."
Federal health care reform will provide "bundled payments" to hospitals, which would turn around and distribute funds to their partners - in this case, long-term care organizations.
That means hospitals may be on the hunt to partner or acquire nursing homes, assisted living centers and memory care centers.
"The ties are going to continue to be stronger and more integrated as time goes on," Rabidoux said. "These organizations need to work together, we have to share information, we have to share access to information, we have to increase each other's understanding of the full continuum of care when we're serving older adults."
John Thorhauer, CEO of United Methodist Retirement Communities, which employs some 350 workers in Washtenaw County, said his organization is not considering official partnerships with local hospitals. But he said health care reform does provide incentives for coordinated care.
"I think there will be there will be additional collaboration between multiple providers at different levels," Thorhauer said.
Thorhauer said his priority is ensuring that United Methodist Retirement Communities, whose properties include the Cedars of Dexter and Chelsea Retirement Community, is providing efficient care.
"What will be important, I believe, under health care reform will be continued collaboration and efficient delivery. The providers that cannot provide high-quality, efficient services will not survive under health care reform in my opinion," Thorhauer said.
Denise Rabidoux, CEO of Evangelical Homes of Michigan, which employs nearly 600 workers in Washtenaw County, recently told AnnArbor.com that her nonprofit is in discussions with St. Joseph Mercy Health System about possible partnerships.
Denise Rabidoux said she envisions an arrangement in which bundled payments would flow from insurance providers to SJMHS, which would turn around and distribute funds to Evangelical Homes of Michigan.
"Suddenly senior care services providers are a very valuable and instrumental role in helping achieve the goals of health care reform," she said.
Ray Rabidoux said long-term care providers need to recognize that health care reform means "the funding model is going to change to some degree."
"But I think what's more important is we're going to have to learn to manage the costs effectively," he said. "Those organizations that learn how to manage clinical outcomes effectively and learn how to manage their costs effectively will be able to survive under these changes that are coming."
Ray Rabidoux said that, for example, health care reform may make it necessary to have more nurses and doctors practicing on site at Glacier Hills - which would theoretically reduce the need for elderly patients to be sent to the hospital from time to time.
"We may have to expand our medical care and medical services at this end of the street to have greater capacity than we've ever had in the past," he said.
Glacier Hills, meanwhile, is in the midst of a $26.5 million expansion of its physical footprint in northeast Ann Arbor to meet growing demand as the population ages.
The organization is building a 88-bed short-term care and rehabilitation center that is expected to be finished in summer 2012. A major renovation and expansion of its existing facilities, including the construction of a new memory care residence, will be completed in summer 2013.
Contact AnnArbor.com's Nathan Bomey at (734) 623-2587 or nathanbomey@annarbor.com. You can also follow him on Twitter or subscribe to AnnArbor.com's newsletters.