Posted on
Wed, Sep 1, 2010 : 8:37 a.m.
Losses continue for Borders Group as company eyes more 'non-book products,' digital strategy
By Nathan Bomey
(Note: This story has been updated with details of Borders' earnings call with investors.)
Ann Arbor-based book store chain Borders Group Inc. said this morning that it would focus on improving its in-store experience and pursuing more "non-book products" after posting a $46.7 million net loss in its second quarter ended July 31.
Borders reported this morning that its sales slipped 11.5 percent in the second quarter to $526.1 million, extending the firm's revenue contraction. Sales at stores open at least a year declined 6.8 percent over the same period. The company's $46.7 million loss was up from a $45.6 million loss during the same period in 2009.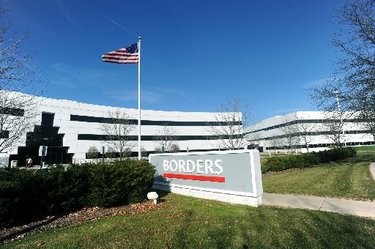 File photo
Online sales increased 56.2 percent from the second quarter of 2009 to $15.5 million, a sign that Borders.com is gaining traction but a reminder that Web sales represent less than 3 percent of total revenue.
Borders' stock (NYSE: BGP) was down a penny at $1.07 as of 10:13 a.m. The NYSE generally requires publicly traded companies to maintain a stock price regularly above $1 to avoid being considered for de-listing.
In recent months Borders has placed a heavy emphasis on improving its digital strategy, including sales of its e-readers.
But the company acknowledged that it must improve its in-store experience.
"As we grow our online and digital business, we cannot underestimate the importance of our brick and mortar presence," said Mike Edwards, CEO of Borders Group subsidiary Borders Inc., in a news release. "This will be top of mind as we work on improving the in-store experience by shifting our product mix to include additional non-book products that are both compelling and relevant, and providing an escape for our customers though an inspirational in-store environment and consistent customer service."
Edwards' statements come after Borders announced this week that it had struck a partnership with Build-A-Bear, which will sell 28 products in Borders super stores.

Borders executives, discussing the earnings report on a call with investors, said they were committed to making changes to stores' product mix, layout and signage.
"A compelling in-store environment plays a key role in connecting with our customers," Edwards said.
Edwards told investors that the company would seek to create an "oasis-type environment" after internal research showed "that our customers come to Borders to escape the everyday pressures of life."
He said that starting at the end of September, Borders would integrate "inspiring new signs to enhance both shoppability and navigation while communicating value messages and important (new) releases."
Borders believes that e-readers and children's products are areas where it can drive sales.
"We are taking steps to transform our retail model, in part through high-impact strategic partnerships, like Build-A-Bear Workshop, that enable us to offer a compelling mix of lifestyle focused products," Edwards said in a statement. "By offering a rich and relevant selection of product — both book and non-book — together with an exceptional customer experience, we will differentiate Borders from others in the marketplace."
The company recently appointed Michele Delahunty-Cloutier as executive vice president and chief merchandising officer. Edwards told investors that Delahunty-Cloutier's expertise includes "female-focused brand improvement and turnaround."
"Our research clearly is telling us that we have a predominantly female customer and we're a family and community-based destination," he said. "That is a significant difference relative to our competitive landscape."
Media members were not invited to ask questions during the conference call with investors. The new CEO of Borders Group Inc., tobacco industry veteran Bennett LeBow, did not participate in the call. Edwards reports to LeBow.

Borders has some 19,500 employees at about 500 stores throughout the U.S. The company, which recently laid off workers at its Ann Arbor headquarters for the second time in 2010, is believed to have fewer than 600 workers at its headquarters.
The company's second largest shareholder, New York hedge fund Pershing Square Capital Management, indicated in a quarterly letter released last week that it would support a merger with Barnes & Noble, which recently put itself up for sale.
"We have long believed in the strategic logic of a business combination between the two largest superstore companies," Pershing hedge fund manager William Ackman wrote in the letter. "We also believe that B&N's chairman and largest shareholder is more likely to be a seller than a buyer of the company. We believe that any third-party acquisition of B&N will significantly increase the probability that Borders is included in a potential industry consolidation, because of the significant cost economies and other synergies that could be achieved in such a combination."
Borders, whose chief financial officer left two weeks ago, faces major challenges to its core business model. Online competitors like Amazon.com and big box stores like Wal-Mart and Target offer cheaper books, and physical store competitor Barnes & Noble has the better balance sheet.
Meanwhile, e-readers present a long-term challenge as Amazon's Kindle, Apple's iPad, Barnes & Noble's Nook and other emerging competitors jockey to secure a share of the e-books market.
Borders said Tuesday that it would reduce the price of the top two e-readers it sells, the Kobo eReader and Aluratek device, to $129 and $99.99, respectively. Borders this summer launched an e-book store developed by Toronto-based Kobo Inc. and hopes to have 17 percent of the digital books market within a year.
The company said in today's news release that e-reader sales "have exceeded expectations."
"Borders is now an industry authority on digital content and devices," Edwards said.
The firm on Tuesday introduced a new premium version of its Borders Rewards loyalty program in hopes of convincing more shoppers to make a purchase when they visit a store.
Contact AnnArbor.com's Nathan Bomey at (734) 623-2587 or nathanbomey@annarbor.com. You can also follow him on Twitter or subscribe to AnnArbor.com's newsletters.